Wildflower hike bursts with colors at Spring Mountain Ranch
Updated April 9, 2017 - 10:33 pm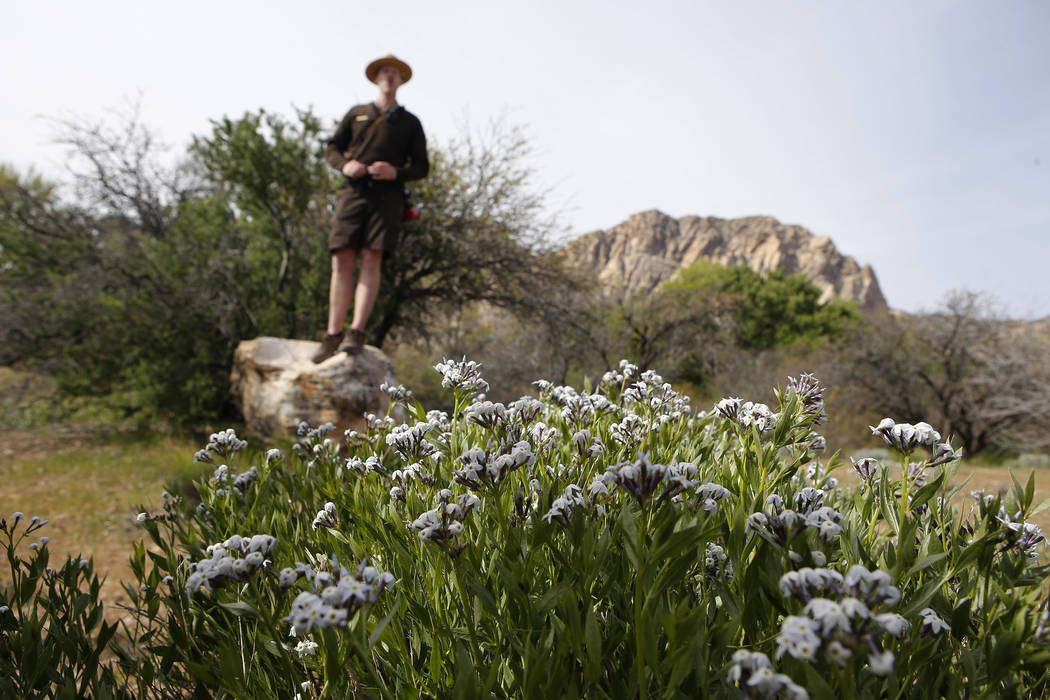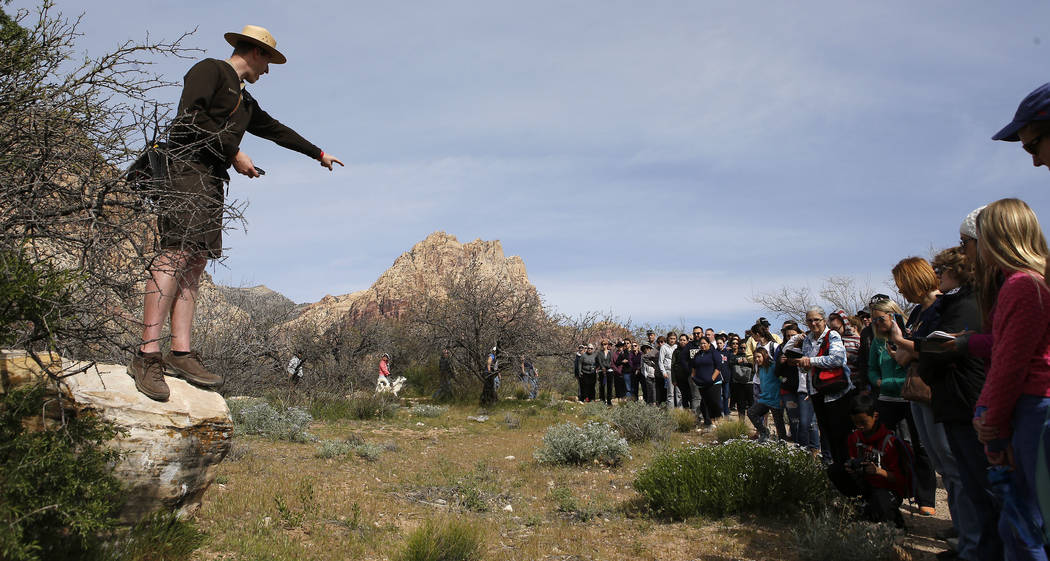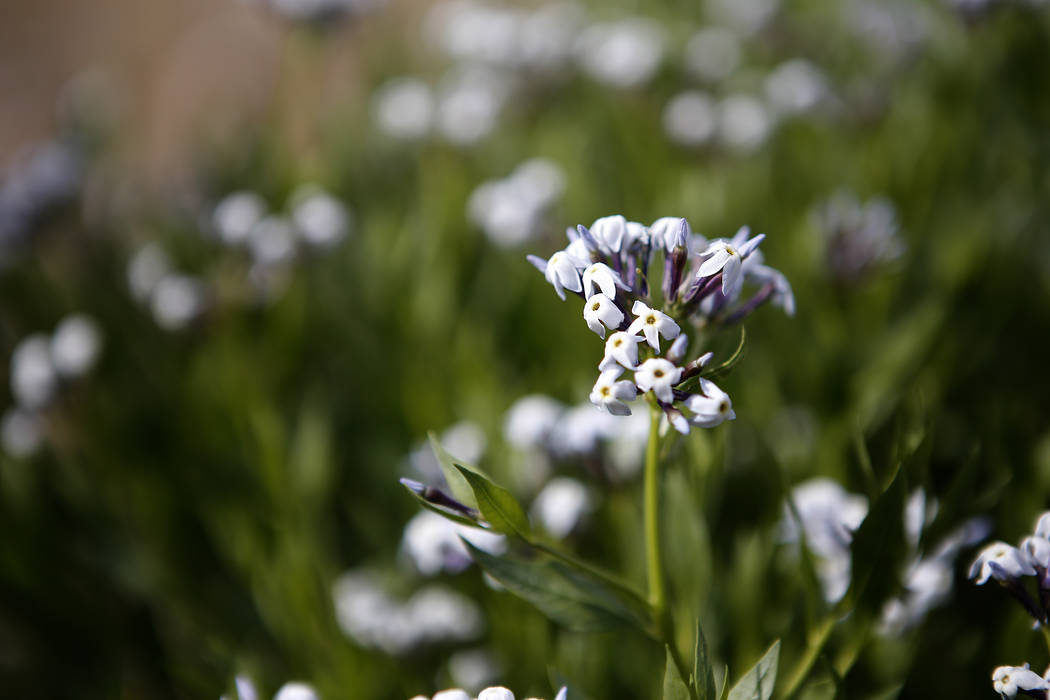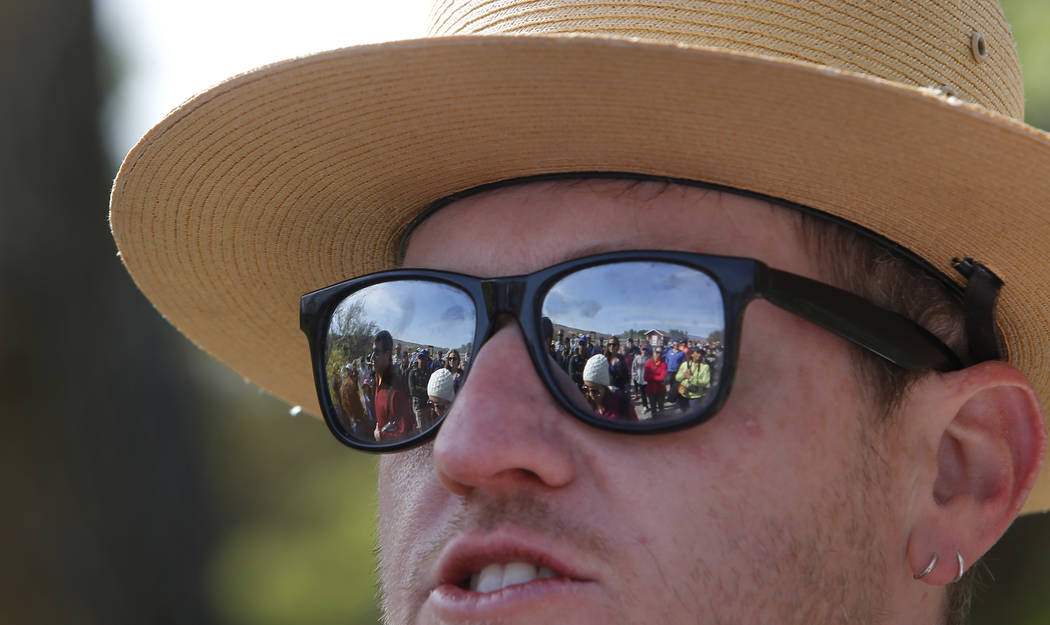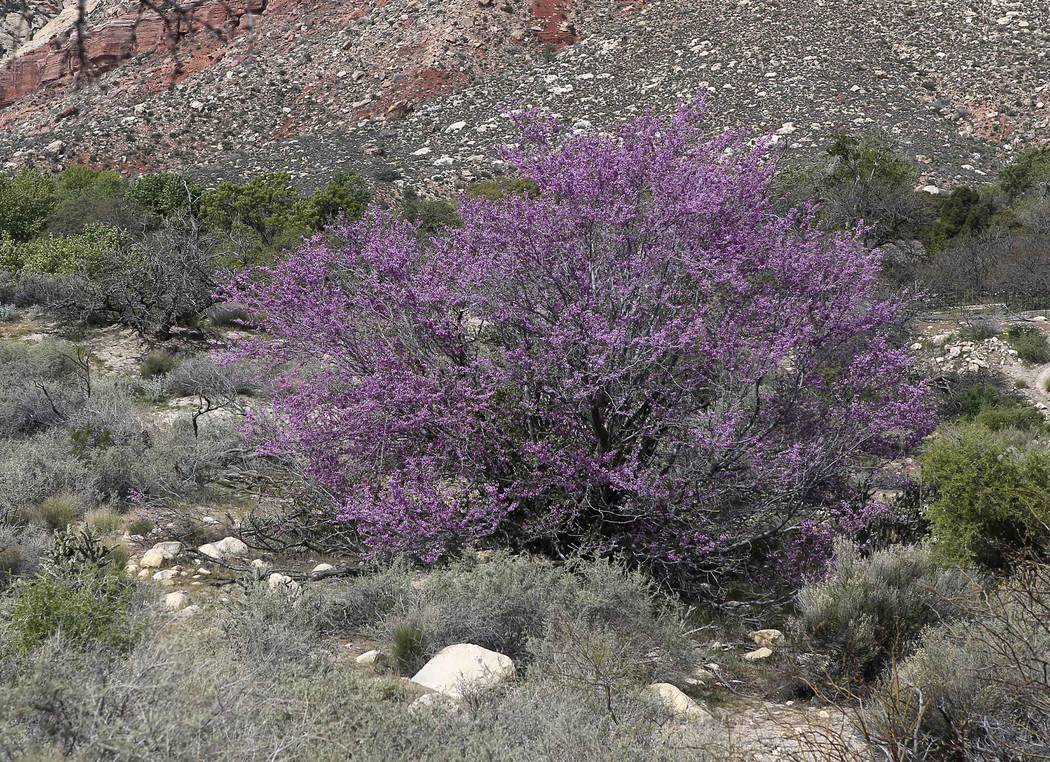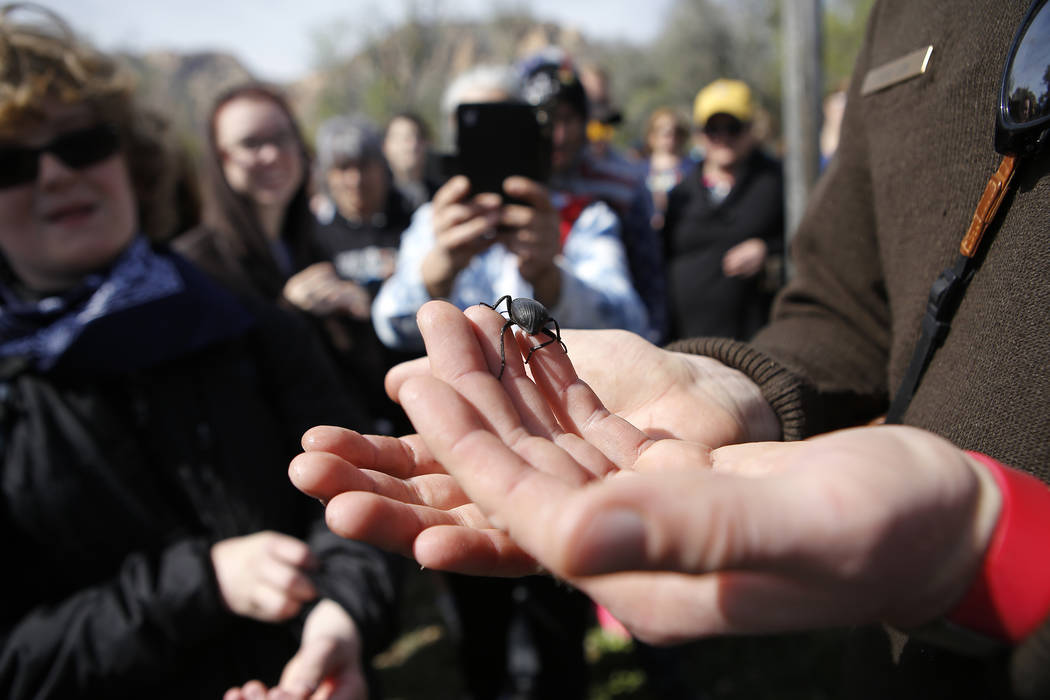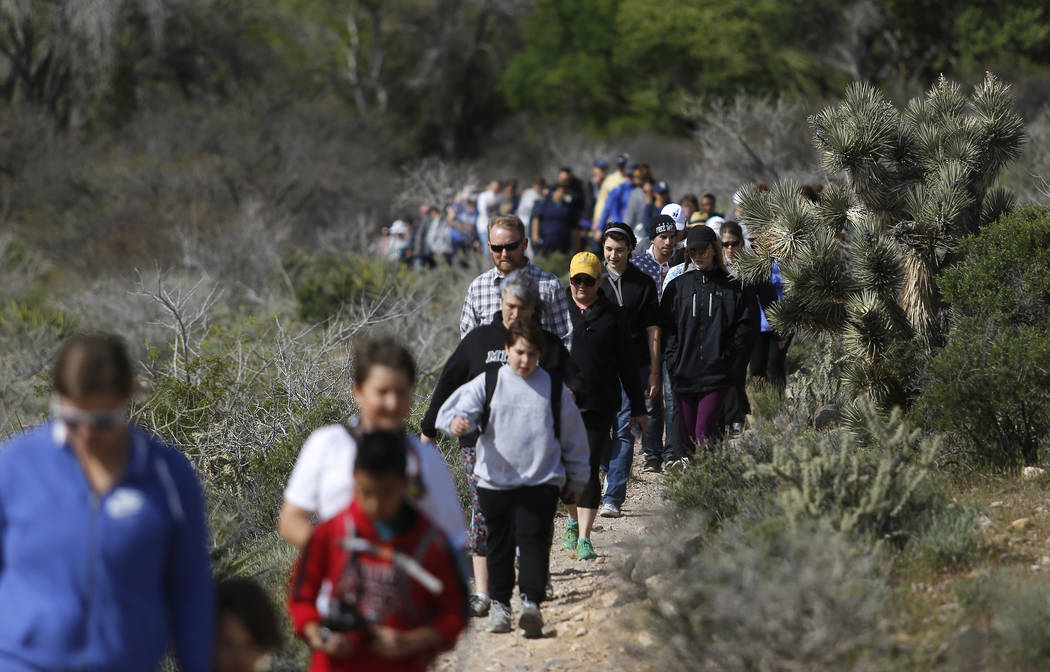 Bright orange. Hot pink. Magenta. These are not the usual earthy tones of the Las Vegas Valley. But, with spring in the air, desert blossoms were aplenty at Spring Mountain Ranch State Park.
On Sunday, about 100 people and a few dogs took a walk on the wildflower side down the Ash Grove Trail. The mile-and-a-half-long trail took people past a native grove of trees and a wash and into a sea of colors.
"The Mojave Desert usually looks kind of brown and red, but for a few weeks, maybe a month in the springtime, it bursts with color," park interpreter David Low said. "That's happening right now with all of the wildflowers."
At the annual wildflower hike's first stop, the group learned about an invasive species — wild mustard. The bright yellow flowers may look pretty, but Low warned that the widespread weeds dry quickly to create a fire hazard.
Hikers also saw a banana yucca displaying white flowers. Low said the Southern Paiutes used to eat the flowers and described the skin as dragonlike with a waxy, smooth feel.
"This must feel amazing in your mouth," he joked.
Low also pointed to the woolly bluestar, also known as amsonia. The soft, blue star-shaped flowers bloom in the late spring or early summer.
North Las Vegas resident Justin Navarrette said he came with his wife and two young sons because their family's goal is to do 52 hikes this year. So far they're on No. 11.
"These tours are just great because it teaches our kids to appreciate nature and teaches us about the wildlife around Las Vegas," Navarrette said. "Plus, it's good exercise."
Hikers saw more than plants and flowers Sunday. Low caught a California chorus frog tadpole in his hands and found a darkling beetle that he passed around. The kids were especially fascinated with both.
As hikers traversed the dirt trail, Low warned about cactuses, which "can be aggressive this time of year." At one point, he had people stop and smell a flower root.
He picked up the plant and had people guess what it smelled like. Some people guessed beets or carrots; others thought it just smelled familiar.
It was a wild radish.
"It's such a familiar smell," Low said, "but out of context, it's kind of hard to place."
As people passed by bushy bright orange flowers, Low identified them as globe mallows. They're from the family of plants that produces marshmallow flavor, he said.
By a stand of 300-year-old ash trees, Low had people rub together dry leaves called yerba mansa to release their scent.
"It smells like black pepper, maybe a type of spice," someone said.
"There's no wrong answer," Low said. "I think it smells like spicy dirt."
After the two-hour trek, hikers left with new knowledge.
"This is a really informative tour," Las Vegan Sara Greco said. "It's nice to get out in nature and learn new things about the area that you live in. This is a beautiful location that's just in the midst of the desert."
Contact Sandy Lopez at slopez@reviewjournal.com or 702-383-4686. Follow @JournalismSandy on Twitter.
Spring Mountain State Park Upcoming Events for April:
— Family Yoga on the Meadow at 10 a.m. April 12
— Archery at the Ranch at 10 a.m. April 14
— Morning Yoga on the Meadow at 10 a.m. April 15
— Cabin Fever Dutch Oven Cooking Program at 11 a.m. April 15
— Ranger-Guided Night Hike at 7 p.m. April 21
— Morning Yoga on the Meadow at 10 a.m. April 22
— Afternoon Yoga on the Meadow at 5 p.m. April 23
— Archery at the Ranch at 10 a.m. April 28
— Morning Yoga on the Meadow at 10 a.m. April 29
— Civil War Experience at Spring Mountain Ranch State Park at 10 a.m. April 29
— Afternoon Yoga on the Meadow at 5 p.m. April 30