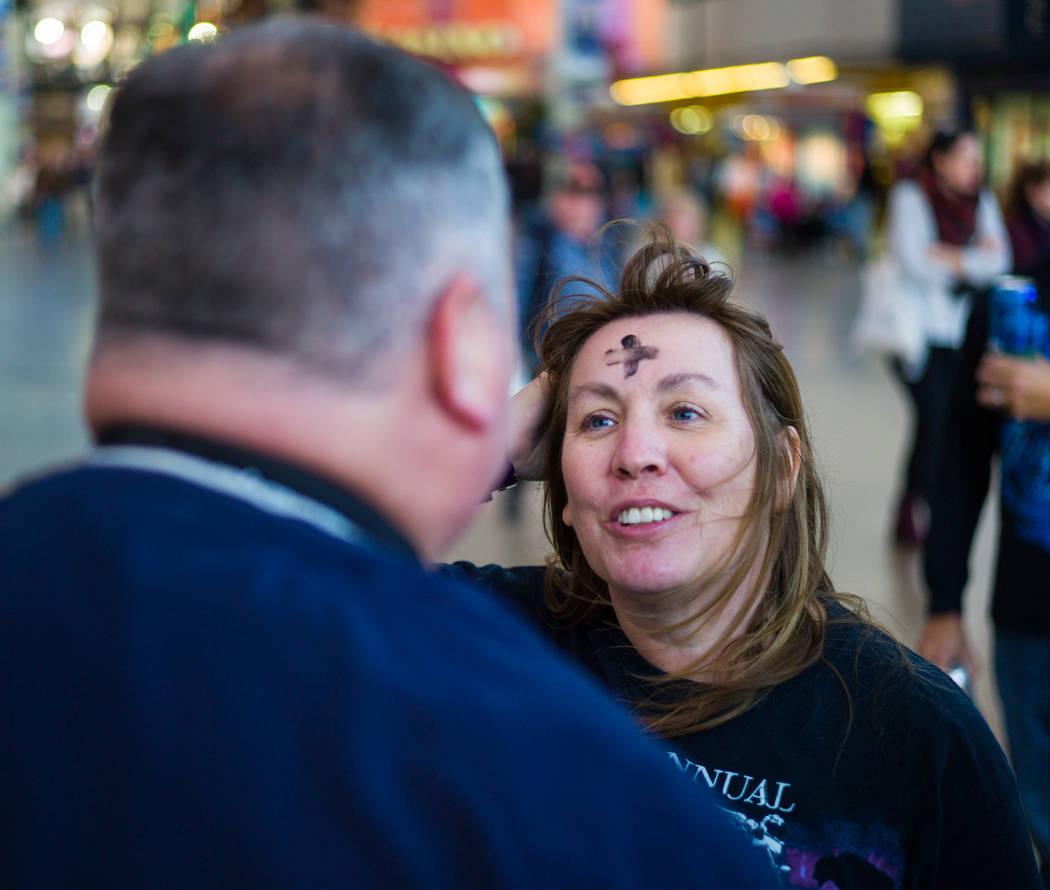 While worshippers from many Western Christian denominations vowed to abstain from earthly pleasures such as red meat, chocolate and alcohol, millions of others celebrated their love with just those things.
It has been 73 years since Ash Wednesday and Valentine's Day fell on the same day. It's a dilemma the Rev. Steve Willis of First Christian Church was aware of, so he offered "ashes to go."
Willis and First Christian members stood on the corner of Fremont Street and North Fourth Street on Wednesday evening. A small sign explained who they were and why they were there.
On Ash Wednesday, which marks the beginning of Lent, faith leaders traditionally provide "the imposition of ashes." Ashes are placed on the foreheads of worshippers, usually in the shape of a cross, as an acknowledgment of sin and mortality. The person imposing the ashes usually quotes Genesis 3:19, reciting a variation of "You are dust, and to dust you shall return."
As Willis stood among street performers, pop music blared from speakers overhead and tourists screamed on the SlotZilla zip line.
"We didn't anticipate quite the attendance at a traditional service this year," he said. But Willis used the opportunity to share the message of Lent outside of the church on South Rancho Drive.
"The majority of the time Jesus interacted with followers and potential followers, he was out among the people where they were," Willis said. About 20 people stopped by to receive ashes in the first hour, he said.
Church members Kathy Takos and Becky Jones said they did not view the holidays falling on the same date as a problem.
"For me, personally, what better way to show God's love?" Takos said. "He's the best date you can have."
Contact Madelyn Reese at mreese@reviewjournal.com or 702-383-0497. Follow @MadelynGReese on Twitter.
Ash Wednesday
Ash Wednesday is the first day of Lent in many Christian traditions, including Anglicans, Roman Catholics, Methodists and Lutherans. Lent observes the 40 days that Jesus spent in the desert to fast and pray before returning to Jerusalem on Palm Sunday.