Central Grace Presbyterian Church on edge over Project Neon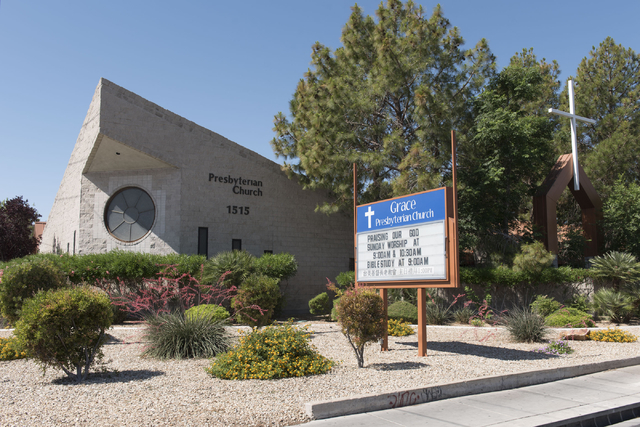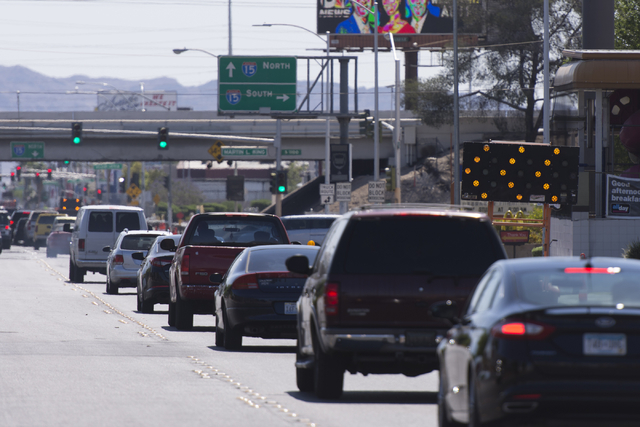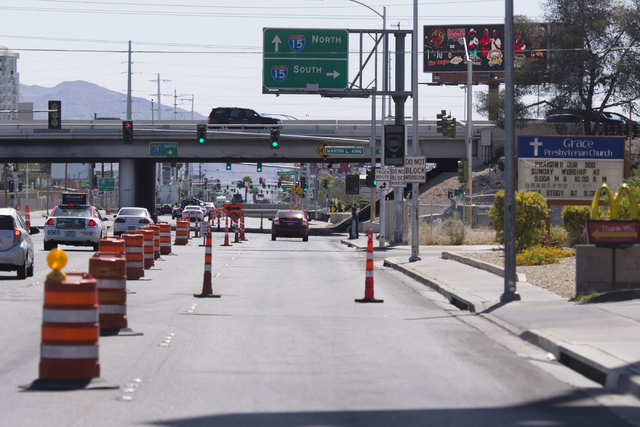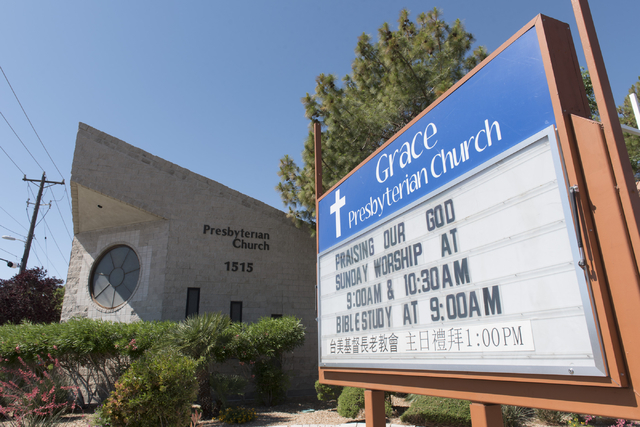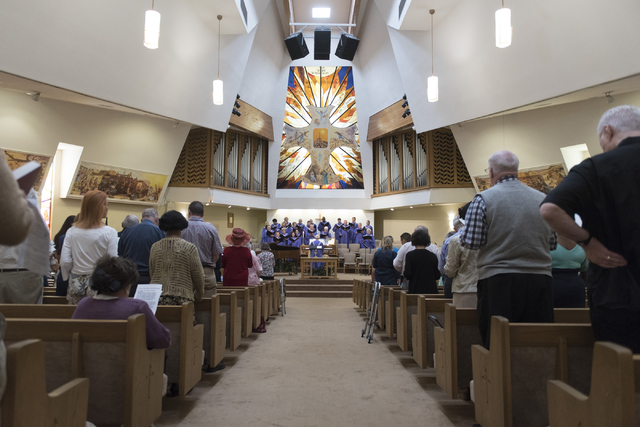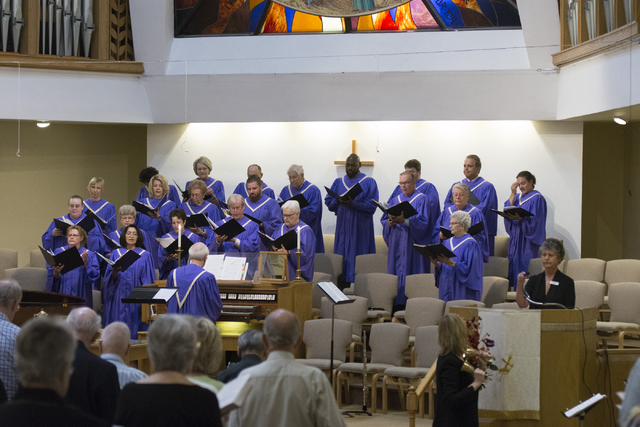 When Grace Presbyterian Church opened its doors as First Presbyterian Church in 1955, it was in the heart of Las Vegas with a who's who of parishioners from affluent neighborhoods such as Rancho Circle and the Scotch 80s.
Today, the church's future is uncertain because of Project Neon, a $1 billion-plus highway rehabilitation of Interstate 15 between the Spaghetti Bowl downtown and Sahara Avenue, covering a 3.7-mile stretch of busy roadway.
Just how Project Neon is going to affect Grace Presbyterian has not been determined.
"With the freeway expanding to within a few feet of the building, and also considering the challenges of access to our church, we have issues that challenge our existence," the Rev. Jim Houston-Hencken said. "Our goal is to survive and continue serving our community."
An informational meeting about Project Neon took place May 12 at the Historic Fifth Street School downtown, but did not yield much new information helpful to the church.
Much of the uncertainty is because engineers are finalizing the design, Nevada Department of Transportation spokesman Tony Illia said in a separate interview. The end result will dramatically improve access and mobility through the downtown Las Vegas corridor, including the arts and medical districts, he said.
"Project Neon will create a full diamond interchange at Charleston Boulevard and overhaul of Martin Luther King Boulevard, transforming it into a feederlike roadway paralleling the I-15 for improved performance," Illia said. "Ultimately, it will reduce travel delays by 28 percent for a $110 million annual savings through increased productivity while improving air quality due to less idle time and vehicle exhaust."
The church has a long history in Las Vegas. The first official gathering was at Bunker Brothers Mortuary in 1953. Some 800 people attended the first service at its new church building at the current location at 1515 W. Charleston Blvd. in 1955.
The new name was chartered in 2013 when First Presbyterian Church and Summerlin Presbyterian Church became the central and west campuses, respectively, of Grace Presbyterian Church. The smaller western campus is at 4590 S. Hualapai Way.
Memories of the original church are solid even though the ground it sits on is a little unsteady.
Dana Johnson and her husband, Spencer, relish the fact that they met as volunteers at the church more than four decades ago and were married there April 17, 1976.
"I started going to Sunday School there in 1958 when I was just an 8-year-old little girl," Dana Johnson recalled. "I grew up going there and I'll never forget how many influential people also attended First Presbyterian. It was a beautiful church when I started going there, and it's still a beautiful church now."
A 1969 graduate of Clark High School, Dana Johnson added that many people not only attended the church, but also donated freely both monetarily and by giving goods and architectural additions such as stained-glass windows.
Mary Keiser and her husband, John, started attending the church in 1964 after arriving in Las Vegas from Tucson, Ariz.
"I think the reason we keep going to the Grace Presbyterian is the relationships that we have formed over the years," Mary Keiser said. "We have gained a long history of friendships over the years. Those same friends of ours have become extended parts of our family."
Karen Bowers and her husband, Alan, moved to Las Vegas from Centerville, Ohio, 15 years ago. They joined the church about 13 years ago.
"It's a real family," Karen Bowers said. "Pastor Jim Houston-Hencken is such a strong pastor. He has solid theology and his focus is totally on the word of God and what God is saying to us today. He has the ability to bring our community together and makes everyone feel included."
Houston-Hencken, a native of Sacramento, Calif., joined the church in 2003 after another assignment in Midland, Texas.
"Vegas is a unique city," Houston-Hencken said.
"There are 44 million people who visit Las Vegas every year," he added. "If you can have a successful ministry in Las Vegas, it will touch every corner of the world. Everyone comes here with a story. They are all looking for community, a place to connect with others. I find that they are also looking to help others. We have trained ourselves to help one another."
At the age of 55, Houston-Hencken is now facing the biggest challenge of his career with Project Neon.
"The definitive answer and Project Neon's impact on the church are unknown at this time. We will take one step at a time."
Further details about Grace Presbyterian Church can be found by visiting www.gracepclv.org.
More information regarding Project Neon is available by visiting www.nevadadot.com.