Church offers Ash Wednesday surprise on Strip
February 20, 2015 - 9:10 pm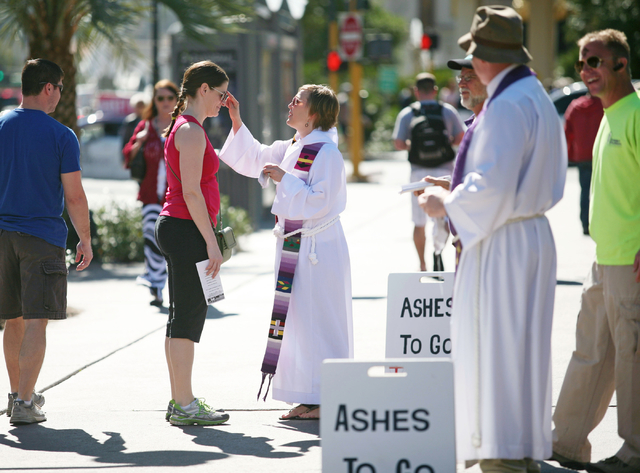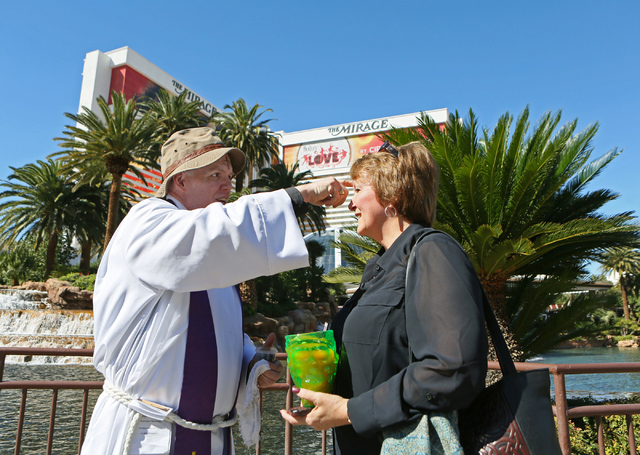 It's a sunny Wednesday midmorning and the Strip already is welcoming its usual cast of diverse humanity.
A guy handing out pamphlets touting a half-price afternoon show. A pair of performers in "Transformers" costumes moving about woodenly on the sidewalk. An early-rising runner huffing along the curb. And, on the sidewalk near The Mirage, two people who seem to be dressed as … ministers?
Yep, and the sandwich-board signs — the ones that say "Ashes to Go" and which bear the Episcopal Church shield — are the tipoff that they really are ministers, from Las Vegas' Christ Church Episcopal, there to offer a smattering of ashes and a Lenten prayer to any passer-by who might desire them.
The Ash Wednesday outreach marked Christ Church Episcopal's inaugural effort at offering ashes outside of church. It was modeled on Ashes to Go, a loose-knit movement that aims to offer ashes on Ash Wednesday in public places to people who might otherwise not be able to receive them in church.
In several Christian traditions, Ash Wednesday marks the beginning of Lent, a 40-day season of prayer, fasting and repentance during which believers prepare for Easter.
On Ash Wednesday, Christians receive ashes on their foreheads as a symbol of penitence and of our mortality, said the Rev. J. Barry Vaughn, rector of Christ Church Episcopal.
"I like to say that every one of us has a sell-by date, and that we need to keep in mind that we aren't in charge of our lives, that God is in charge, and that the God who created us in the beginning will also receive us at the end of our lives," Vaughn said.
Ashes usually are received within the context of a Mass or worship service in a church. Vaughn said the notion of taking Ash Wednesday directly to people this year was discussed in a meeting at his church in December.
"We thought we'd give it a try, and we thought Las Vegas Boulevard would be a great place to do it."
So, for three hours on Ash Wednesday, ministers wearing clerical vestments stood on the Strip, offering ashes to anybody who asked for them and greeting everybody who passed. The Rev. Bonnie Polley thought the location on the sidewalk near The Mirage volcano was particularly appropriate.
"We're right across from Fat Tuesday," at the Casino Royale, she said, smiling.
Polley said more than 20 people had received ashes during the first half-hour of the effort. Among them were a grandfather who stopped by with a little girl in a stroller.
"Her grandpa said, 'Your dad would want you to do this,' " Polley said.
Also among the early participants was a man who, Polley said, pulled his car to the curb, left it, got ashes and drove off again, while one amused passer-by "just said, 'Only in Vegas.' "
Most passers-by looked on in amused interest. A few walked past, heads down, reluctant to engage at all, but more looked over and smiled, even if they opted to not receive ashes. A few even took cellphone photos to show the folks back home.
Several tourists who did receive ashes said they usually receive ashes in church on Ash Wednesday, and were both surprised and pleased that they had the option to do so here.
Jean O'Grady, of Salem, Ore., was in town for a conference, and said the effort was a good example of how "the church does have to come to the people."
"This is great," she said. "I'm glad they did it."
Coleen Doughty, of Canon City, Colo., was in town for a workshop.
"I was disappointed when I found out we were going to be here over Ash Wednesday, because I always go to church and take my granddaughter," she said. "So this made my day."
Cheryl Aldrich and Sharon Briere came to Las Vegas to celebrate their birthdays. As they approached Vaughn, Briere asked Aldrich if carrying a drink would exclude them from receiving ashes. It didn't.
Briere, who lives in Putnam, Conn., is principal of St. Joseph School in Thompson, Conn. Aldrich lives in North Dighton, Mass. Both planned to go to Mass later that afternoon, but were pleased to see that they could receive ashes immediately to, Briere explained, "cover me, just in case."
Polley said she noted while preaching at Mass that morning that "because some people can't come to church for whatever reason, we were going to take church to the people. And just think: What better thing to happen in the midst of a busy day than to encounter God on the Strip?"
Vaughn said he was pleased with the first-year effort, adding that its success wouldn't be counted in the number of people who received ashes.
Rather, he said, "I think it will be successful simply if we connect with people and remind them of their spiritual lives."
Contact reporter John Przybys at jprzybys@reviewjournal.com or 702-383-0280.