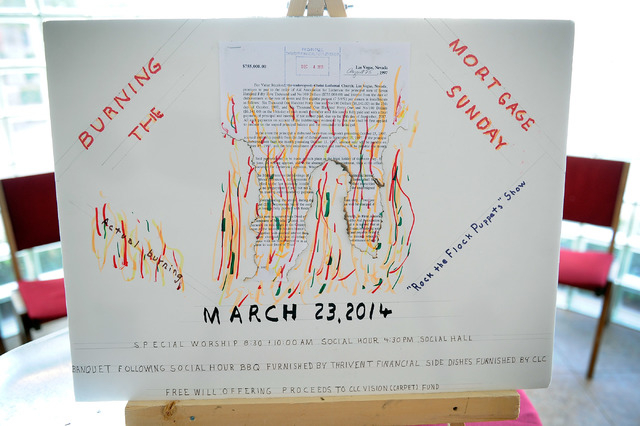 Christ Lutheran Church has been born again.
The church, 111 N. Torrey Pines Drive, celebrated paying off its $755,000 mortgage with a Burn the Mortgage ceremony March 23.
More than 200 people showed up for the celebration, which consisted of a banquet, photos and storytelling, according to the Rev. Bill Phillips. Later, staff members burned copies of the mortgage contract.
"It was a good time," Phillips said. "We're very thankful for the opportunity."
The money was gifted from long-term church members Arleen Quick and Lenise Christopher, who donated "just south of $1 million," Phillips said.
"They loved their Lord, and they loved their church," Phillips said. "They had a vision continuing the ministry and the church. That was it."
A former auditor for the Internal Revenue Service, Quick, 90, was known for being intelligent and modest, according to Jean Cooksey, director of the church's intentional caring ministry.
"She never complained, even when she was in the hospital with a broken shoulder," Cooksey said. "I asked why she didn't say anything about the pain, and she shrugged and said, 'Well, what would that change?' "
Quick enjoyed watching college basketball and golf on TV, so her neighbor Marie Milham convinced her to purchase a big-screen TV.
"She said she loved it, but it would mess with her golf," Milham said. "She would get so enthralled by the background scenery and gardens that she would miss a play or two."
As a member of the church's quilting club, Quick helped donate thousands of quilts to the homeless in the valley. She would sit in the same seat during every Sunday service and wave to Phillips when he entered the room, Milham said.
"She was so happy to be (at church)," Milham said. "That was her kind of life. She would watch a few things on television and go to church."
Christopher, 78, taught at Western High School, 4601 W. Bonanza Road, for more than 30 years and Sunday School at the church.
"She would make sure members of the church were connected with the right information," Phillips said. "She was real invested in education, and the church was a key part of her life."
Laurie Moss, a church member and former student of Christopher's, said she developed a close relationship with Christopher after she graduated in 1975.
"We stayed friends, and we transitioned from a teacher-student relationship to an adult friend relationship," Moss said. "I went from calling her Ms. Christopher to Lenise."
Although she battled polio most of her life, Christopher prided herself on being proper, Moss said.
"She was a very serious teacher and expected a lot out of her students," Moss said, "but she was very warm and gracious once you got to know her."
Although the church received a large sum of money, the women's estates also benefited other local organizations, such as Family Promise of Las Vegas and Dress For Success Southern Nevada.
"I had no clue that they had that kind of money," Milham said. "It's surprising how unpretentious they were, and you find out all the wonderful things they've done. We should all be like that."
Founded in 1963, the church has about 200 active members.
"We've been here 50 years, and we've been born again for the next 50," Phillips said. "Somehow, these ladies intuitively knew the importance of the church. We're very humbled and delighted."
Christ Lutheran Church hosts services at 8:30 and 10 a.m. Sundays. For more information, visit christlutheranlv.org or call 702-878-1421.
Contact Southwest View reporter Caitlyn Belcher at cbelcher@viewnews.com or 702-383-0403.