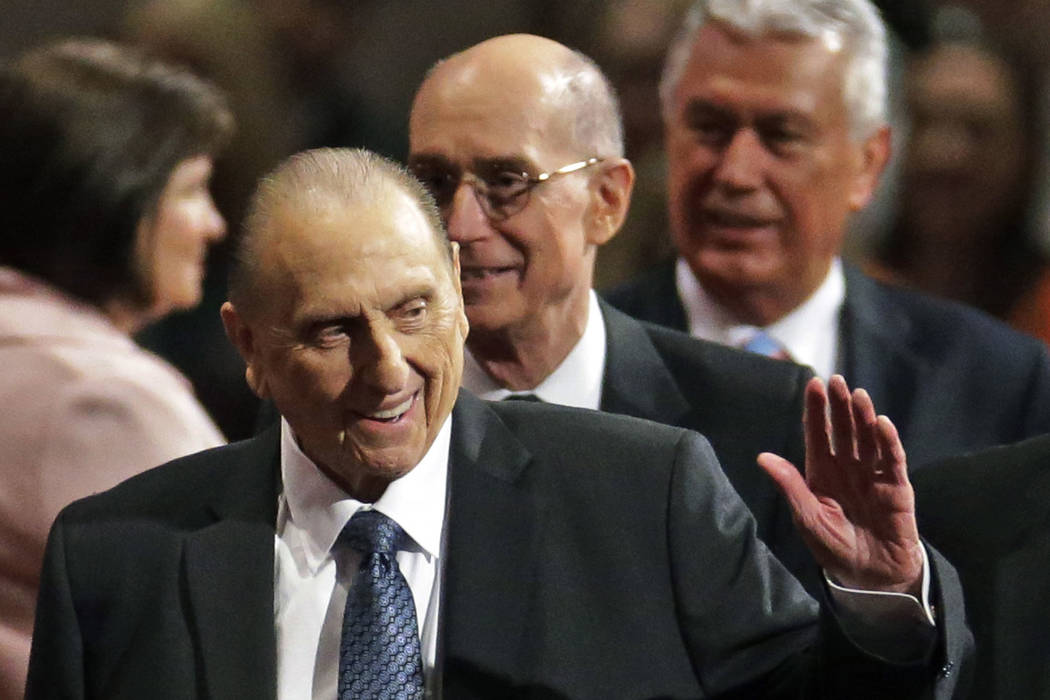 Funeral services for Mormon church president Thomas S. Monson have been set for Jan. 12 in Salt Lake City.
Church officials said Wednesday that a public viewing will be held all day on Jan. 11 with the funeral to follow at noon the next day.
Both events will take place inside the religion's conference center, which has a 21,000-seat theater.
Monson died Tuesday night in Salt Lake City. He was 90.
Monson was president of The Church of Jesus Christ of Latter-day Saints for nearly a decade and had served in leadership positions for more than 50 years.
Funeral services for President @ThomasSMonson will take place at the Conference Center on Temple Square Friday, January 12, 2018 at 12:00 p.m. MST. Click on the link for more information. #PresMonson https://t.co/BRlkLNEgNV pic.twitter.com/RBJrDgfT4y

— Mormon Newsroom (@MormonNewsroom) January 3, 2018
A statement was released by President @EyringHB and President @UchtdorfDF. They served as first and second counselors to President @ThomasSMonson. #PresMonson https://t.co/NIvaCIlizF pic.twitter.com/WDmiiRPI6i

— Mormon Newsroom (@MormonNewsroom) January 3, 2018
The Quorum of the Twelve Apostles of the @LDSchurch released the following statement Wednesday, January 3, 2018, about President Thomas S. Monson: https://t.co/7fSyigReiY pic.twitter.com/oDCKZzqCk2

— Mormon Newsroom (@MormonNewsroom) January 3, 2018