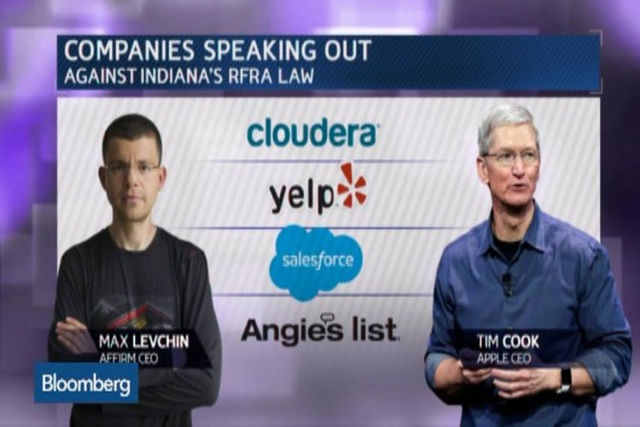 Republican lawmakers in Indiana pledged on Monday to clarify a religious freedom bill that was slammed by businesses and activists for sending a message of discrimination against gays after it was passed last week.
Companies ranging from pharmaceuticals to retailers said the law – passed overwhelmingly by the Republican-controlled Indiana General Assembly – was bad for business because it sent a discriminatory message. San Francisco and Seattle banned official city employee travel to Indiana.
At a news conference, Indiana House Speaker Brian Bosma and state Senate President Pro Tem David Long said the law was not intended to discriminate against anyone, and that it sets a legal standard allowing people of all faiths to bring religious freedom claims.
"To the extent that we need to clarify that, by adding something to the law to make that clear that's not the intent, we are more than willing to do it, and we plan to do that," Long told reporters.
Republican Governor Mike Pence signed the measure into law on Thursday.
Critics say that since Indiana does not have anti-discrimination laws, the religious freedom act could be used by businesses to justify not providing services to gay couples if it goes against their religious beliefs.
While many states have religious freedom laws, gay rights activists say Indiana's law is broader because it gives businesses religious rights in the state, where gay marriage became legal last year following an appeals court ruling.
Bosma said lawmakers were looking at different options for clarifying the law, such as perhaps removing the specter of the act being used as a defense to a claim that services were denied on a discriminatory basis.
Democrats held a separate news conference calling for the law to be repealed.
On Sunday, Pence defended the law and said he would not push for a nondiscrimination act to counteract possible effects of the religious freedom act, but he said he was open to the General Assembly adding a section that clarifies the law.
Arkansas lawmakers last week also approved a similar bill backed by Republicans in the state's Senate.