Interfaith group, nonprofits valleywide back bill to stop sex trafficking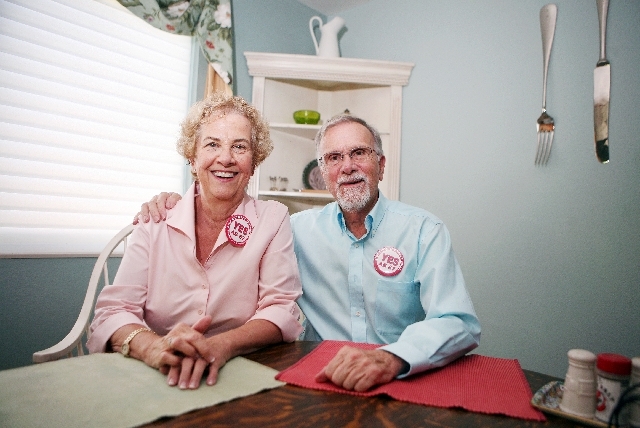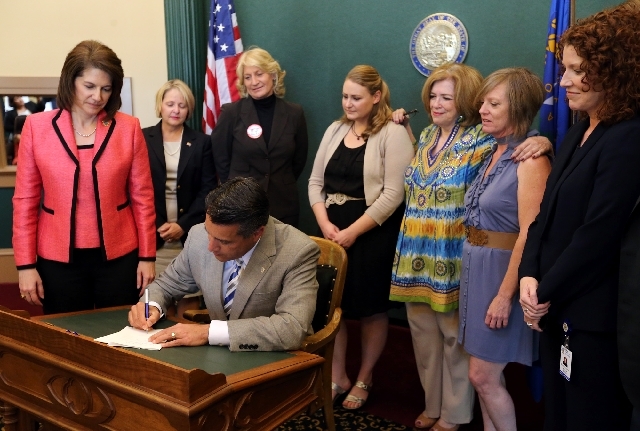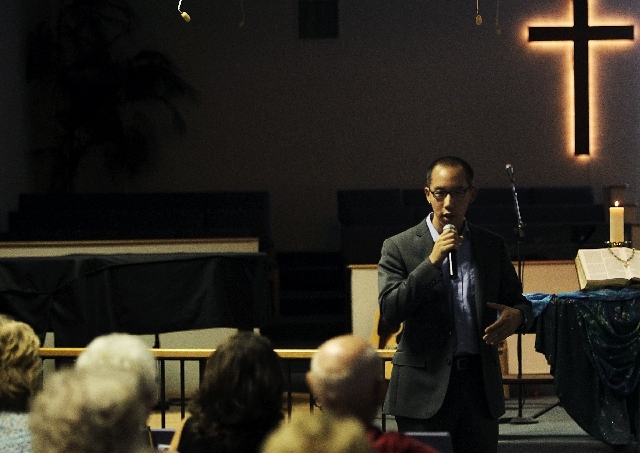 A Catholic from Mexico City and a rabbi from England are riding to Carson City …
Don't worry. It's not some dumb joke but, rather, a neat memory Ancelmo Solis collected during his first-ever stint as a political activist on behalf of Nevadans for the Common Good.
Over the past year, the coalition of Southern Nevada faith communities and nonprofit organizations worked for passage of Assembly Bill 67, which created the crime of sex trafficking and targeted those who participate in it.
During the campaign, volunteers from the more than 30 Southern Nevada churches, synagogues, mosques and nonprofit organizations that make up Nevadans for the Common Good conducted workshops at their congregations, wrote emails to Nevada Assembly members and senators urging support of the bill and met with legislators here and in Carson City.
And when Gov. Brian Sandoval signed AB 67 into law on June 6, the volunteers celebrated the fruits of their activism.
The anti-trafficking campaign wasn't the first time that area faith communities joined forces to work toward a common social or political goal.
However, many of those involved in it say the number of religious congregations represented by the group, the number of people who participated in it and the interdenominational makeup of the effort made the campaign something Southern Nevadans hadn't seen before.
"Certainly, there previously have been other organizations in town that have brought together people in interfaith gatherings to do many great things," said Robert Hoo, Nevadans for the Common Good's lead organizer.
But, Hoo said, "as far as I'm aware, it's a first for Las Vegas, this idea of saying, 'Hey, we (faith groups) are an important community institution and we think we're called to do something about it.' "
Barbara and David Paulsen have lived in Southern Nevada since 1982, and Barbara Paulsen said she can't recall ever seeing so many representatives from so many faith traditions joining together as one.
"In the past, various (faith groups) have looked at these kind of issues, but kind of in isolation," she said. "I've never seen anything like this before."
Nevadans for the Common Good was unveiled in May 2012 during a community convention at the University of Nevada, Las Vegas. The convention, in turn, marked the culmination of a three-year-long organizing effort by a group called the Las Vegas Valley Interfaith Sponsoring Committee. And even before the convention, the committee had identified sex trafficking as one of the social ills it wished to target.
One reason was that trafficking is "a galvanizing issue," Hoo said. "It was an issue that, when people are confronted by stories of what was going on, there was a unanimous feeling that we needed to do something about this."
Another reason was that Nevada Attorney General Catherine Cortez Masto already was planning to propose a comprehensive trafficking package to legislators during the then-upcoming 2013 legislature.
So, Hoo said, "we began to look seriously at, 'Do we think that, if we got involved, we could have a decisive impact on this?' because there were (trafficking) bills introduced previously, in past legislative sessions, that didn't go anywhere. So if we were going to be involved in this, it's because we thought we could take decisive action and make it pass."
Equally important, opposition to sex trafficking, and the desire to end it, enjoyed broad support among members of faith communities here and all across the denominational spectrum.
"It's important to note that this wasn't a matter of one religious group that had a particular theological angle that they were trying to impose on the rest of society. This wasn't a narrow issue that only a particular denomination or particular religion would endorse," said Bishop Dan Edwards of the Episcopal Diocese of Nevada. "It was a coalition of Muslims, Jews, Catholics and Protestants, and secular nonprofits that worked with us as well."
Given the failure of previous anti-trafficking bills in Nevada, Edwards thought the faith community's involvement might even be decisive this time around. However, while Edwards saw "overwhelming agreement" among faith communities that they should become involved, individual congregants around the valley might have felt an occasional qualm about becoming involved so directly in political action.
The Rev. Dennis Hutson, pastor of Advent United Methodist Church, said some congregants there did seem "apprehensive, like, 'Should we be involved in this kind of thing?' And, then, it was one of those things (that), 'We can't fight the government. The government is too big.' "
"Really, what I had to do was to help our congregation understand the biblical foundation," Hutson said, and that sex trafficking is "a moral issue, and if the church and faith communities cannot stand for what is morally correct, then who can? Who will?"
Barbara Paulsen heard no negative feedback from members of her church, Boulder City United Methodist Church. Paulsen said about 20 people attended the after-Sunday service program she presented about trafficking, or about one-third of Sunday attendees at the "very small, relatively new congregation."
Paulsen admits that she "probably" entertained a skeptical thought or two of her own initially. But, she said, "I'd have to say my optimism was greater than my questions, somehow. Something about this just felt different than the things that I had been involved with before.
"With this group, there is a feeling that we spend most of our time looking at what we have in common and what our goals are and less time in looking at how we're different," she said. "I think that's one thing that has hindered the faith community from working in concert like this: There is kind of a tendency to always look at what our differences are and, actually, I think our differences are much smaller than our commonalities."
The campaign was a first for Solis, a member of St. Christopher Catholic Church. "I never got involved in politics," he said. "I was just hoping to give it my best."
Solis wasn't alone. Participating in the campaign was a new experience for "the vast majority" of volunteers who worked on it, Hoo said.
By the end, "I think people learned a lot about how politics works and how, if you want to make a difference in the world, you have to understand that arena," he said.
Hoo said one key thing the group did was to "meet with 27 different legislators in the months before January, before the session started. That's crucial, because it gets crazy once the session starts."
But before any of that, volunteers studied the issue of sex trafficking, became familiar with the attorney general's legislative proposals and role-played their upcoming meetings with legislators. When the time finally came to meet with legislators, Solis was surprised by how seriously legislators treated the volunteers.
"When we called before to set up an appointment, it was kind of like they probably were not taking us very seriously," he said. "But then when we showed up there … at the end of the day, they knew we were there."
Paulsen said several legislators "expressed to us that they had never seen this large of a citizens group, particularly from the faith-based community."
"I think the faith-based communities have kind of been in the background, and to me it was a very good feeling to see us coming together and really playing a role," she said. "I think it made them sit up and take notice that there were a lot of people interested in this."
Legislators and government officials "had very encouraging things to say about our participation," Hoo agreed. "There are people who said, 'This is great. We've never seen the faith community coming together like this.' One pastor reported that someone told them, 'Where have you guys been? We've been waiting for you.' "
"I think our elected officials were very pleasantly surprised that the faith community was involved," Hutson said. "Many of them are in faith communities themselves, and I think it was kind of like a breath of fresh air for our state."
Assemblyman John Hambrick, R-Las Vegas, called Nevadans for the Common Good's work in support of the legislation — which ultimately passed unanimously in both houses of the Legislature — "huge," and said legislators took the volunteers seriously as representatives of a true grassroots effort.
"It was interesting to see the reaction from other legislators, particularly freshmen legislators," he said. "All of a sudden, they were having people from, quote-unquote, back home coming to see them instead of these high-priced lobbyists, the men and women walking the halls that you get used to.
"You had leaders of both the Senate and the Assembly, leaders on both sides of the aisle, who were made aware these people are here for a serious reason and they're not to be taken lightly or be patronized in any way."
Representatives of Nevadans for the Common Good were invited to attend the bill's signing ceremony. One feature of the celebration was a cake decorated to resemble the campaign buttons the group had created.
Hoo recalls detecting elation, but also relief, among members of the attorney general's staff at passage of the bill. That, he said, drove home the realization that the bill, like any bill, could have been sidetracked or even killed at any point during the legislative process.
It was only at the signing ceremony, Hoo said, that "it sunk in what we were able to accomplish."
Hutson said some in his congregation were "very actively involved" in the campaign and others "weren't involved at all." But, he said, when it was announced at each of the church's Sunday services that the bill was law, everybody applauded.
"What that suggests to me is, people have seen the power of God at work, so they may be encouraged the next time," he said.
Now, Nevadans for the Common Good volunteers plan, first, to follow up on the anti-trafficking bill. That, Edwards said, will include creating "safe harbors" for trafficked minors and finding ways to tackle the societal factors — homelessness and substance abuse among them — that contribute to trafficking.
Meanwhile, at other congregations across the valley, volunteers — using the skills they've learned and drawing upon the relationships they've formed during the anti-trafficking campaign — are continuing to work on other issues Nevadans for the Common Good has targeted.
Solis said a group at St. Christopher is planning a workshop on immigration next month. Paulsen said members of her church are working on youth services issues in Boulder City. A group at Hutson's church is working on issues that affect the vulnerable elderly.
However, just as important a legacy of the anti-trafficking campaign are the relationships volunteers formed between one another. In many cases, those relationships crossed denominational lines as volunteers discovered that they have more in common than they might have thought.
Take Solis' ride from Reno to Carson City when, Solis recalled, carpool mate Rabbi Malcolm Cohen of Temple Sinai "turned and asked me, 'Hey, what do you think about the pope from your church?' I was, 'What?' It was just a topic of conversation while driving from Reno to Carson City, talking about the new Pope Francis."
Solis and Cohen also found another thing to talk about during the ride: soccer (Solis is from Mexico City, and Cohen is from England).
In the end, developing relationships with others and then putting common values to work toward common goals is, Solis said, "what it's really about."
Contact reporter John Przybys at
jprzybys@reviewjournal.com or 702-383-0280.