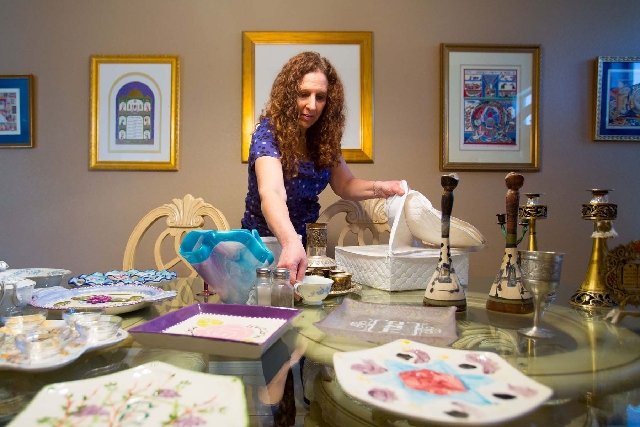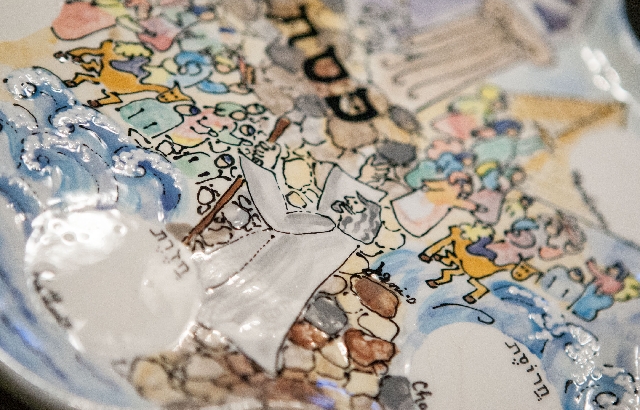 Lori Chenin-Frankl is a busy woman.
She's a mother. She's a special education teacher in the Clark County School District. And, when the school day ends, she's more likely to be juggling commitments than relaxing at home.
But as Passover approaches, Chenin-Frankl's already-packed schedule expands further as she tackles tasks ranging from purchasing kosher-for-Passover foods to meticulously cleaning countertops and appliances in her kitchen.
It's an occurrence common in many Jewish households before Passover, which this year begins at sunset Monday . The seven- or eight-day holiday commemorates the Israelites' liberation from slavery in Egypt.
"I would say that, of all the Jewish holidays other than perhaps the High Holidays, Passover is one of the most widely observed by people," notes Rabbi Sanford Akselrad of Congregation Ner Tamid.
"Whether Reform, Conservative or Orthodox, Passover has a solid place in Jewish culture and religious practice, and out of all the Jewish holidays, I think Passover is the one that really has the biggest impact on Jewish memory and the transmission of Jewish cultural identity."
On the first night — and, in some traditions, on its first and second nights — a Passover Seder is held at which symbolic foods are eaten and the story of the Jewish people's redemption from slavery is retold.
While community Seders are offered, Passover Seders most often are multigenerational, home-based celebrations attended by family members and friends.
Traditionally, preparing for Passover's arrival can be a time-consuming process that includes, for example, removing foods containing leavened bread from the home (during Passover, only matzo, or unleavened bread, can be eaten); searching cupboards and other areas of the home for chametz, or crumbs of leavened bread; meticulously cleaning stoves, sinks and other kitchen appliances and fixtures; buying foods that are certified as kosher for Passover; and unpacking separate, used-only-at-Passover sets of dishes, pots and pans, and utensils or taking steps to make everyday utensils and kitchenware suitable for use at Passover.
However, practically speaking, some Jewish families may choose to follow such traditional requirements only to varying degrees. In Reform synagogues, for example, "the level of observance varies widely among members and family members," Akselrad says.
Rabbi Yocheved Mintz of Congregation P'nai Tikvah notes that "there is a famous Hasidic saying that goes, 'Any way is a way, as long as you make it a way.'
"We don't have Passover police, so nobody goes into anybody's house to check it out," Mintz says. "But people do the best they can."
Chenin-Frankl says Passover usually, and fortunately, coincides with spring break from school. This year, she's expecting 30 to 35 family members and friends for Passover Seder.
So, by the time they and Passover arrive, Chenin-Frankl already will have stopped purchasing leavened bread products, including bread and bagels, and will have prepared and cleaned her kitchen in as traditional a manner as she can.
"I do it the way my mom taught me," says Chenin-Frankl, who also will have spent the days before Passover unpacking the dishes and pots and pans — including separate meat and dairy dishes — that she uses only at Passover.
While she seldom has the opportunity to clean every one of her kitchen cabinets of chametz and Passover-prohibited items, "I'll tape the doors shut," Chenin-Frankl says. Meanwhile, foods that aren't kosher for Passover will be moved into a refrigerator in the garage and not touched during Passover.
Although she doesn't follow all of the traditional requirements, Chenin-Frankl considers it worth the effort to observe Passover as traditionally as she can.
"I really think that it's just so important," she says. "It's a really big family time for us."
Passover usually arrives during Marlene and Del Acosta's busiest professional season. They're accountants, and have to incorporate into an already hectic tax season their own Passover preparations. Actually, Marlene Acosta began her preparations for this year's holiday weeks ago.
"We had to clean the stove and the oven and the cabinets," she says. "And, we got ready to take out the dishes from the regular service and put in our Passover dishes. Now there's meat dishes and dairy dishes, and then one that's called parve, which is neither meat nor dairy."
Acosta also already had scrubbed the sink and disposal in her kitchen and begun shopping for kosher-for-Passover foods, a different designation than everyday "kosher." She says finding kosher-for-Passover foods is easier than it was years ago, when she would drive to California to purchase meats for Passover.
Incorporating Passover tasks into an already busy professional work life isn't difficult, Acosta says. But, she jokes, "I've been doing it for, like, 150 years. I know exactly what to do and when to start."
Couldn't she make it easier on herself by, say, cutting a corner or two? "Darn right, I could," she answers.
But, Acosta continues, "when you use your everyday dishes, they're your everyday dishes. When you put out Passover dishes for only one week, it's bright, it's fresh, it's new, it's lovely."
"Our religion is tradition," Acosta adds. "It's what we grew up with and what my children grew up with, all my kids.
"I love it. I love Passover. It could stay all year as far as I'm concerned."
Las Vegas Mayor Carolyn Goodman can recall "the days before the Cuisinart," when transforming whitefish or carp into gefilte fish was a laborious pre-Passover process.
"Every year, I made all the Passover food," she says. "We always had (Passover Seder) at home and I always made gefilte fish for (husband and former mayor) Oscar, which was his greatest joy."
Goodman says that while she doesn't prepare for Passover to the traditionalist extent her husband's mother did, "I do have entirely separate dishware, entirely separate everything and so on. So that, in itself, is a huge task to bring it all out and rewash it and have it ready to go."
Then, Goodman does her shopping "well in advance," and in the past even has taken a day off of work for Passover prep if she needed to.
Actually, Goodman says, "I really enjoy the preparations. I love having the family around.
"It's a very important family, I wouldn't say ritual, but family gathering for us."
By the way: Mintz suspects that it's probably true that the brunt of pre-Passover duties still tends to fall to the woman of the house, although "in this contemporary life, where men share more of the traditionally female nurturing responsibilities, people work it out.
"The whole way of raising families, the paradigm has shifted, and I think it's a healthy thing. Fathers and husbands are getting more of the responsibilities. They're also getting more of the joys of participating in the Seder and participating in the preparation of the Seder."
Contact reporter John Przybys at jprzybys@
reviewjournal.com or 702-383-0280.