Muslims reach out about their faith
September 17, 2010 - 11:00 pm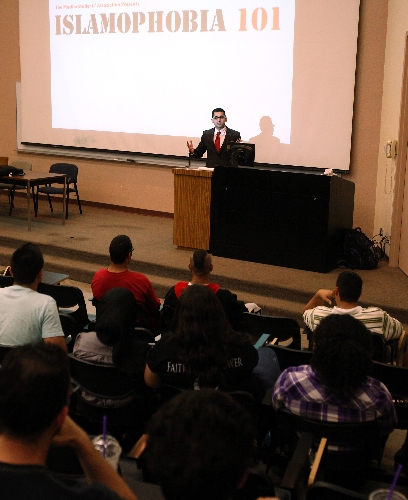 Fear and distrust of Muslims has reached a peak not seen since right after 9/11, and the only way to defeat it is through intensive outreach.
That was the message Z.J. Hafeez, a 26-year-old Democratic lawyer who is the first Muslim to run for statewide office in Florida, brought to UNLV Thursday evening.
"Not enough people are speaking up," Hafeez said. "We need to be vocal. We need to show people who we really are."
Hafeez, who has lately become something of a spokesman for the Muslim community, presented "Islamophobia 101" to a small group that mostly consisted of students.
The event was sponsored by UNLV's Muslim Students' Association.
"It seems like the entire world is talking about Islam in America," said Fatima Khan, vice president of the group. "This is the time to address people's concerns and to inform them of the truth."
Controversy over a proposal to build an Islamic cultural center and mosque near the ground zero site of the 2001 terrorist attacks in New York City has inflamed anti-Muslim sentiment, Hafeez said. And media attention on a Florida minister's plan to burn copies of Quran helped perpetuate unfair representations of Islam.
Such attention helps create an "us versus them" mentality, Hafeez said.
"The media is doing a great public disservice by promoting this clash."
Many politicians have added fuel to the fire instead of speaking up for the rights of Muslims and talking about their teachings of peace, he said.
"Terrorists don't represent Islam," he said. But "it's the extremists whose voices are heard the most" in the media.
"Islam is being hijacked by lunatics," Hafeez said. "They have tried to steal my religion from me. I say no."
Hafeez said he learned as a college freshman in 2001, the year of the Sept. 11 terrorist attacks, that the only way to stop that from happening was to speak out.
"I was the visual representation of the Muslim faith," he said.
People began asking him questions, and as they learned more from him about Muslims they "began to open up their minds as to what a Muslim was."
"You should speak up as well," he told the audience. "We are trying, but we have to try harder. We have to, even though we shouldn't have to. The solution is these discussions."
Muslims need to become more involved in their communities, he said, so that the broader community can see Muslims are like everybody else.
They also need to host more events such as the "rally for peace" held on Sept. 11 this year in front of the Lloyd George U.S. Courthouse.
The Islamic Society of Nevada organized the rally, which included a prayer vigil for victims of the 9/11 terrorist attacks.
"We have to come out and demonstrate to people that we are no different than they are in condemning terrorism," said Aslam Abdullah, the group's director.
The 9/11 event drew about a hundred people and included members of the interfaith community.
Amin Nash, president of the Muslim Students' Association, said he would embrace the message Hafeez delivered Thursday.
"The controversies around the nation are showing … people don't know that much about Islam," he said. "It's a Muslim's duty to educate other people about our religion."
Contact reporter Lynnette Curtis at lcurtis@review journal.com.