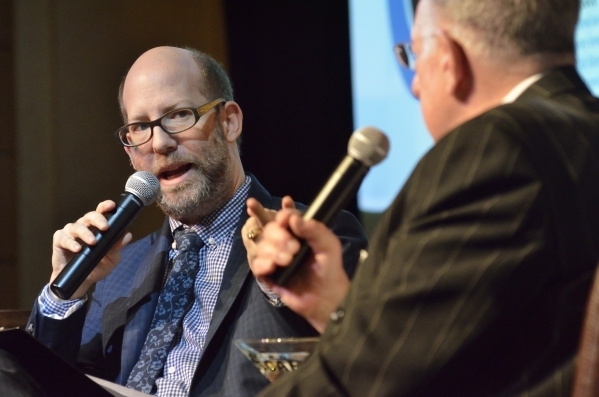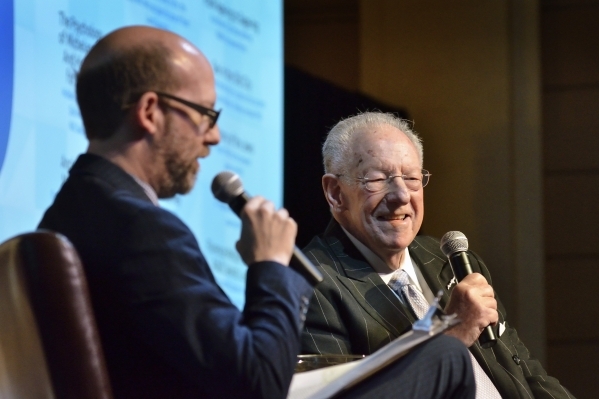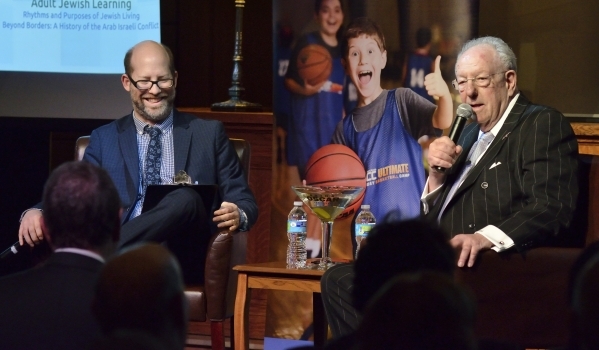 The Jewish Community Center of Southern Nevada initiated "Jewish University" to spark interest and discussion in a range of topics touching on Judaism. The new endeavor gets its name from a desire to offer in-depth lectures, long and short courses, and other events that challenge thinking and understanding.
But the university's lofty goals should not be equated with any stereotypes of academic stuffiness.
One need look no further than the lively series opener, "Kosher Nostra," Jan. 7 at The Mob Museum, featuring moderator Dayvid Figler talking with former Las Vegas Mayor Oscar Goodman. The sold-out program was presented in The Mob Museum's courtroom — the same room that saw Goodman face off against prosecutors when he was the attorney for noted mob members.
In traditional fashion, Goodman showed up with a giant martini made with Bombay gin while Figler played the role of a modern-day Johnny Carson as the two chatted about a myriad of topics related to Las Vegas history and Goodman's part in it.
The two-hour program included Goodman's first days in Las Vegas when he and wife, Carolyn, arrived from Philadelphia to a much different Las Vegas in 1964. Immediately captivated by the charm of the city, Goodman became a mob attorney, while Carolyn worked as an executive at Caesars Palace before stepping down to begin raising the couple's family.
Audience members had a chance to ask questions, too.
"It was wildly successful," said Jeff Metz, executive director of the Jewish Community Center of Southern Nevada. "We have an extremely active and engaged leadership group chaired by Lauren Eisenberg and Ayelet Blit. This was the inaugural event of Jewish University and I cannot imagine a better kickoff than the one we had."
Among other topics scheduled during the winter semester through April are "Ancient Rituals, Modern Debate"; "The Psychology of Michelangelo and His Love for Hebrew"; "Israel — From Statehood to Forever"; "The Jews of Southern Nevada"; "All You Need is Love"; "From Age-ing to Sage-ing"; "Sex in the Old City"; "Religion and Belief"; "Planning a Good Death"; "Conversational Hebrew"; "History of the Jews"; and "Yiddish."
Metz, who has been in Las Vegas for about a year, said the opening event reflects the quality and caliber of each of the offerings that will be presented in the first semester of classes. Everything worked out from the location to Goodman to Figler's participation.
"The inaugural program was sold out for weeks in advance," Metz added.
Brian Siegel, who is on the committee for the Jewish University, concurred.
"I think it was superb," Siegel said. "It was incredible with Oscar and Dayvid. There wouldn't be a Las Vegas without the people he represented. This is our history and learning about it firsthand from Oscar was incredible."
Siegel, 53, is now enjoying his second stay in Las Vegas for a total of 20 years. A native of New York City, he first came here to become the first athletic director of The Meadows School in 1989.
"My parents both live here," he said. "They came here in 1989, but we left for Nashville and Florida before returning in 2012. I think that Las Vegas has always been a gambling city and now with the (Discovery Children's Museum) and The Smith Center, we're becoming a city for a higher level of cultural activities and offerings in this community. Jewish University is hopefully filling a need in the Jewish community, and all are welcome to attend. We have received so much positive feedback."
Further gatherings will be presented at the Judy Bachman Memorial Suite in the Jewish Community Center, 8689 W. Sahara Ave., and Touro University at 874 American Pacific Drive in Henderson. Insiders said this week that tickets are already moving at a rapid pace following the Figler-Goodman debut.
Further information is available by visiting www.jccsn.org, by calling 702-794-0090 or by emailing info@jccsn.org.