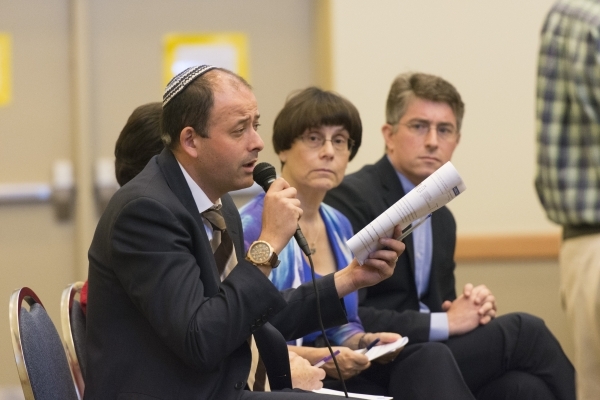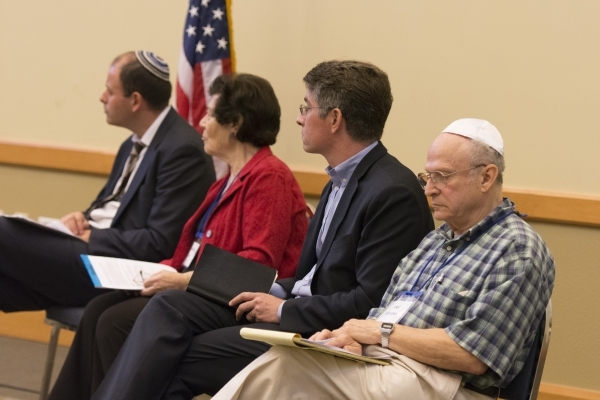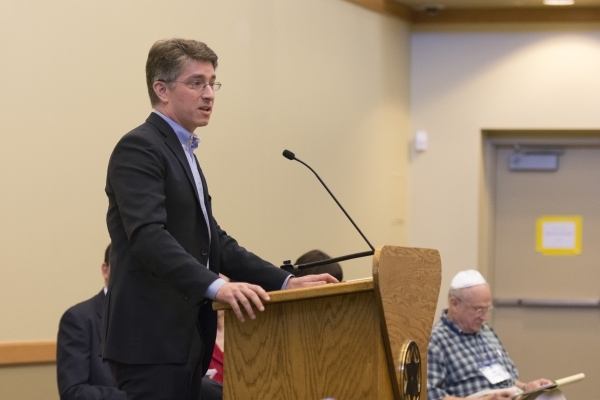 Nations are struggling with what to do about more than 4 million Syrian refugees fleeing war. It's complicated from a personal perspective as well, as individuals weigh compassion against prudence.
Jumping into the mix were members of Temple Sinai, a Reform Jewish community in Summerlin, who decided to take the topic head on through a panel discussion, "The Middle East Refugee Crisis: Perspectives & Responses."
More than 70 people gathered Oct. 11 to hear from five panelists with experience ranging from international law to Holocaust survivorship. Discussions were lively around the breakfast tables, even before the panel.
"We're here to find out all sides of the situation," said attendee Sandra Marcus, a member of the synagogue for six years. "As a Jew, I feel I want to take as many people into this country as possible. But as a United States citizen, I'm worried that we're going to be letting terrorists in also. And what kind of vetting job are we going to do to make sure that this doesn't happen?"
"And can we afford it?" put in Glenda Rogers, sitting at the same table. She's been a Temple Sinai member for about five years.
"We have so many problems here of our own that we must solve first," she added. "We can't take care of the world! It would be wonderful if we could, but we can't."
Rabbi Malcolm Cohen of Temple Sinai served as a panelist — and called the event a "litmus test."
"I think the mark of a strong synagogue and a civil society is to be able to discuss difficult issues respectfully," he said.
In answer to some of the concerns he's heard, he agreed "we can't take everyone in. All I'm saying is, let's do our fair share."
Cohen reminded attendees that the Torah and history of the Jewish people emphasize the idea of "loving a stranger." That includes a flight from Egypt in which Jews were accompanied by some who were not part of their community.
"We have to engage in the subject of 'loving a stranger' because it is so much a part of our tradition," he emphasized.
Among the other panelists was Joel Shinder, a former associate professor of history, who pointed out that Jewish tribes protected Muhammad. Michael Kagan, associate professor at UNLV's Boyd School of Law and co-director of the university's immigration clinic, discoursed on the 1951 Refugee Convention, and the twists and turns of immigration law for refugees and asylum-seekers in the U.S.
Other panelists were Raymonde Fiol, a child Holocaust survivor, activist and president of the Holocaust Survivors Group of Southern Nevada; and Esther Finder, president of Generations of the Shoah-Nevada, activist, and daughter of Auschwitz-Birkenau survivors. They shared their personal experiences of what fleeing to freedom meant for them.
Panelists fielded questions on issues such as the possible infiltration of ISIS in the U.S.; fears about closed immigrant communities within U.S. borders; and why some immigrants to the U.S. aren't required to get sponsorships.
According to Temple Sinai spokeswoman Stephanie Helms, the panel resulted from discussion sparked by an earlier High Holy Days call to action. Cohen had joined 124 other Reform rabbis across the U.S. and Canada in urging Jews observing Rosh Hashana to pressure political leaders. The goal: helping the Syrian refugees.
Panelist Kagan, who has lived and worked in the Middle East, said he thought welcoming the refugees here would "make us more profitable and dynamic as an economy."
"I would support being welcoming to refugees even if it cost us," he added. "I think it's part of who we are."