See documentary of Steve McQueen's faith journey in Las Vegas
September 23, 2017 - 10:44 am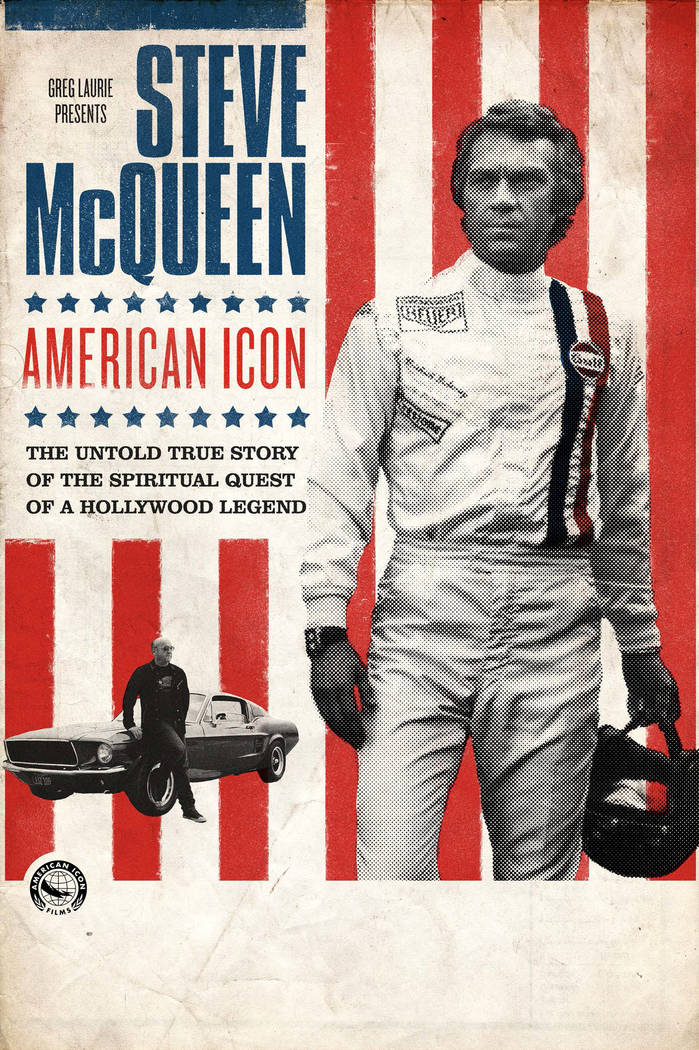 Actor Steve McQueen, who personified cool during his nearly two decades as a Hollywood superstar, retreated from the glamor and excesses of the movie scene late in his short life and embraced Christianity.
When he died at age 50, McQueen was clutching a Bible — one given to him by Billy Graham.
In fact, it was Graham's personal Bible, the one he preached from at crusades. The Charlotte-born evangelist had handed it to the actor, then gravely ill with cancer, during a private meeting Nov. 3, 1980 — four days before McQueen died after surgery in Mexico.
Nearly 37 years later, the story of Steve McQueen's faith journey is about to be told on the big screen — the medium that made him internationally famous as the action hero in hits such as "Bullitt" and "The Great Escape."
And though Billy Graham, now 98 and living in his mountain-top Montreat, North Carolina, home, doesn't speak or appear in person in "Steve McQueen: American Icon," the preacher and his Bible play a major role in its final minutes.
The faith-based documentary feature film will be shown at 7 p.m. Thursday at theaters in Charlotte and around the country, including Las Vegas. The host for this one-night event will be Greg Laurie, a lifelong McQueen fan and the pastor of one of America's biggest megachurches, Harvest Christian Fellowship in Southern California.
Much of the drama in the new film comes late: Viewers are told that McQueen took along the Graham Bible — with a prayerful note from the evangelist on an inside page — when he traveled to Juarez, Mexico, for an operation to remove a tumor.
The actor died of a heart attack shortly afterward, on Nov. 7, 1980. And when Grady Ragsdale, the manager of McQueen's ranch in California, went to retrieve the body, he pulled the sheet back and found that McQueen had died clutching the Bible to his chest.
Laurie puts it this way in the film: "He was holding on to the Bible of Billy Graham as he entered eternity."
'Searching for something'
In a 1980 interview with the Asheville Citizen not long after McQueen's death, Graham called his meeting with the actor "one of the most heartwarming stories of my ministry. I think it illustrates how lonely most well-known people are, how guarded they must live and how they really are searching for something. Steve McQueen found what he was searching for."
The film also features interviews with actor Mel Gibson, other actors who worked with McQueen, a renowned stuntman, pilots who taught McQueen how to fly, his pastor, his biographer and the last of his three wives, model Barbara Minty McQueen.
Steve McQueen became a movie star in the 1960s, establishing his image as the King of Cool in the roles of the motorcycle-riding POW in "The Great Escape" and the Ford Mustang-driving police detective in "Bullitt." Other McQueen hits in that decade and in the 1970s included: "The Magnificent Seven," "The Cincinnati Kid," "The Sand Pebbles," "The Thomas Crown Affair," "Towering Inferno," "Le Mans," "The Getaway" and "Junior Bonner."
But toward the end of his life, McQueen disconnected from Hollywood, sought more privacy and meaning and started attending church.
"He wanted to meet with Billy Graham," Laurie recounts in the film. "And Billy at that time was really, in many ways, the visible representative of evangelical Christians."
Adds McQueen biographer Marshall Terrill in the film: "He felt that Billy Graham was the closest thing to God on earth. He could give (McQueen) either some sort of insight or … some sort of wisdom."
Graham and McQueen finally met privately in California on Nov. 3, 1980. When the actor said he wished he had a Bible with him, the evangelist gave him his own weathered, marked-up copy.
On screen, viewers will see that Bible, with "Billy Graham" on the cover, and Graham's personal note to McQueen:
"To my friend Steve McQueen, May God bless you and keep you always. Billy Graham." The evangelist also wrote "Phil 1:6," a reference to a passage in Paul's Letter to the Philippians in the New Testament.
It reads: " … being confident of this, that he who began a good work in you will carry it on to completion until the day of Christ Jesus."
'My spirit isn't broken'
"Steve McQueen: American Icon" ends with an audio of the actor talking three weeks before his death.
"I want to change some people's lives somehow, to tell people that I know the Lord," McQueen says. "I used to be more macho. And now my body is gone, is broken. But my spirit isn't broken."