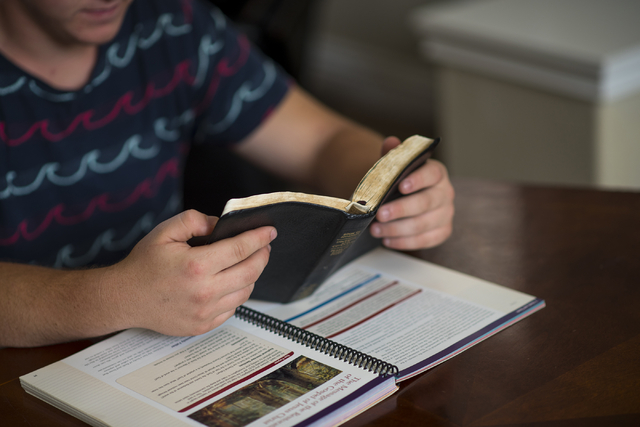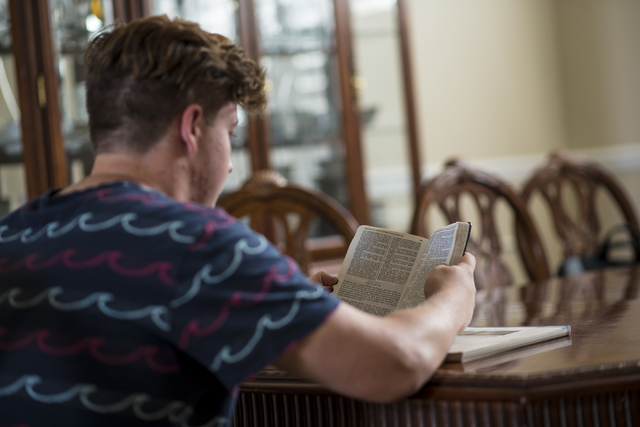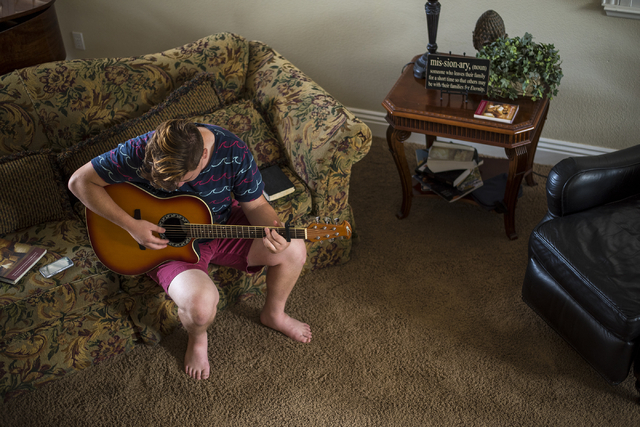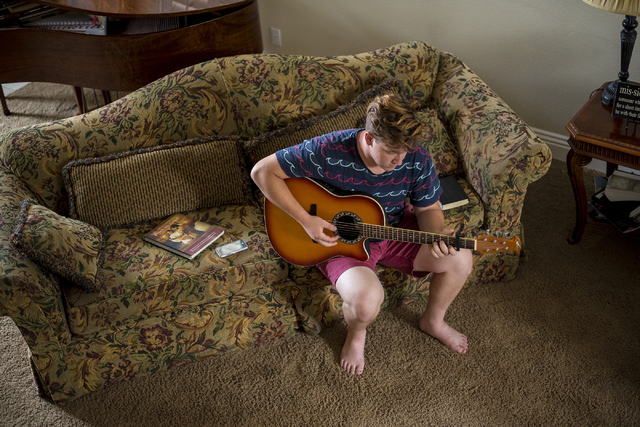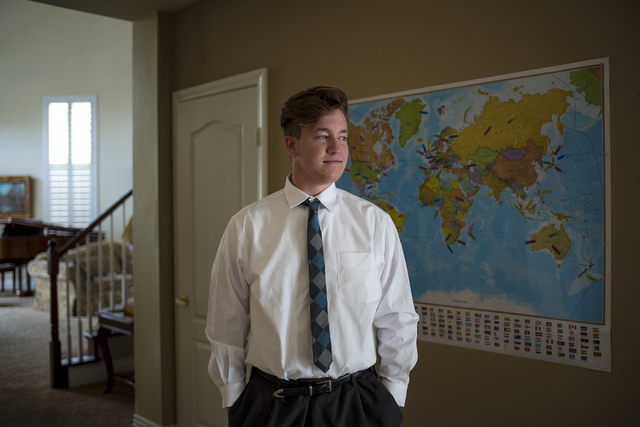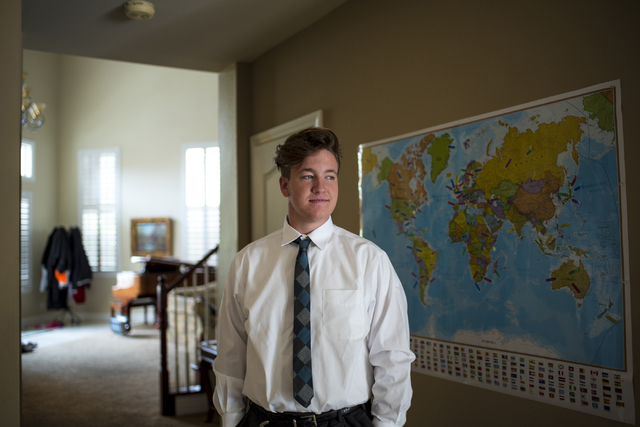 About 185 years ago, Joseph Smith of The Church of Jesus Christ of Latter-day Saints called on his brother Samuel to serve the organization's first mission. Since then, members of the church have served missions all over the world.
Each year, more than 600 young men and women are called from Clark County to serve on missions for the church.
Among the latest to join the effort is Cole Ballard, an 18-year-old who will serve in Osorno, Chile, after graduation this spring from Coronado High School in Henderson. His 20-year-old sister Brianna has been on a mission in Peru since February 2014 and is writing a blog about her experiences.
"I'm really looking forward to this," Cole Ballard said. "There are always concerns no matter what you do. I will have help, though, although I'm a little worried about the language. A lot of my friends are also going on missions. I know I can do it."
The church offers members training in language and living in another country before they set out, though much of what they will learn will be in the field. Missionaries typically pay their own way with help sometimes coming from local families or other benefactors.
In addition, the Ballard children can call on the experiences of their parents, Mike and Robin Ballard, who served missions. Mike Ballard was in Milan, Italy, from 1980-82 and Robin served in Toronto from 1985-86.
"I wasn't raised in the Mormon Church," Mike Ballard said recently. "I converted in my junior year at Chaparral High School."
For the elder Ballard, becoming a Mormon and serving on a mission were godsends. There were challenges, however, considering he didn't know Italian, so he went to a missionary training center in Provo, Utah, one of 15 around the world.
"My mom was really worried about me and didn't want me to go," he said of that time. "My dad kind of felt that it was kind of like going into the military.
"Today most young people spend six weeks in the missionary training center," Mike Ballard continued. "That was the start of a radical change in my life. I came from a household of alcoholism and gambling, so I learned the discipline necessary to succeed in life. I learned the joy in serving others and how it helps with one's emotional health."
"My going on a mission changed my life dramatically. I had some bad habits, and the mission helped me focus better.''
Those interviewed for this story cherish the experience that saw them leave home while in their late teens or early 20s to help others.
Former sportscaster Ron Futrell grew up in Southern California and went on a mission to Belfast, Northern Ireland, in 1975 when he was 19 years old.
"It was a hopping place to be in the mid-1970s," recalled Futrell, a 30-year resident of Las Vegas. "I wasn't scared, but my parents were terrified that I was going to a place where explosions and bombs were all you saw on the evening news."
Phone calls home were for Christmas and Mother's Day.
"We did a lot of letter writing," he said. "You are told to focus, not worry about what's going on at home and to serve your mission in the best possible way. When you're a young man at that time in your life, you really don't have a lot of direction, and this helps you focus on religion, dedication, devotion and service."
Futrell and his wife, Kathy, have two sons who served missions for the church: Aaron Futrell, now 35, served a mission in Mexico in 2000-01, and his brother Tyler served in Brazil in 2005-06.
Another sportscaster, Chris Maathuis of KLAS-TV, Channel 8, served his church mission in the Philippines from 1978-80.
"The people called missionaries 'Joe' out of respect for the GI Joes who helped liberate the Philippines," Maathuis explained. "In my first area, San Jose, we opened the area to LDS missionary work. They'd never heard of the Mormon Church before we got there. I went back 30 years later with my youngest daughter, Staycee."
The return visit was one Maathuis never will forget.
"We found one of the families we taught and baptized. Now elderly, she came out from behind this wall, and the look in her eyes when I said, 'It's Elder Maathuis,' was priceless. I still get goosebumps talking about it," he said.
Not all church missions are served overseas.
Lt. Gov. Mark Hutchison served in the Ohio Columbus Mission in 1982-83 and said the memories will last for the rest of his life.
"I learned to love and deeply respect the people I met and served and taught on my mission," Hutchison said. "I repeatedly felt deep satisfaction and joy in serving people who were less fortunate and blessed than me. And I certainly learned to pray more earnestly and rely on God more meaningfully than I had previously in my life.
"LDS missionaries serve in companionships. Spending almost every waking minute of every day with another person taught me that successful human relationships often require patience and tolerance and selflessness."
Hutchison and his companion went house to house knocking on doors and offering to share the Gospel message.
"Tracting is not easy," he recalled. "People at times can be impatient and even rude. But I met so many good people who allowed me to enter their homes and share what I considered to be a deeply important message."
One day, though, stands out.
"A car pulled up alongside of us and asked who we were," he said. "We explained that we were LDS missionaries. He said that he had been observing us for a while and wanted to offer us a job. He said he owned an insurance agency, and anyone who could knock on doors all day long and talk to complete strangers could certainly sell insurance!"
A few weeks later, Hutchison and his companion visited with the insurance agent.
"We didn't accept his job offer, but he allowed us to teach him and his family," Hutchison said. "It was a great experience for me and my companion."
Ultimately, the mission was a wonderful experience for Hutchison.
"When I found myself discouraged with the many challenges of missionary work, I learned that Mother Teresa was right. God doesn't call us to be successful. God calls us to be faithful."