This Las Vegas hip-hop club isn't what you think — PHOTOS
September 5, 2015 - 12:54 pm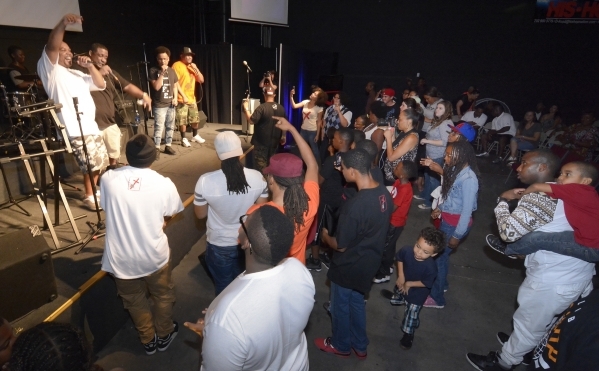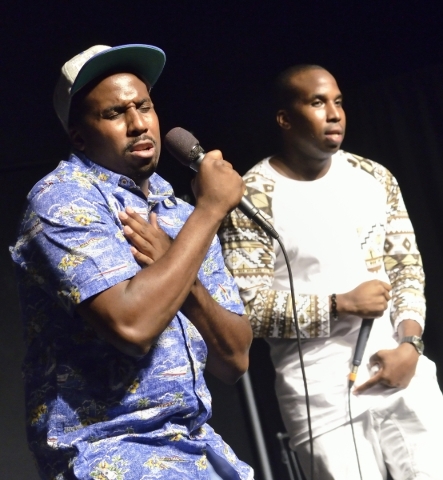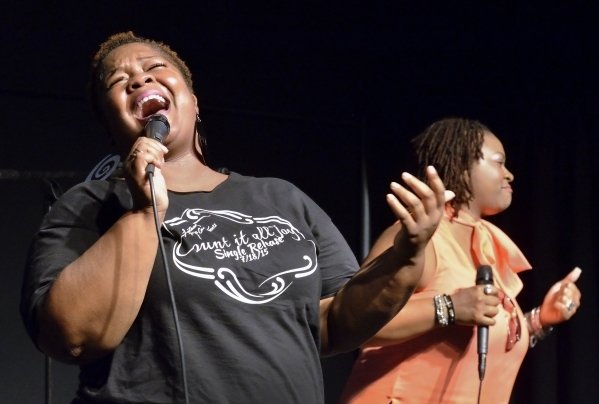 It's a Friday night in Las Vegas and the sounds of hip-hop fill the 5,000-square-foot warehouse near McCarran International Airport. About 200 people have been drawn to the sound and there's no lack of knee slapping, break dancing, waving hands and arms, and singing.
It may seem like any other hot summer night party in the valley, but this event takes place at Family Worship Christian Church, 3945 E. Patrick Lane. And the hip-hop music is as inspirational as it is entertaining.
Welcome to Club His Hop.
The dream child of His Hop Records CEO Sam "D-Road" Stewart, the free monthly gathering is a show in itself in a city filled with countless entertainment options.
The 43-year-old Stewart started playing music in 1993. He said he wasn't happy with the direction hip-hop was headed at the time so he started his own version, calling it "His Hop."
"I had always been in love with hip-hop music before," Stewart said. "I wanted to do something to make the message positive rather than what we were hearing back then.
"It's always been in me because I like making a difference, and it just kind of took off."
Started about three years ago, Club His Hop attracts everyone from preteens to adults in their 60s. Rap artists mix their messages into their music in what might best be described as a spiritual rap session on the second Friday of every month at the church.
Through their music, performers drive home the importance of staying away from drugs along with other elements that have been known to cause ruin.
The audience is about 80 percent African-American and the musicians also tie their message into contemporary American life, such as the deaths of unarmed black men in Ferguson, Mo., Baltimore and elsewhere after run-ins with police.
One rapper cautions the audience: "If a policeman turns on his lights, (immediately) pull over.
"That's all. Just pull over."
The night starts with an open mic session at 7, when aspiring rap artists perform. The serious stuff starts at 8 p.m.
Kids are dancing and so are the adults, although it's the young people with the real talent on the dance floor. The older members of the crowd gather around the dancers and in a matter of only a few minutes, what might have been a bad day earlier turns into a great night.
Even the sound of jets approaching nearby McCarran cannot dampen the enthusiasm.
Among those in attendance is special education teaching paraprofessional Amy Hardy, who has lived in Southern Nevada for more than 30 years.
"It's the spirituality and watching the children dance that I especially appreciate," Hardy said. "A lot of the rappers travel from all over the United States to be here. I'm a bit of an evangelist myself so I do attend many different churches.
"What brings me back to this specific ministry is that it's very family-oriented," she added. "I admire Sam Stewart and his continued inspiration on our youth. Sam promotes a lot of rap artists to come and perform within our stage and many of them are producing CDs to market.
"It's not just rap music, but spoken word poets. They are incredible."
Hardy said she has been attending Club His Hop for about two years. She also shoots photography for the group.
"This is truly a family atmosphere where many infants fall to sleep in their parents' loving arms. I have seen that sort of thing happen many times," she said.
Grace Melendez, a five-year resident of Las Vegas, has been a part of the ministry since it started.
"I love the energy and I love the fact that we keep kids out of the streets," said Melendez, a local insurance executive. "A lot of kids are there because of Sam's heart for the kids. We have a generation of lost children. Life is more than just everyday things. God is the biggest part of everything. Many kids simply don't know where to turn and this affords them the opportunity to seek help."
Family Worship Christian Church pastor the Rev. John Gee, who moved to Las Vegas from Minnesota in 2002, loves the gatherings.
"I have a musical background," said the 59-year-old Gee, who plays the electric guitar, keyboards, percussion and also sings and has produced a pair of CDs. "I think it's really cool."
Stewart also includes a prayer service for anyone in need as part of the Club His Hop experience.
Stewart's efforts of encouraging hip-hop with positive vibes is now making a difference beyond the Las Vegas Valley.
"We're using music as a positive tool to promote the Gospel, and some big-name artists attend and play at our gatherings," he said. "Our events are always free to the public although people can donate, if they'd like."
Further information about His Hop can be found by calling 702-900-3779, visiting www.hishopnation.com, texting "His Hop" to 96362 or by listening to His Hop Radio by downloading the radio app for iPhone or Android. Doors open at the next Club His Hop event at 6 p.m. Sept. 11 at the church.