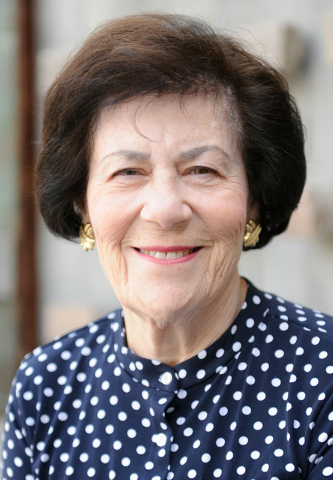 For more than 50 years, Raymonde Fiol had locked away her childhood memories.
She never talked about her childhood in Nazi-occupied Paris, not even to her two children. The memories of being separated from her Jewish parents and hidden by a Christian family of Resistance fighters were just too painful.
Thoughts of that part of her life were left behind when she departed Paris in 1957, the bride of American serviceman Phil Fiol. The two built a life in the New York City area, he in printing and sales, she in inventory control. They retired to Las Vegas 11 years ago, partly to be closer to their children, who are living in California.
A phone call about six years ago from a researcher in France challenged Fiol's compartmentalized world.
Documents confirmed Fiol's parents had been sent to a labor camp in northern France, then to Auschwitz where they perished in the Nazi death camp. The French were erecting a monument to the victims of the Holocaust and her parents' names were to be included.
"It was like a light went on," said Fiol, her eyes misting as she talked in her northwest Las Vegas home's living room.
Ever since, Fiol, 77, has been "on a mission for what we call in Hebrew 'Tikkun Olam' — Repairing the World," said Nora Kraidman, director of senior services for the Jewish Family Service Agency. "Mrs. Raymonde Fiol has made it her life mission to preserve the memory of the Holocaust and to make sure Holocaust survivors in our community and around the United States are provided with the services they need."
Her actions earned her the Nevada Senior Citizen of the Year award from the Nevada Delegation of the National Silver Haired Congress and the Aging Services Directors Organization.
It's a humbling honor, Fiol said. "I'm just doing what I can."
Those around her see it differently.
"It is inspiring seeing a senior citizen going strong and willing to help others," said Kraidman, who nominated Fiol for the award.
After that light went on, Fiol became active in the Holocaust Survivors Group of Southern Nevada and now serves as its president. She stages several luncheons and events for the survivors, an aging group that has dwindled to about 130 in the region. The annual highlight is a Hanukkah party at Sheldon Adelson's Venetian hotel-casino. Adelson is a major benefactor of the Holocaust Survivors Group.
As president, Fiol fields the calls when a survivor has a problem, from needing transportation to the doctor to dealing with the recurring memories of tragic events generations ago and half a world away.
Fiol and Kraidman said they're seeing more symptoms of post-traumatic stress disorder among the survivors. While many of the survivors are struggling to retain short-term memories, their memories of events some 70 years ago remain vivid and painful. The Jewish Family Services Agency has responded by offering a mental health program designed for the Holocaust survivors.
Fiol has come to grips with her own past. She worked through the Yad Vadim, the Shoah Martyrs' and Heroes' Remembrance Authority set up by the Israeli government, to achieve "righteous among the nations" status for those who rescued her in Paris. It is among the highest honors afforded non-Jews.
And she led about 30 family members on a pilgrimage to France to see her parents' names inscribed on that monument.
Fiol is active in local efforts to ensure the Holocaust is not forgotten. She has worked with UNLV students on a pair of film projects about the Holocaust and is among the survivors featured in a short documentary, "Passing the Torch." That film is being submitted to film festivals this spring, said Esther Finder, president of Generations of the Shoah — Nevada, an intergenerational group of survivors and their families.
Fiol and Finder are members of the Governor's Advisory Council on Education Relating to the Holocaust. And they agree that the Holocaust must find a voice among the children of survivors for educational efforts to be sustained.
"Ray Fiol is what Jewish tradition calls a 'woman of valor,' " Finder said. "Despite her experiences as a hidden child orphaned by the Holocaust, her message is positive and optimistic. We are lucky to have her in our Las Vegas community."
Finder describes Fiol as an unusual combination of sensitivity and toughness. She works quietly behind the scenes and gets things done. And she works tirelessly.
Fiol has worked on the Holocaust commemoration programs for Las Vegas and Nellis Air Force Base. She also serves on the Coordinating Council of Generations of the Shoah International, the largest Holocaust survivor family organization in the world.
The selection as Nevada Senior Citizen of the Year is Fiol's second honor in the past few months. In December, the Jewish Federation of Las Vegas named her Mentsch Volunteer of the Year.
The Nevada Senior Citizen of the Year award is in its second year. Frank Pati of Mesquite received the honor last year for his work organizing the Mesquite Senior Games and senior softball, and for promoting physical fitness among older citizens.
Fiol will receive her latest award May 28 at the ASDO's annual luncheon. May is Older Americans Month.