Reporter displays busted moves as a B-boy (Break Dancer)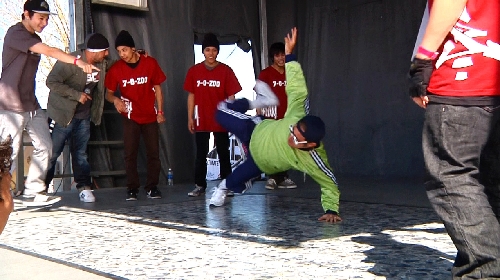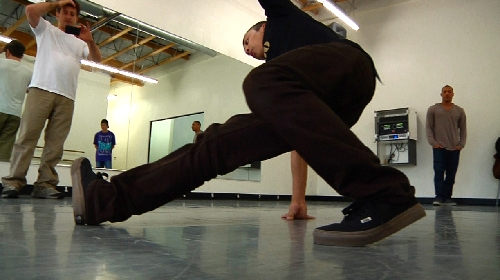 Everybody's head is about to spin. Except mine, the one that's supposed to.
A crowd of 300 mostly adolescents has gathered at the Extreme Thing Sports and Music Festival to witness a performance by one of the founders of break dancing.
"Give it up for C-Lev!" announces the DJ for the Ultimate B-boy Championship side stage, adding: "This guy taught me everything I know!"
I was raised in New York in the '70s, while break dancing was being invented on South Bronx street corners. (Often, it settled turf disputes instead of gangbanging.) Of course, my thing was more the bus stop at my friends' bar mitzvahs on Long Island.
The crowd roars as I walk onto a stage warmed by acrobatic rotations executed by 7-0-Zoo, a nine-man Las Vegas break-dancing crew, on blurry extremities.
"That's kinda it," said 7-0-Zoo member Chris Buenaventura, while training me a week earlier.
Buenaventura, 20, has been confusing his torso for a top since age 4.
"B-boying is a philosophy and it's an art and it's a dance all in one," he said. (Within the culture, it's always called B-boying; the "B" standing for Bronx. Break dancing was a term conferred by the mainstream media in 1981.)
7-0-Zoo is a junior farm team for Knucklehead Zoo, the subject of a 2007 documentary, "Planet B-boy," and its own show in a Broadway-district theater in 2008.
"This is just like any other job," Buenaventura said. "We're not just doing it as a hobby. We're trying to make it as a career." (Just in case that doesn't work out, however, the College of Southern Nevada student is thinking physical therapist. Smart, since he can mend his own bruised tendons for free.)
B-boying consists of two parts: 1) Toprock, the shuffling moves performed while upright, before getting down to the more important business of 2) Downrock.
"Flavor it up," Buenaventura told me. "Add your own flavor to it!"
Power moves such as backspins, windmills and airflares were invented to respond to just such a request. Alas, as a B-boy, I have two left heads. Even the basic routine, called the six step, is four steps too advanced. It requires the left leg to swing inversely in front of and behind the right leg and in counterbalance with the right and left arms.
"Just be who you are," Buenaventura finally said, stifling laughter out of respect for his elders.
By the time Vanilla Ice scored the fastest-selling hip-hop album of all time, the original wave of break dancing was a broke dance. Then, five years ago, it crabwalked back to life — gaining momentum at inner-city parties and clubs and eventually reappearing on MTV via "Randy Jackson Presents: America's Best Dance Crew." (First-season victors the Jabbawockeez now enjoy a successful run with their own Monte Carlo production show.)
Pretty much the only distinctions between B-boying's new and old schools are hardwood instead of linoleum floors, and clothing that doesn't answer the question, "What if chickens jogged?"
In Vegas, a thriving B-boy scene centers around Tunay Ink dance studio, a former Arts District radiator shop whose freshly parqueted floor now hosts weekly break-dancing classes and monthly battles among members of at least two dozen Vegas crews. (In addition to Knucklehead Zoo, their names include Battle Born, Full Force and Runaway Tribe.)
"Break dancing allows kids to express themselves in a positive way, as opposed to them taking it onto the streets," says Tunay Ink co-owner JoJo Peralta, a B-boy since 1980. "It will always have appeal."
Back on stage at Extreme Thing, my legs attempt to employ everything they were taught by Buenaventura. What results is not dissimilar to the behavior of a mackerel on the deck of a fishing boat. The most impressive feature of my performance is how quickly it ends, after seven awkward seconds.
As per tradition, I hold a difficult pose known as a freeze. (Hey, lifting my right arm in the air is difficult for me these days.) While freezing, I gaze into the crowd at Desert Breeze Park, where jaws slam the ground harder than my calves just did.
"What the (expletive) was that?" screams one young male.
The answer, I believe, is C-Lev flavor.
Watch video of Levitan's break-dancing performance at www.lvrj.com/breakdancer. Fear and Loafing runs the first Sunday of each month in the Living section. Levitan's previous columns are posted at www.lvrj.com/corey and www.fearandloafing.com. If you have a Fear and Loafing idea, email clevitan@reviewjournal.com or call (702) 383-0456.