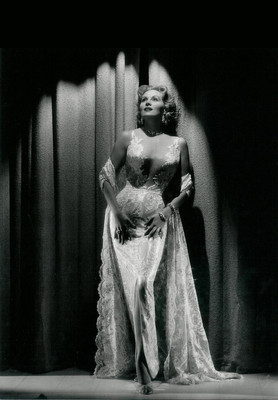 EDITOR'S NOTE: This is part of an occasional series of stories highlighting performers who played an interesting role in the history of entertainment in Las Vegas.
When beautiful flame-haired film actress Rhonda Fleming stepped out onto the stage in Las Vegas at the newly opened Tropicana on May 20, 1957, wearing a shimmering Don Loper-designed "nude" gown, columnist Jimmy Starr of the Los Angeles Herald-Express raved, "The atomic bomb didn't explode last night, but a new and lovely nightclub star — Rhonda Fleming — blasted her way at the Tropicana and made pretty music that was strictly big time stuff."
A movie actress since 1943, Fleming became a full-fledged star in Alfred Hitchcock's 1945 film "Spellbound," starring Ingrid Bergman and Gregory Peck. After numerous movies and early television appearances, Fleming was approached by Tropicana impresario Monte Proser to star in a revue.
Her early hope was to be a singer. When she was a girl, Fleming's idol was young film songstress Deanna Durbin. Fleming, who possessed a lyric soprano voice, was trained by an aunt, and entered singing contests.
Following the Tropicana's official opening act, Eddie Fisher, Fleming was thrilled to have the chance to prove her singing talent in a live stage show.
"So from 1945 when I did 'Spellbound' to 1957 to be a smash in Las Vegas — it's awesome to me!" she said of her career.
"It's so exciting to look back on it," she added.
Fleming had only three weeks to prepare the act, and she opened after 17 hours of rehearsals. She also had to share her choreographer with Judy Garland.
The gowns were designed by Billy Livingston and executed by Berman's, plus the bejeweled "nude" creation designed by Loper. "They were just gorgeous," Fleming told me. The dances were staged by Robert Alton; Ivan Lane and David Rose handled the musical arrangements conducted by Nat Brandwynne; and the sets were designed by Glen Holse.
Backed by the Tropicana Girls, the revue included such diverse artists as the singing quartet The Cheerleaders, songstress Betty Jean Hansen, Ken Remo, Judy Logan, singer-dancer Elaine Dunne, comic pantomimist Ben Dova, and bongo player Jack Costanzo with the impressionist dance group Tybee Afra.
"I was nervous," Fleming remembered when we spoke about the opening. "I had these stairs to go down … and my knees were shaking. I just thought to myself, if I could just get to the mic — I know I can sing."
Among her songs were "With A Song In My Heart," "I Could Have Danced All Night," "Hello Young Lovers," "Baby, Baby" and "So in Love." Backed by her four dancers — Bob Thompson, Frank Davis, Ian Bruce and Michael Falcon — she sang and danced to "The Long Playing Record Goes Round and Round." For her finale, in which she wore a brief feathered costume, she again sang and danced with her dancers to "An Occasional Man."
The stars showed up in droves for Fleming's opening. And the critics were bowled over.
Hollywood columnist Jaik Rosenstein wrote in his nightclub review: "It will come as a large and delightful surprise to our little home town of Hollywood that Rhonda Fleming in her first such engagement headlining the Tropicana is one of the most dazzling and talented stars ever to grace the Las Vegas bistro belt. The ovation she received was spontaneous and electric and entirely deserved. It was a thrilling occasion. Against the backdrop of the most gorgeous girls in the world, which is easily to be said for the Trop's beauties, Miss Fleming is enhanced in a Don Loper gown, conjured a vision against satin sheets with the moonlight streaming through the window."
Eddie Fisher and his then wife, Debbie Reynolds, stayed over for Fleming's splashy opening.
"(They) gave me a horseshoe (flower wreath) around my neck of all those gorgeous roses," she recalled. "In fact, I got a standing ovation that night — just one of the most incredible nights of my life. Everybody was just so wonderful to me."
Fleming came from a show business family, and was born Marilyn Louis on Aug. 10, 1923, in Hollywood, named after Broadway's Marilynn Miller. Her grandfather was John C. Graham, a prominent actor, theater owner and newspaper editor in Utah. Her mother, Effie Graham, was a blond actress/model who once starred opposite Al Jolson at New York's Winter Garden Theater in the musical "Dancing Around," from 1914 to 1915.
"Yeah, I guess it's in my blood. I was more appropriate for doing that (stage musicals) than I was for motion pictures," she said. "I never asked to be in motion pictures. It just happened with the studio system. I wanted to sing. I studied to be a trained singer, and I worked at it, and trained at it."
As it was, Fleming was discovered by talent agent Henry Willson when she was still attending Hollywood High School. It was producer David O. Selznick who renamed her Rhonda Fleming and cast her in "Spellbound."
"When I got the part, I ran home and told my mother I was going to play a nymphomaniac," she said. " 'A what!' my mother cried. I had no idea what the word meant!"
About her early career in movies, Fleming told me: "You know, I was so unaware of what was right for me, and what was not right for me. As long as David O. Selznick was in the picture — he guided me in 'Spellbound,' leading me to 'The Spiral Staircase' (1946), and then 'Out of the Past' (1947), and then over (to Paramount) to meeting Bing Crosby in 'A Connecticut Yankee in King Arthur's Court' (1949). … I mean the whole thing was like a Cinderella story. My whole life has been a Cinderella story."
The one disappointment was that Selznick did not make musicals, she said. "But he kept my voice lessons up. So, it was just crazy. My whole career backwards."
She was able to warble a few bars while starring opposite Crosby in the Technicolor musical "A Connecticut Yankee in King Arthur's Court." The photogenic actress became known as "The Queen of Technicolor," a moniker Fleming disliked.
Her movie career included major roles opposite some of the biggest stars of the day, including Rock Hudson, Charlton Heston, Kirk Douglas and four times with Ronald Reagan.
Of her singing career, Fleming has many memories of Las Vegas.
One night, show business legend Sophie Tucker was sitting in the audience. "Every time after I did my dance number I'd go backstage to cool off and change, and go back out there and do my next number," she recalled. "When I was backstage they would tell me who was out there. And I was trying to remember the names, because I was just tired from the act. And this night, I stepped out and all the beautiful girls were behind me, and I said, 'Ladies and gentlemen, we are so blessed to have in the audience tonight …' And I knew she knew she was going to be introduced because she was half out of her seat. And I said, '… and it's, ah … ah …' I couldn't think of Sophie Tucker!
"All I could think to do was to start coughing because that's what happened to you in Vegas. And I looked around and said, 'Who is this?' And they said, 'Sophie Tucker.' And I turned around and said, '(cough) (cough) … I am so sorry, it's the Vegas air. It's Sophie Tucker!' And she was so good about it. She said it had even happened to her."
Fleming performed again in Las Vegas, including a run with comedian Dick Shawn at the El Rancho in 1960.
I reminded the still stunning star of her amazing and unexpected Las Vegas reviews and of her sold-out Tropicana audiences, and I asked her why she did not appear more on the stage. "It's amazing to look back on it," she said. "I grabbed the opportunity. I just wanted to know if I could get out on that stage — if I could do it. And I did! … My heart was to do more stage work. But I had a son, so I really couldn't. But that was in my heart."
She did occasional live singing performances — including a 10-week concert tour of the music of George Gershwin — and recordings. Fleming also appeared on Broadway in a revival of "The Women."
For several years, Fleming has devoted herself to various philanthropic causes, including the Rhonda Fleming Clinic for Comprehensive Care and the Rhonda Fleming Mann Resource Center for Women with Cancer, both at UCLA.
She has been married since 2003 to Darol Wayne Carlson (her husband of 23 years, Ted Mann, producer and chairman of the Mann Theatres, died in 2001). A contemporary connection to Las Vegas is her grandson Johnny Brenden, owner of Brenden Theatres at the Palms. He displays some of her movie posters in the theater.
Reflecting on her life, she said to me: "When you're working — those early years — it's like you are a commodity, and you have to sell yourself. … But I use whatever name value I have to give back. Life just isn't worth it — we have to give back. … It is awesome when you can give people hope."