October 26, 2008 - 9:00 pm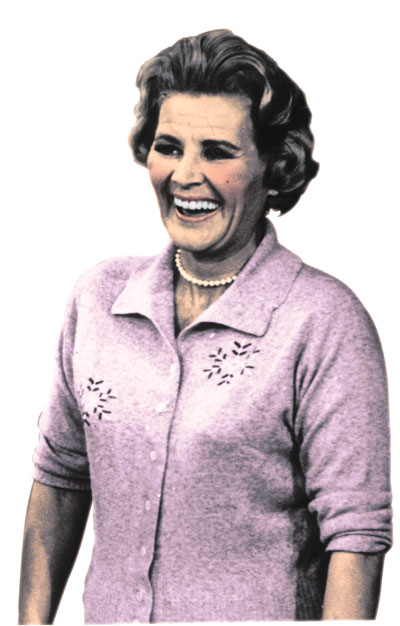 EDITOR'S NOTE: This is the first in an occasional series of stories highlighting performers who played an interesting role in the history of entertainment in Las Vegas.
Most people probably remember Rose Marie as the wisecracking Sally Rogers from "The Dick Van Dyke Show" of the 1960s, but the performer with the trademark bow in her hair also played an important role in Las Vegas' storied past.
Rose Marie co-headlined with Jimmy Durante, Xavier Cugat and others on the opening night of Benjamin "Bugsy" Siegel's Flamingo Las Vegas Dec. 26, 1946.
It was an easy decision to accept the job offer from Billy Wilkerson once she knew the lineup, Rose Marie told me during an interview this summer at her colonial-style home in Southern California.
" 'That's it. I'm going,' I told him. What I didn't tell him was that I was also four months pregnant!"
Her husband, trumpet player William Robert "Bobby" Guy, secured the "best arrangers in Los Angeles" for her music, Rose Marie said, while she contacted couturier Baron Max von Waldeck to design her gowns.
"I never had such gowns in my life," she said, humorously adding, "Take a look at the body before we close the casket."
Rose Marie explained the buildup to the big show in detail in her autobiography, "Hold the Roses" (University Press of Kentucky, 2002), including conspiring with Durante on the flight to Las Vegas to "do a little thing together" at the end of his act. She wrote: "While Jimmy was doing his act, I would come out and say in a Durante voice imitation, 'Wait a minute. Wait a minute. Stop the music!' Jimmy would say, 'There's an imposter here and I don't know which one it is.' Jimmy would then play the piano and he and I would sing 'Who Will Be With You When I'm Far Away?' (Eddie) Jackson would do his strut and we would all walk off using the 'Durante walk-off.' It would be a smash."
Hollywood's biggest stars were there on opening night.
"Two plane loads of stars, and I mean stars: Cary Grant, Lana Turner, Cesar Romero, Joan Crawford … to name just a few. It was so exciting," she wrote.
The show began about 8:30 p.m., and Rose Marie sang "I'm a Big Girl Now" and "Remember Me," plus a couple of compositions of her own.
"This Rose Marie is a glamorous blonde doll, all dressed up in a pink evening gown," wrote Wally Williams of the Las Vegas Review, Dec. 27, 1946, "and gives forth with warbles which seldom are heard in these desert parts. … She's tops and the audience likes her immensely. … She almost out-Durantes Durante with her impression of 'The Schnoz.' "
The next day the stars returned home. That night, Rose Marie played to a near empty house. "Can you imagine — Durante playing to a house of nine people?" she asked me.
Wilkerson had wanted the opening to be formal, the croupiers and dealers to wear white ties and tails. Locals, used to coming to other shows "as you are," were offended when asked to remove their cowboy hats. The public stayed away in droves, and the hotel lost money.
A "second opening" took place on Dec. 28 and the stars were out once more — Lucille Ball, George Raft, Eleanor Parker, William Holden and June Haver, among others.
But because the rooms weren't ready, the Flamingo shut down in February, to reopen on March 1, 1947.
During this time, Siegel's mob backers grew increasingly impatient about the hotel's financial losses.
On June 20, 1947, Siegel was shot to death in Beverly Hills, Calif. The murder was never solved.
Yet, Rose Marie did not see the dark side of her infamous boss during her two-week engagement at the hotel.
"Mr. Siegel was just wonderful to me," she told me. "He called me into his office one day, and his girlfriend, Virginia Hill, was there. He said, 'You're a wonderful talent and I like you. You're gonna work for me a lot. You're the first (female) performer here. You're gonna be the 'Queen of Las Vegas.' "
About her numerous performances in Las Vegas throughout the late 1940s and 1950s, Rose Marie is reflective today. "When the mob ran it, it was perfect. They treated you like a person. They were wonderful," she said. "They'd give you drinks, though not to me because I don't drink. They'd come over to you and say, 'Why don't you go play some blackjack?' And they'd give you some money. They just don't do that anymore. It was the best time of all. They not only treated me with respect, but everybody who'd walk into the joint."
"Vegas was like a second home," she continued. "I enjoyed working there. It was like family. We'd do our shows, and then go to all the other shows. The Flamingo was a very, very classy hotel, the classiest on the Strip at that point. We'd go to bed around two or three in the morning, and get up around noon. I'd get my kicks doing my shows. And I could do anything I wanted in my act."
Although she also played the Riviera, the Royal Nevada and several other Las Vegas hotels, "my hangout was the Flamingo. That was my base. I'd play there five to six times a year."
By the time she first appeared in Las Vegas, Rose Marie was already a seasoned performer.
Born in New York City on Aug. 15, 1923, she was only 3 years old when neighbors heard her singing to herself and convinced her mother to enter the child in a talent contest at New York's Mecca Theatre. After singing and dancing the Charleston, she won first prize.
Known as Baby Rose Marie, as a child she starred in her own NBC radio show, toured vaudeville, made records and appeared in a classic 1929 Vitaphone film short, "Baby Rose Marie The Child Wonder," as well as in such movies as W.C. Fields' 1933 "International House."
One of her early disappointments as a performer came when she was a teenager and had to turn down Richard Rodgers and Larry Hart's "Babes in Arms," because of work rules regarding children in the theater.
"They had written the role of Baby Rose Marie just for me," she said.
After high school, Rose Marie returned to show business as a nightclub headliner.
In 1945 she met her future husband, and they wed in New York City on June 19, 1946.
After setting up house in Burbank, Calif., Guy performed with Bing Crosby on radio while moonlighting at night at Ciro's. (The love of Rose Marie's life, Guy died in 1964. She never remarried.)
On May 18, 1947, Rose Marie gave birth to her only child, a daughter named Georgiana Marie Guy, nicknamed "Noop." (Noop now is married and a successful horse breeder and businesswoman.)
After finally starring on Broadway in "Top Banana" with Phil Silvers in 1951, Rose Marie began appearing on television while continuing her nightclub act.
In 1961, Sheldon Leonard called her to talk about "The Dick Van Dyke Show." "What's a Dick Van Dyke?" she asked him. Cast as writer Sally Rogers, she would earn three Emmy nominations for best supporting actress in a comedy series during its run from 1961 to 1966.
"I loved working on that show with Carl (Reiner), Dick (Van Dyke) and Mary (Tyler Moore)," she said. "And I loved Morey (Amsterdam) so much. He was such a good and giving man!"
Later, Rose Marie starred on "The Hollywood Squares" — from 1966 to 1982 — as well as other game shows; returned to Broadway; and made more movies, such as "Cheaper to Keep Her" (1981). Between 1969 and 1971 she co-starred on "The Doris Day Show."
In more recent years, Rose Marie has made guest appearances in several TV shows, such as "Suddenly Susan." In 2004, she participated in "The Dick Van Dyke Show Revisited."
Rose Marie has received various industry awards: a TV Land statuette for her work on "The Dick Van Dyke Show," a star on the Hollywood Walk of Fame, and she has been inducted into the Las Vegas Casino Legends Hall of Fame. She was given national recognition recently by bequeathing to the Smithsonian Institution one of her trademark hair bows.
The actress also is passionate about her charity work. She is an AIDS and animal rights activist. Recently, Rose Marie was honored by the Progressive Animal Welfare Society, popularly known as PAWS, for her dedication to the group.
"Let me tell you something about animals," she said emphatically. "They don't care what color you are. They don't care what religion you are. They don't care what you are worth. … All they want is to be loved and taken care of. And they give you twice as much as you give them."
Words that are close to many a performer's heart.