Rural residents attempt to fight new housing in northwest area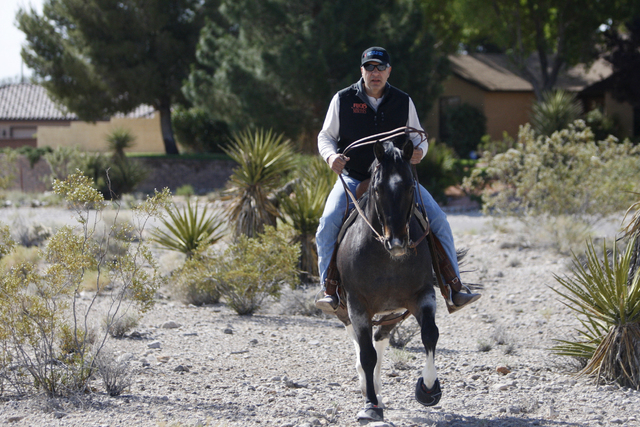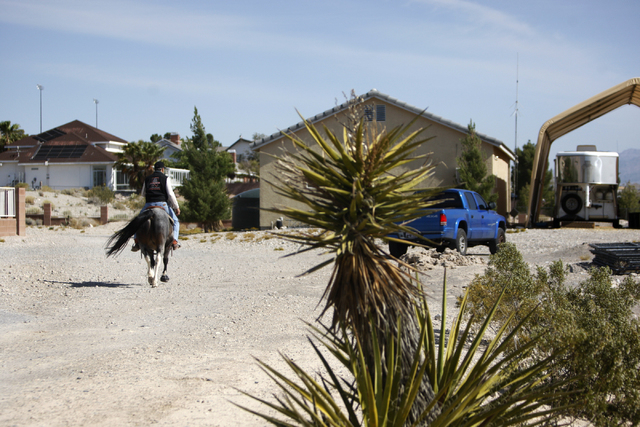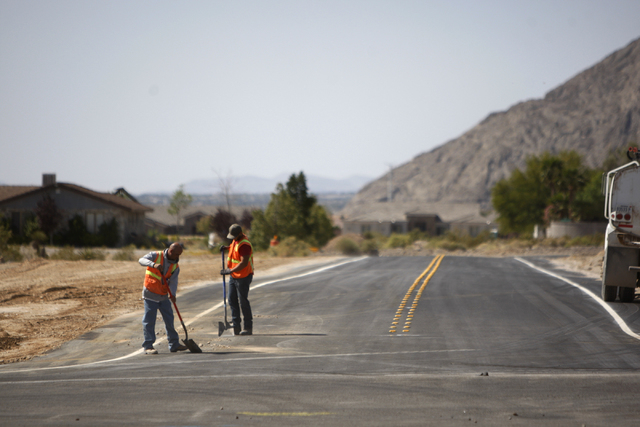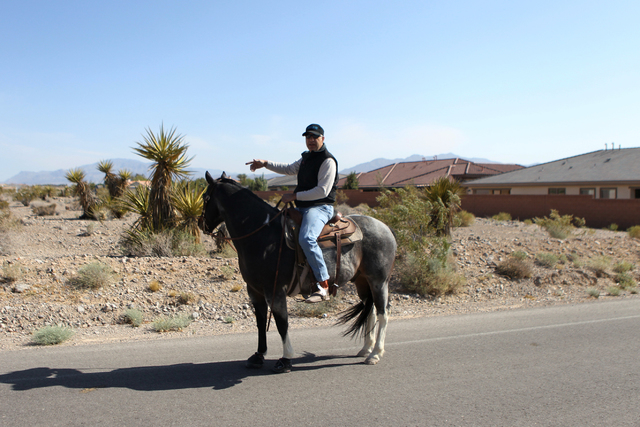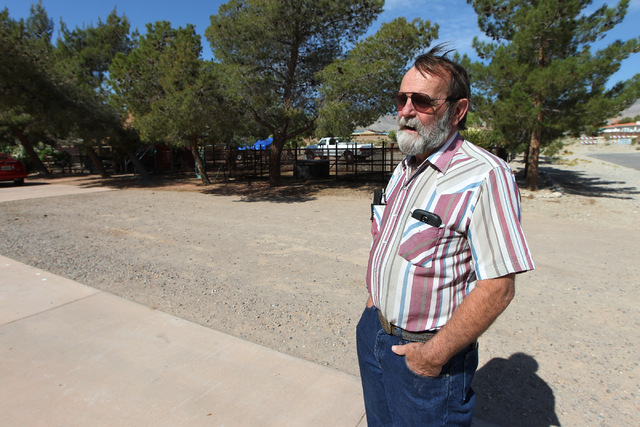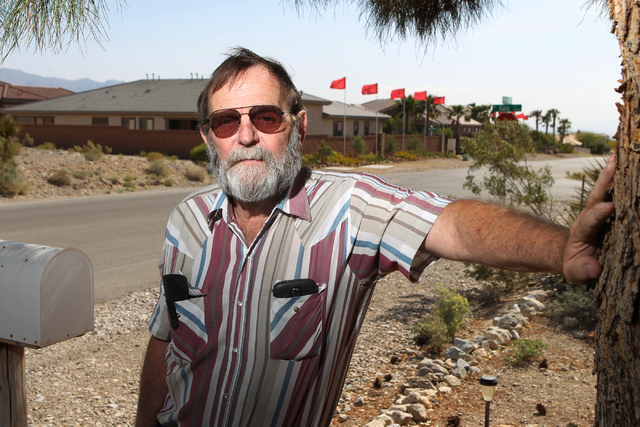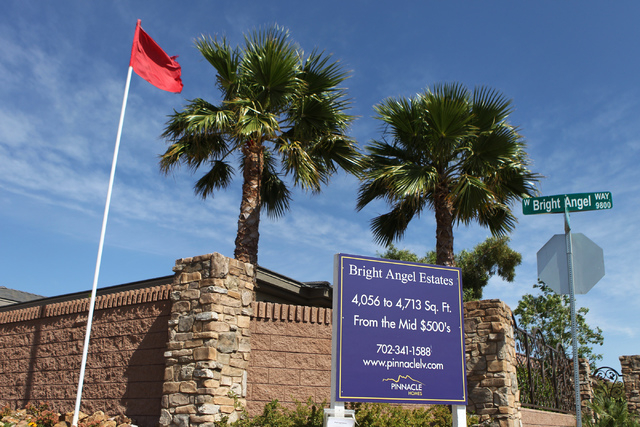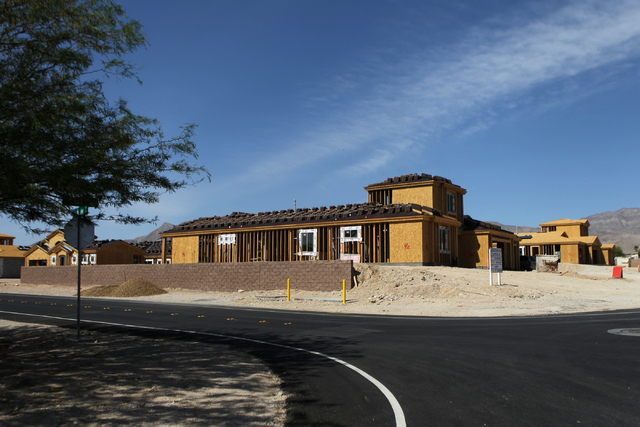 In recent years, a once-quiet community in the northwest valley near the 215 Beltway has become the eye candy of housing developers hoping to seduce home buyers to the rural area.
Many of the residents who bought land there years ago were equally attracted to the spacious area used to raise their livestock. They remember a time when there were few people and empty roads.
"I used to come down from Azure (Drive) before I built this road (on Bright Angel Way) myself," said Bruce Lahman. "We used to shoot our guns out here, and then one day, I noticed a palm tree way out there. It was a cellphone tower. That was the start of everything."
As Bob Dylan once sang, "the times they are a-changin'," and they show no signs of stopping.
D.R. Horton recently received approval to build a gated community with nine houses inside a 5-acre space.
Though the Lone Mountain Town Board rejected D.R. Horton's plans in April, the builder went in front of the Clark County Planning Commission and received approval contingent on meeting certain conditions. The project was subsequently approved by the County Commission.
The entrance to the proposed development is on the north side of Lahman's property on Bright Angel Way, with a road that is not finished or paved going west.
Upset that the housing development may bring traffic and commotion near his home, Lahman filed for an appeal.
"They are allowing the gate to be right in front of my farm house so that all the traffic comes and goes right in front of my doorstep," Lahman said. "We're not against development here. We know it's coming, and we accept that. We just want them to do it right."
Lahman and his wife, Jane Colburn, have lived on their property on Bright Angel Way for 25 years.
Before the area became a hot spot for the housing market, Colburn's parents purchased their property in the early '70s.
They originally had 10 acres but decided to sell most of it for extra money.
Livestock owner and nearby resident Peter Filiberti has lived on his 5-acre property for 15 years and has worries of his own.
"Our main concern is that a gated community, especially one so private and small, should not be allowed to be placed directly adjacent to established rural lots as it destroys the rural character of the neighborhood," Filiberti said. "Most of these communities have HOA conditions that prevent the owners from any rural activities. Because of these conditions, people that move into these communities have certain expectations and aren't prepared or eager to live around horses or in a rural area. This just (fosters) future discord amongst the neighbors."
Under the Title 30 Development Code, the county defines residential neighborhood preservation as districts designated for special protection, with specialized designations.
"RNP-I means an area designated within any of the various adopted land-use plans and guides as an area where low-density residential, not to exceed two dwelling units per acre, is to be preserved along with the rural character of the area."
Filiberti said, "It says RNP areas deserve special protection to preserve our rural character, but there's no protection. I talked to the county, and they said everything is waivable. We've seen neighbors get up and leave because the area is so different compared to back then."
District C Commissioner Larry Brown said he understands the challenges that residents are facing with the development, but he strives to keep a happy medium.
"Development has been happening out there for the past 10 years. The area is not going to be what it was 25 years ago," Brown said. "Few people go out there and buy an acre and build a home. Right now, half-acre single-story homes are in demand, and the only place to build those is out in the northwest RNP area.
"We try to balance the fact that people keep moving to Las Vegas, and residents want to protect and preserve this area. Rural preservation area means we won't allow more than two homes per acre. That in itself is a lot different than when residents moved 20 or 25 years ago. Land use and zoning have always allowed two units per acre."
Despite Filiberti and Lahman voicing their concerns and presenting a petition May 6 with approximately 70 signatures from neighbors in the area, the County Commission approved D.R. Horton's project.
"We're unhappy about it, but what can we do? In the end, big money wins," Lahman said.
To reach North View reporter Sandy Lopez, email slopez@viewnews.com or call 702-383-4686. Find her on Twitter: @JournalismSandy.