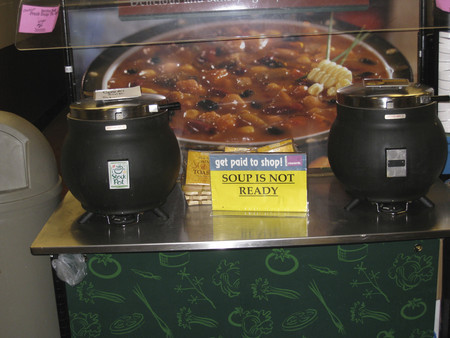 A supermarket at midnight: plenty you'd expect, plenty you wouldn't.
Two teens, one holding a bag of Cheetos and the other wearing slippers, thumb through the magazines en route to an impromptu slumber party. A guy walks by with a can of Coke and a can of beer, another with a six-pack and a box of cereal. In the slots area, a woman is the lone player in the row of 13 machines. The dark-haired young Amandas — Murphy and Taylor — pick up last-minute essentials for a birthday cake they're baking for a friend.
Then there's the woman who lingers to try out a display of lawn chairs — next to the plastic-foam Easter Island statues — on her way into the store. A Bluetooth-wearing guy going through the self-checkout with enough to feed his family for a week. A retired couple, gradually filling their cart as they move through the store. Isaac Dahan, 42 years in the valley, and his wife, Valerie, don't think their timing is odd. After all, he points out: They have no schedule.
"We come all different hours," she says. "Go to dinner and the movies, and stop here on the way home." They're such frequent customers — but usually earlier — that they stop to chat with front-end manager Cheri Denning.
The Smith's store at 7130 N. Durango Drive, near Elkhorn Road, is its busiest in the valley these days. These nights, too.
Midnight grocery shopping has its trade-offs. It's cooler, as Valerie Dahan points out. "It's quick and easy," Murphy says. "Front-door parking."
But the lights have been powered down to save energy. Without the spotlights over the produce stands and fluorescents over the cold cases there's a dim, subdued look that amplifies the simulated storm of the misting system. Garden gnomes in the shadows look sinister. Well, more sinister than usual. Bill Medley and Jennifer Warnes are singing about having the times of their lives, but in the coffee aisle a guy is pawing through the bags, whether because of insomnia or in an effort to bring it on.
The olive and antipasto bars, service-meat and seafood counters have been put to bed. Fresh deli, too; if you want a Boar's Head pickle for 99 cents, you're out of luck. "Soup," a sign says, "is not ready." The wine steward is off, the floral department closed, although a bag of Kraft Jet Puffed Fun Mallows in 4 Fun Fruit Flavors! rests on its counter.
For the Amandas, midnight shopping isn't something they do that rarely.
"More than you would think," Taylor says. "It's good for laughs."
Contact Heidi Knapp Rinella at hrinella@ reviewjournal.com or 702-383-0474.
ON THE WEB: MORE STORIES FROM THE BEWITCHING HOUR
Slideshow