Sahara Hotel's golden era was filled with stars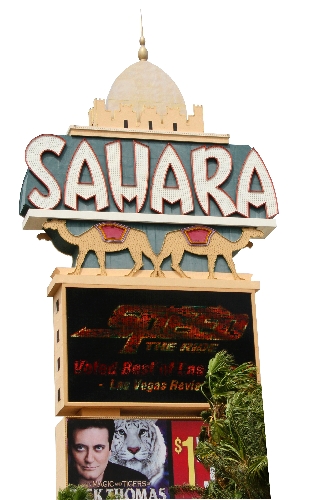 Magician Rick Thomas faced a dilemma in 2009: Go on the North American tour he'd been planning for months or accept an offer to play the Sahara's showroom.
When a friend advised him to go with the hotel showroom option, Thomas summed up, in four words, the reasons why he shouldn't: "But it's the Sahara."
Thomas took the gig — a Strip showroom is a Strip showroom, after all — but his sentiment illustrated just how far the hotel's reputation has fallen since its doors opened in 1952. Once an entertainment powerhouse where some of the biggest, most famous names in show business paraded through the lounge and across the showroom stage, the Sahara has in recent years become a mere shell of itself, known for its less-than-stellar entertainment, if it was known for entertainment at all.
"I knew there had been (shows) that went to the Sahara and had challenges with succeeding," Thomas says, explaining his initial reluctance. "And when you're playing the Strip, it's about positioning. You don't want to move away from the center of it. … Those were the things that came to my mind."
Thomas' two-year run has been successful, he says. But with his 7 o'clock performance tonight, he has the distinction of being the final act to play in the hotel's showroom. The Sahara is shutting down Monday.
When those doors close, it will mark the end of a long and storied history in Strip entertainment, something that should be recognized and honored, Thomas says.
Dubbed "The jewel of the desert" in 1952 by Milton Prell, the first owner of the Sahara, the hotel lived up to its nickname by showcasing some of the hottest talent in the world. Ray Bolger, the scarecrow from "The Wizard of Oz," served as the opening night entertainment along with singer Lisa Kirk. Bolger had a five-year run at the hotel.
George Burns, Buddy Hackett, Don Rickles, Wayland and Madame, Ann-Margret, Bobby Darin, Johnny Carson, Louis Prima and Duke Ellington are just a few of the performers who appeared at the Sahara during the past 59 years. Jerry Lewis hosted the muscular dystrophy telethon there for 20 years. It was a Rat Pack hangout, too. Frank Sinatra and Dean Martin often could be found in the lounge watching their friend Don Rickles perform.
"It was the place for comedy," says entertainer Sandy Hackett, 55, son of Buddy. The comedian was such a fixture at the hotel that he was given the largely ceremonial title of vice president of entertainment. His job was to recruit performers to play at the Sahara. "I got to watch them all. It was show business school for me."
Thanks to his father's 30-year connection with the Sahara, Sandy Hackett practically grew up at the hotel.
"My parents told me I was conceived there," Hackett says. They were serious.
When he was 15, he got a job working in the kitchen.
"I used to come in and crack 2,000 eggs in a giant bucket for the morning breakfast service," he remembers.
He helped out performers, running errands and doing just about anything they needed. After high school, Hackett studied hotel management at the University of Nevada, Las Vegas and joined a management training program at the Sahara. He worked in every department of the hotel and eventually started his own performing career there when he created the Sahara Showcase of Talent in 1973. It ran for 12 years.
The showcase served as an audition opportunity for people who wanted to perform at the Sahara; in those days, it wasn't so easy to make a demo tape, he notes. Hackett hosted it in the Casbar lounge on Mondays, the one night when Rickles was off.
Insult comic Rickles was a star in the Sahara lounge. He was so popular that management charged a $5 cover, a first for Las Vegas lounges, Rickles explains during a recent telephone interview.
"It was a great time and a great period in my career," Rickles says of the years he played the Sahara, starting in 1959. "It was a different world then. I did three shows a day, and I don't know how I did it."
He played at midnight, 2 a.m. and then did a breakfast show at 5 a.m.
The Sahara was the site of a historic showbiz moment, Hackett says, when Jerry Lewis and Dean Martin reunited there after years of estrangement.
It was in 1976 during the MDA telethon, and Sandy Hackett was working it. Frank Sinatra was scheduled to perform and had told Lewis that he was bringing him a gift.
"We didn't know it was going to happen," Hackett says. "We knew Mr. Sinatra was coming over, and next thing we know, Sinatra says, 'I brought you a present,' and out walks Dean Martin. I was young then and I wasn't a student of the business yet. But I knew it was special. It was amazing to be there. You could feel the pangs of love they had for one another, even after all those years."
The clip of that moment can be seen on YouTube.
Tony Orlando has played just about every hotel in Las Vegas except the Sahara. But he did appear on the MDA telethon the night that Martin and Lewis reunited, he notes.
"I was the first act after Dean walked off," Orlando says. "What I remember about that night was the anticipation of this happening. To be in that company and working with those greats is a highlight in my life, really. To have been part of that moment, it was phenomenal."
The Sahara's closing is a sad moment in Las Vegas history, Orlando says. It was a major part of traditional Las Vegas and a forerunner of some of the larger luxury resorts such as The Mirage, Caesars Palace and Bellagio.
"When I look at the Sahara, I think of the heyday in Vegas," Orlando says. "It was the beginning, when Vegas was the only gambling place in the country. It was when you had the superstars of superstars working that town, the guys who were revered onstage, like Sinatra, like Jerry, like Dean. Those guys were very special. I think of it as one of the lead horses that pulled the cart known to the world as Las Vegas. It very much deserves the respect and an opportunity to keep that tradition alive."
Contact reporter Sonya Padgett at spadgett@ reviewjournal.com or 702-380-4564.
Video and slide show of the Sahara Hotel