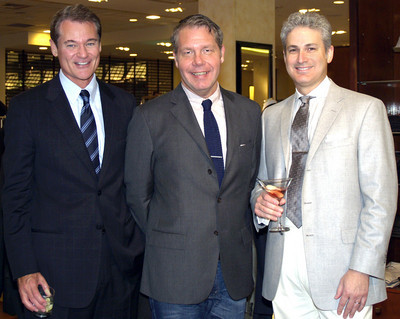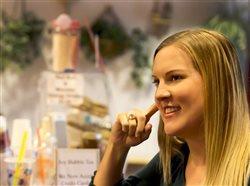 Saks Fifth Avenue threw a party for the MAGIC show's upper echelon Aug. 28 at its Las Vegas store in Fashion Show mall.
Ron Frasch, the president and chief merchant for Saks, hosted the event, attended by the leading players in menswear.
Invited guests were dazzled by the elegant catering provided by Las Vegas' Wild Truffles proprietress Eva Paulussen. The party was a mix of vintage Vegas Sinatra and club music by local D.J. Dynamixx. The specialty drink of the evening was the Magic-tini (Gray Goose vodka, peach schnapps, cranberry juice and a slice of peach).
Frasch, along with Tom Voltin, senior vice president West Coast region, and Mari Landers, vice president and general manager of the Las Vegas Saks, greeted guests and industry veterans Rick Crane and Mike Egeck from 7 for All Mankind; Chip and Pepper Foster of the eponymous Chip & Pepper; the Behar brothers — Alan, Steven and Lawrence — of Ike Behar; Scott Morrison, the designer and founder of Earnest Sewn jeans; Chuck Jayson, the CEO of Andrew Marc; Don Witkowski, the CEO of Miss Sixty/Energie; April Singer, the owner of Rufus Shirts; and Carla Schmitzberger, the president of Havaianas.
In addition, Cody Kondo, senior vice president and general manager for men's and home for Saks, and Michael Macko, vice president of fashion, public relations and special events for men's and home attended.
Also joining the party were the top men's fashion editors, including Bruce Pask of The New York Times along with Alexis Buryk, senior vice president of advertising, and GQ's creative director, Jim Moore.
Saks operates 54 full-line stores in 25 states and two licensed stores in the Middle East in Dubai and Riyadh; there are 50 OFF 5th Outlet stores.
Recognizing women … Toni Spilsbury, co-founder of the Nevada Blind Children's Foundation, was honored as Woman of Spirit in Las Vegas at the Women of Spirit Wine Dinner Aug. 29 at Morton's The Steakhouse.
Morton's has partnered with the American Red Cross and the nation's leading women in wine to recognize America's "Women of Spirit" at exclusive dinners at Morton's restaurants in 38 cities.
Morton's and representatives of the Southern Nevada Chapter of the American Red Cross selected Spilsbury for the prestigious award because of her work in the community and for being a role model.
Spilsbury, a resident of Las Vegas for 12 years, faced many difficulties when her infant son, Connor, was diagnosed as blind.
She had problems finding resources in the community such as books, videos, experts in the field and a school that provided the basic skills Connor needed.
Instead of moving to another state where Connor could get the necessary resources, tools and education he needed, Spilsbury and her husband, Kevin, founded Nevada Blind Children's Foundation.
After three years of tireless research, focus group meetings, help from local businesses and foundations, and funding from grants, including support from the state of Nevada early intervention program, the Nevada Blind Children's Foundation office and resource library opened its doors in January.
The foundation offers Braille and parent education books and DVDs.
The event's reception featured jumbo lump crab cakes and tuna tartare. A formal four-course menu, paired with the wines of Grgich Hills, featured a salad of mixed greens topped with grilled colossal shrimp, toasted walnuts, bleu cheese, apple and Dijon Vinaigrette. The entree was filet mignon with bearnaise sauce, chive mashed potatoes, tomato stuffed with sauteed spinach and shiitake mushrooms. A cheese course accompanied by french baguettes and chocolate-covered strawberries concluded the dinner.
Guest speakers were Violet Grgich, owner of Grgich Wine Cellars, and Tylor Field, vice president of wine and spirits for Morton's Restaurant Group.
Grgich, born in Napa Valley, Calif., accompanied her father Miljenko "Mike" Grgich in his winemaking and vineyard duties from a very early age. Since the establishment of Grgich Hills Estate in 1977, she worked every summer in the winery, doing everything from bottling line work to laboratory analysis. She spoke about her experiences at Grgich Hills.
A portion of the Las Vegas Women of Spirit dinner's proceeds will go toward the Southern Nevada Chapter of the American Red Cross.
DOROTHY HUFFEYMORE COLUMNS