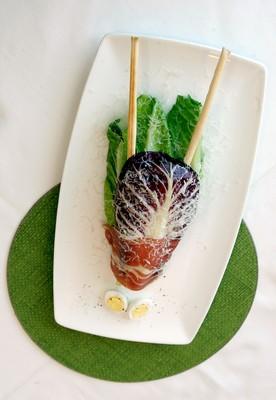 In case you haven't read the caption, the dish pictured at left is a Caesar salad. But it is, of course, not just any Caesar salad. It's one of a new genre of salads that haven't acquired an official name. We could call them "undeconstructed," because they're sort of the antithesis of the deconstructed trend. They're also new takes on old-fashioned composed salads. Or maybe we can just say they're not all mixed up.
At any rate, since these things have a way of trickling down and out in ever-widening waves, they probably will move from the cutting edge to a restaurant near you.
The Caesar salad in question was created by Matthew Silverman, corporate executive chef for the Roadrunner Saloons, Agave and Vintner Grill, who conceded that it tends to surprise his customers.
"I don't say it's unique or different on the menu," Silverman said. "But when people get it, it's very visually appealing, and the flavors go well together. Especially when it comes to something like a Caesar salad, they know what they're ordering, but then they get it and they go, 'Wow, that's different.'
"I think salads should look interesting. They shouldn't necessarily be in a salad bowl, like an old traditional diner; everything always comes in a bowl, and I don't think that's a necessity. You're always looking for a 'Wow' when it hits the table."
Silverman's Caesar is different in that he wraps prosciutto around whole leaves of romaine and treviso lettuce, adds a hard-cooked quail egg and uses bread sticks instead of the customary croutons.
"I like the visual appeal, by wrapping it with half of the prosciutto," he said. "I wanted it to be a Caesar with some body to it."
David Walzog, chef at SW Steakhouse at Wynn Las Vegas, also serves some salads in the genre — some of which are so offbeat that they don't contain much in the way of lettuce.
"Being a steakhouse, we have the opportunity to let vegetables and other things kind of lay on their own," Walzog said. "That kind of transports into appetizers, whether it be mushrooms — these great grilled hen of the woods mushrooms with balsamic and basil — multicolored carrots from McGrath Family Farm in California, which are totally organic, or whatever.
"There it is on a plate; it's pristine. You can get a visual. It's a whole carrot — just like a snapshot of a carrot."
Walzog said he runs into only one problem: When customers think of a salad, they usually think of a bowl of lettuce.
"We have our servers trained in kind of explaining what these are," he said. "I think people still expect a salad to have a majority of greens; a salad should come and it should be this big bushy lettuce. That's where the connotation kind of gets out of whack."
It's the server's job, he said, to say, " 'It's a salad of these organic carrots and here's why it's a salad.' It may have a lettuce or green component to it, but it's not the majority of the plate."
Another salad featured this spring at SW Steakhouse contains beets, aged balsamic vinegar, goat cheese, hen of the woods mushrooms, "and then there's mache frisee. It's not the majority. It's a salad of beets."
Silverman's new-wave creations do contain a majority of lettuce, but not only does he not serve them in bowls, he doesn't cut or shred the leaves.
"I don't like to chop any of our lettuce," he said. "Chopping turns the lettuce brown. It doesn't keep it as crisp and nice. It starts to wilt."
Silverman said the most popular salad at Vintner Grill is made with butter lettuce. A whole head of butter lettuce.
"We use the living (hydroponic) butter lettuce; it comes with the roots still on it," he said. "We cut the roots out, take the whole head and just kind of dismantle it, then toss the whole leaves in an orange balsamic dressing with wild baby herbs — tarragon, chervil — toss it with baby tomatoes and carrots. Then we stack it on the plate. We serve it with almond-crusted brie."
Such vivid descriptions may provide inspiration for foodies throughout the valley who like to innovate in their own kitchens, but while you're fantasizing about cool, crisp vegetables on the sultry summer days ahead, remember that salads aren't necessarily low in calories and fat.
"If it's just vegetables and those kinds of things, that's fabulous, because the new slogan now is 'Fruits and vegetables: more matters,' " said Sue Lednicky, nutrition educator and program officer with Nevada Cooperative Extension. "That's the message we're trying to get out. If a person likes to eat salad, then that's the way to go."
But those new creative salads can be laden with nutritional minefields.
"You do need to watch the items that you're putting on there," she said. "There's the cheese; certain types of cheese are lower in fat and that's OK, but you don't want to overdo that.
"Same with dressings. If you can get a nonfat or low-fat version of a dressing that you like, choose that. Some people just don't like the low-fat or nonfat versions. Then order it on the side and dip your fork in it because you eat a lot less that way than if you let the restaurant pour it on top or you pour it on top yourself."
Remember, Lednicky said, that croutons generally have been soaked in butter. Also watch out for creamy salads such as potato salad and coleslaw.
And "if it's a creamy dressing, it's probably going to be higher in fat than if it's an oil-and-vinegar dressing," she said.
Moderation is the key, Lednicky recommended.
"If they're thinking they want to eat more healthfully, then certainly a salad is a good choice," she said, "but look at the salad that you're choosing."
Or, like Walzog, just take your cue from the vegetables.
"Why wouldn't you want to do this?" he asked. Walzog said he recently visited the Santa Monica Market "just to get the lay of the land on what is coming in and what's hot. Any of us walk though a farmer's market and you kind of see those tweaky ingredients and fall in love with how bountiful those displays are, and you want to see that translate onto the plate.
"You have to know when to stop. Let things lie where they are."