Settings of Louise Penny's mystery novels come to life in rural Quebec
August 19, 2012 - 1:04 am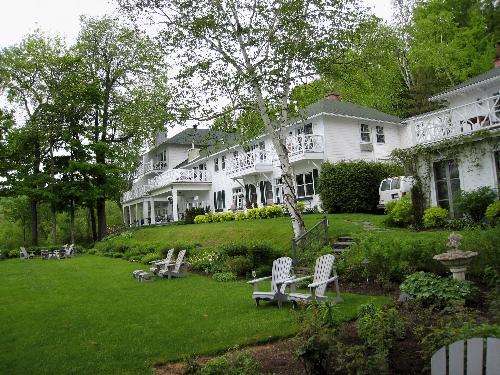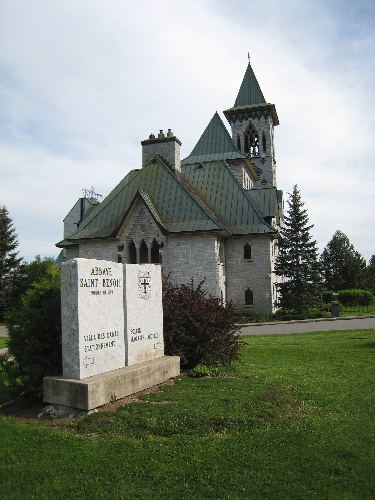 After reading seven Louise Penny mysteries set in the province of Quebec, it seemed the right time to look for the tiny village of Three Pines, where murder, as one character says, is a cottage industry.
Penny, an award-winning and best-selling writer, captured me early on in "Still Life," her first book, when she described Three Pines. "The only reason doors were locked was to prevent neighbors from dropping off baskets of zucchini at harvest time," she wrote.
Her fans responded to both the setting and the protagonist, Armand Gamache, head of homicide at the Surete du Quebec, the law enforcement agency for the province's rural areas. In the books, Three Pines is just north of the Vermont border in the Eastern Townships, not too far east of Montreal.
Unfortunately, Three Pines doesn't actually exist, yet we searched for a village that might have sparked Penny's imagination, a village with the characteristics of Three Pines. Quirky. Loving. Colorful. Filled with multilayered characters who make us laugh as well as think.
Three Pines is a state of mind, Penny said.
"For me, the state of mind is that I live in Three Pines when I choose to be kind. When I choose to be compassionate, when I choose patience over being snippy," she said. "But when I'm mean, mean-spirited, gossip – and I do all these things – when I'm impatient, that's when I expel myself from paradise."
Her hero, Gamache, constantly deals with murder, yet his most important attributes are his kindness and his listening skills.
Physically, Penny said, he's modeled on a tailor in Granby. But his qualities and character are modeled on her husband of 16 years, Dr. Michael Whitehead, a retired pediatric hematologist, a man you wouldn't meet professionally unless your child is desperately ill.
Penny said, like her husband, "Gamache understands perfectly well how cruel the world is. He has evidence of it every day. The reason he is kind is because he chooses to be kind. He stands in the light because he knows where the darkness is."
So does she.
Now 54, the former journalist and radio host was an alcoholic between the ages of 21 and 35.
Her husband, 78, "knows what a gift life is. And that's what he shares with Gamache and that's what I share with Gamache. I came to the edge of suicide because of drinking, and I know what despair is."
In "A Trick of the Light" she wrote about the addiction she knows so well and the loneliness that accompanied it. "For me, it was just a slow, quiet rotting away from the inside," she said.
She doesn't blame her past drinking problem on the stress of her job covering hard news and current affairs. "This would have happened to me had I been working as a clown in the circus," she said.
She shared all this ensconced in the cozy library of Hovey Manor in North Hatley, one of the villages that suggest a fragment of Three Pines with its general store. Nearby in Georgeville is another general store that is reminiscent of the one in Three Pines. And we found the model for the foreboding Hadley house, where many bad things happened, except after being painted pink, it no longer looked sinister.
While we didn't find Three Pines, we did find three real places that one can visit and know for sure that these are places Penny writes about with such panache.
First was Hovey Manor, the prototype of Manoir Bellechasse, the setting of Penny's fifth book, "A Rule Against Murder." It's the first book to abandon the security of Three Pines for the majority of the book.
Built in 1898 as a summer home for a rich Southerner, this boutique inn featured in "1,000 Places to See Before You Die," is in North Hatley about 100 miles outside of Montreal. Guests have included Sir Anthony Hopkins and Nicole Kidman, and it's deservedly praised for the outstanding food. This luxury inn built to resemble Mount Vernon is a place to play and be pampered, but it's an expensive splurge. However, the price includes superb breakfasts and dinners.
Perched on the shore of Lake Massawippi, Hovey Manor (www.manoirhovey.com) offers water sports as well as romantic settings, catering to families as well as couples.
Penny discovered it in 1987, shortly after moving to Quebec, after a boss recommended it. She was single and went alone and returned once or twice a year before and since her marriage. "Over the years, we've probably stayed in every room here," she said.
With many hotels and inns in the Eastern Townships, why is Hovey Manor her favorite? "I lost my heart; I didn't need to look anywhere else," she said.
My friend and I stayed there two nights, exploring the Eastern Townships in the daytime and returning for quality time plunked on Adirondack chairs, watching the light change over the lake, imagining Gamache and his wife celebrating every anniversary there, and imagining murder in the garden.
Our second sample of Penny reality was a visit to the nearby Abbey of Saint-Benoit-du-Lac. The Benedictine abbey near Lake Memphremagog is the inspiration for the abbey in her newest book, "The Beautiful Mystery," due out Aug. 28 However, Penny created her own order of monks, even her own rituals, to give herself leeway and not offend the monks who shared their way of life with her.
"The Beautiful Mystery" is the first Penny book without any Three Pines characters, just Gamache and his second-in-command, Jean-Guy Beauvoir, investigating a murder in a monastery among monks who don't speak but sing Gregorian chants. Her eighth book published since 2005, it uses the abbey setting to address the subject of tyranny.
The real abbey is open to visitors and a worthy stop in the Eastern Townships. We counted ourselves fortunate to be there for 5 p.m. vespers, and we left with the monks' famous cheese.
The publication of Penny's new book is likely to bring the abbey more attention, but in her book she revives an extinct order of monks so as not to leave the impression the Benedictines would murder their choir director.
Our third dose of Penny reality was in Quebec City, the setting for "Bury Your Dead." She set one of her murders in the basement of the Literary and Historical Society of Quebec.
The Lit and His is the only English library in Quebec City, but it's far more. The basement houses the city's first prison, built more than 200 years ago, and one side of the building has classrooms from the days when the building was Morrin College. Tours of the library, the prison and the college are available and worthwhile. Visit www.morrin.org for more information.
The restaurants and cafes mentioned in "Bury Your Dead" are all real, and the three we sampled were all worth a stop – Le Petit Coin Latin, Cafe Temporal and the Aux Anciens Canadienes, even if the last one is packed with tourists. The waiter there started by asking not what kind of water we preferred, but what language we preferred.
It's easy to communicate in French-speaking Quebec. Even in the villages, most people are bilingual.
A tip about getting there from Las Vegas: It's cheaper to fly into an American airport such as Albany or Plattsburgh in New York than to fly directly using fee-laden Canadian airlines.
The latest news is that Penny's first book is being made into a television movie by Canadian Broadcasting Corp. She is an executive producer. "I'm beginning to suspect it's a little bit like being the queen and that it sounds very good, but you can't declare war on anybody," she joked.
While we drove all over the countryside, including Sutton, where Penny lives in a United Loyalist-style brick cottage, there were places that inspired her that we didn't discover.
In Sutton, a bakery called La Rumeur Affamee in an old brick building was one inspiration. In Knowlton, Brome Lake Books inspired the bookstore in Three Pines.
The one place that doesn't exist in reality: the Three Pines bistro. "It's the one place that really, completely, does not exist. The bistro is absolutely my ideal place," said Penny, whose descriptions of the meals served there, both simple and elaborate, created cravings within.
Her themes include the good (kindness, forgiveness and hope) and the bad (jealousy, alcoholism, greed, discrimination and, now, tyranny). But it's also about commonplace things like losing a pet. She doesn't write jokes, yet I laugh at her lines such as, "Violent death demanded Earl Grey."
Then there's this howler: "Gamache wondered how low the bar was set when all a man had to do to attract a woman was not smell of decomposing bears."
On her website, www.louisepenny.com, she once told readers that if they take away anything from her books, it's this: Goodness exists.
That's what we went looking for on our vacation. And we found it.
Jane Ann Morrison can be reached at jane@reviewjournal.com or (702) 383-0275