Sex Drive (Mobile girlie billboard driver)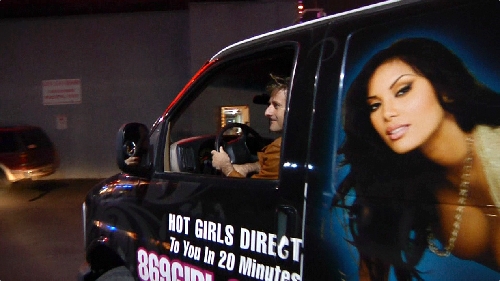 Getting noticed has never been high on my list of problems. Now that it's my job, however, I feel invisible. The 40 or so mobile billboards perpetually trolling the Strip seem too familiar a sight to attract any tourist attention. And our standard-sized Chevy cargo van, with its trailer-hitch sign, looks wimpy compared to their behemoth rectangles.
My trainer/passenger, Scott Cass — who normally sits behind this wheel, 8 p.m.-6 a.m., five nights a week — just finished describing all the drunkards who hurl obscenities and bottles. Once, he said, a limo full of topless females emptied out to snap photos alongside his sign.
But nothing like that is happening this Saturday evening.
"You are being noticed, though," Cass promises.
Well, somebody's noticing mobile billboards on the Strip — at least according to a 2009 report by San Francisco-based GLS Research. Of 400 visitors surveyed, 77 percent had seen mobile advertising while walking. And a whopping 53 percent could recall specific ads.
And it's not like our message isn't eye-catching. We're advertising hook–. Cass cuts me off, for the first of many times tonight.
"Female entertainers direct to your room," he says. "That, you can say." (He's right. The Review-Journal cannot legally allege anything more without proving it. Note to self regarding a fun assignment for another time: proving it.)
When asked what the female entertainers do once they get directly to your room, Cass replies: "I'm not involved in that part of the operation, so what can I tell you?"
The woman answering the hot line we're advertising is no help, either. She keeps hanging up on me. This is my fault. Earlier, I asked her if, instead of a room, I could order female entertainers to a moving billboard. (Hey, call me a thorough investigator.)
Cass, 47, got his gig eight years ago, after selling the bar he owned in Lake Havasu, Ariz., and relocating here with his wife. He was referred by a friend of a friend who said, "Man you need a job, you can't just be hanging out all day."
"So here I am," Cass says.
Cass says he enjoys driving repeatedly back and forth between Wynn Las Vegas and Mandalay Bay, in the middle of the night, in the right lane.
"There's enough to keep your curiosity going," he says. "There's girls, there's construction. You drive up and down long enough and the city just morphs right in front of you."
The pay starts at $10 to $12 an hour plus commission. (Cass' company has only one mobile billboard. So drivers collect fees whenever callers — who are asked how they got the number — mention that it drove by.)
Cass says his daughter is about to attend law school to the tune of $52,000 per year. I inquire how he's able to swing that — even with commission. (P.S. Cass says his wife doesn't work.)
"That's why you need to sell a bar for a lot of money," Cass replies, smiling.
I'm warned to slow down as we pass Treasure Island, where the pirates are surrendering to the Sirens of T.I. The speed limit is 35 mph. I'm doing 20, which Cass says is "way too fast" for people to read the sign.
Mobile billboard drivers occupy a bizarro world in which every traffic setback is a blessing. In this world, maddeningly slow is the preferred speed. Yellow lights actually do mean slow down. And police blockades? Oh, happy day!
"You always want maximum exposure," explains Cass, who has received two $45 traffic tickets for driving too slow. (Because of the congestion they induce, mobile billboards are banned in New York City, Chicago, Boston and San Francisco. Similar bans are occasionally suggested in Las Vegas, but never take.)
Meantime, I have yet to notice being noticed. To increase visibility, I call out to two males stopped on our left. I tell the passenger that he looks like he could use a little of what we're advertising — whatever that may be.
The rear window opens to reveal two women actively disagreeing with my premise. I offer my apologies.
Cass says he's not bothered by promoting what most upstanding Americans consider smut.
"We've got guys driving planes into the IRS building and thugs shooting policemen in their garages," he says, "and they want to worry about this trailer going up and down the street?"
Of course, not everyone agrees — not even everyone in Cass' bizzaro world.
"I took the van home once," Cass says. "I got a letter from my HOA (homeowners association)." (Since then, when not in use, it sits in an industrial parking lot owned by Cass' boss.)
Uh-oh. We have come upon the only traffic obstruction Cass doesn't welcome: a mobile billboard advertising another hook– … excuse me, female-entertainment-direct-to-your-room hot line. It's twice as tall and bright as ours, and its lights are flashing. (This type of vehicle — which is usually rented, not owned, by the company being advertised — is what I thought I'd be driving tonight. I've got billboard envy.)
Cass reacts much like the good tornado chasers when they encounter the evil tornado chasers in "Twister."
The other guy's lights are flashing, he explains, because they're low on power.
"We don't get that problem," he says, adding that our van sports a prominent roof ad — which the larger, thinner billboards have no room for — aimed at cash-laden men peering down from their lonely hotel rooms.
"And they've got some of the worst photos in the world," Cass continues. "Look at the hairstyles. That guy's got 1985 knocking on his door."
Cass explains that girlie hot-line companies use photos of models from computer disks that they purchase — though some use more recent photos than others. (Sorry, cash-laden lonely men, but come on — like you didn't realize that the female entertainers you see advertised aren't the direct-to-your-room type?)
The competition between erotic and conventional mobile billboards isn't as fierce, but it's there. Earlier, an Anthony Cools mobile billboard cut us off and three George Wallace billboards cruised the other side of the Strip in a comedy convoy, obstructing the gaze of anyone who might have looked our way. Cass calls this the "wall of advertising" trick.
"Even if it's something you couldn't care less about," he says, "it forces you to read the message."
For the last time, I prepare to turn left at the Texaco Station past Mandalay Bay. This is where most of the mobile billboards turn around and head north again. It's also the location of the McDonald's where Cass stops for restroom and/or food breaks every two hours or so, since no casinos allow mobile billboards into their driveways.
"They only let you do that once before they call the cops," Cass says. (So much for the gag in which I pull into Bellagio and toss the keys to my mobile girlie billboard to the flumoxed valet.)
Only on our final run do I begin to notice being noticed. It's more subtle than I expected, which is why I missed it before. One or two male pedestrians on nearly every block shoot the van an eye-corner gaze, looking while simultaneously pretending not to look. Cass was right. We are being noticed. Men are memorizing the number.
Hey, wait. Is that Tiger Woods?
See video of this adventure at lvrj.com/mobilebillboard. Fear and Loafing runs on the first Sunday of every month in the Living section. Levitan's previous columns are posted at lvrj.com/corey and fearandloafing.com. If you have a Fear and Loafing idea, e-mail clevitan@reviewjournal.com or call 702-383-0456.
WATCH THE VIDEO