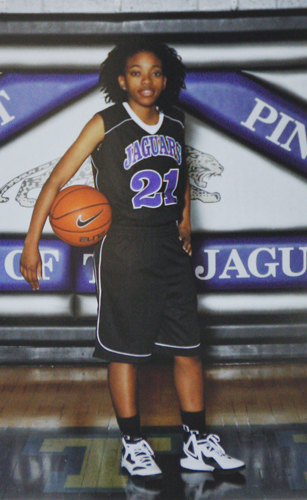 Think back to your teenage years. You probably did a lot of stupid things, went a lot of stupid places and hung out with a lot of stupid people. It's a prerequisite for that time of life.
Looking back now, you probably realize that looking back in itself is a luxury. Regret is a luxury. Betty Pinkney lost both luxuries when she lost her life to a bullet at a house party Jan. 15.
When the news hit the Review-Journal website, commenters insisted the 17-year-old Desert Pines High School student must have had gang affiliations. They drew conclusions based on pictures posted to her MySpace account four years prior in which she mostly dons the color red and makes stern expressions in a bathroom mirror. She was 13.
Remember what you were like at that age? Surely every commenter that day, Martin Luther King Jr. Day, has an equally embarrassing story from when they were 13.
Betty was no gangster. Police investigating her death referred to her as a "good student" and "good athlete." She was just a teenager doing teenager things. And, she was the "light" of her family's life. Her family – father, brother, aunts, uncles and cousins – doesn't always agree on everything. But they can all agree on that.
About 20 of them gathered at an aunt's house Wednesday night before heading to a vigil for Betty, or Betty Jean as the older generation affectionately calls her. As they sat and stood in the living room, family members reminisced about the time her father left her alone for five minutes and 4-year-old Betty dialed 911. They laughed about her fuzzy socks phase — "She'd have three layers sometimes!" recalled one cousin. They remembered that when it was Betty's turn to check on her uncle's cornbread, there was always a piece missing afterward. And, they all got a kick out of repeating Betty's favorite catchphrase: "Swagg!" It's short for swagger. She preferred it over "cool," "dope" or "awesome" and used it until it became her trademark, whether it was to describe a pair of Air Jordans or a Lil Wayne song.
"She was one of a kind," says her Aunt Margaret Pinckney (Betty's father changed the spelling of his last name to Pinkney to avoid pronunciation confusion)."I just wish I could trade something to get her back."
The extended family will miss their niece and cousin, but the ones suffering the biggest loss include her father, Joseph, and 15-year-old brother, Matthew Pinkney.
Joseph didn't see Betty come into the world. He and her mother had separated and lost contact before he even knew she was pregnant. When they reconnected, Joseph learned he had an infant daughter he'd never met. He paid them both a visit and didn't like the conditions in which his baby girl was living. Shortly after meeting her for the first time, he took his 3-month-old daughter home to live with him.
"I've had her ever since," Joseph says.
He and his brother, Larry Pinckney, lived together as single fathers and cared for their children together. "We raised them with very strict principles," Larry says.
Joseph already had an older daughter from a previous relationship, and two years later, Matthew came along. Matthew has special needs.
"(Betty) was kinda like the replacement for his mom," says Teekea Pinckney, Betty's favorite cousin. "It's gonna take a long time for him to realize she's not coming back."
Betty and her father were close when she was a kid. They bonded at the movies. With a bucket of popcorn in hand, they enjoyed taking in the big screen. They frequented family fun spots such as Las Vegas Mini Gran Prix and Pole Position. As she grew into a teenager, the bonding time fizzled. Betty came to prefer the company of her friends over her father.
They still had their movies, but sometimes they'd go into different theaters and meet up afterward. "I can't do 'Paranormal Activity,' " Joseph says. But he can do an action flick with Justin Timberlake. "In Time" was the last movie they saw together.
He had dreams for his daughter. He didn't know what would have become of her, but he knew success would be in the picture.
"I was grooming her to be the lady of the house," Joseph says. "I was showing her how to pay the bills, getting her ready to be a woman."
As a little girl, Betty never wanted to play with dolls. As a teenager, she had no interest in form-fitting, "girly" clothes, preferring comfort over vanity.
As for Betty's fondness of the color red, her cousin Markell Gill, 22, takes issue with the perceptions that came from it. "No one says, 'Why is pink your favorite color?' " she says. "I'm not trying to sound racist, but if it was a little white girl or little white boy and their favorite color was blue or red, no one would have made those assumptions."
The night she died, Betty told her dad she was "hanging out with friends." She went to a house party advertised on Facebook. She did a lot of dancing and a lot of laughing before gunfire broke out. A bullet traveled through a wall and hit Betty. She was innocently bystanding, not aggressively gangbanging.
Yes, she loved the color red. She also loved the Chicago Bulls, Michael Jordan and basketball in general. She loved to dig into her aunts' and uncles' pickle jars. She loved giggling over episodes of "SpongeBob SquarePants" with Teekea. And, she loved her little brother Matthew.
"I can't do nothin' by myself, without her," her little brother says. "She was all I had. We walked to school together. We did everything together."
In the time he's had to reflect over his daughter's life, Joseph wonders if he didn't "love her enough, hug her enough, pray enough." Now, he says, he's accepting that she's "getting into heaven."
And, Betty probably has one word to describe it: "Swagg."
Donations for funeral costs and other expenses can be made at Wells Fargo, account number 6225345575.
Contact columnist Xazmin Garza at xgarza@reviewjournal.com or 702-383-0477. Follow her on Twitter @startswithanx.