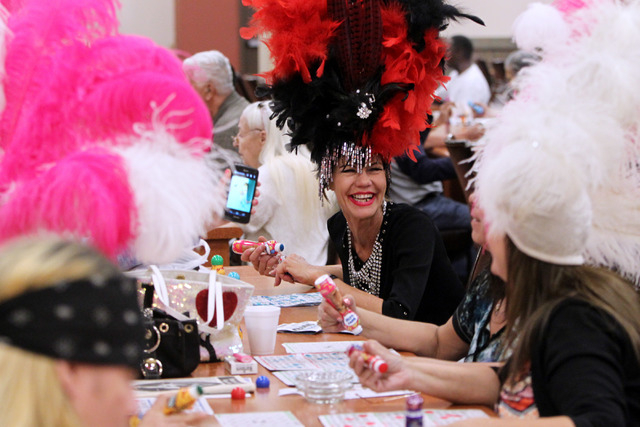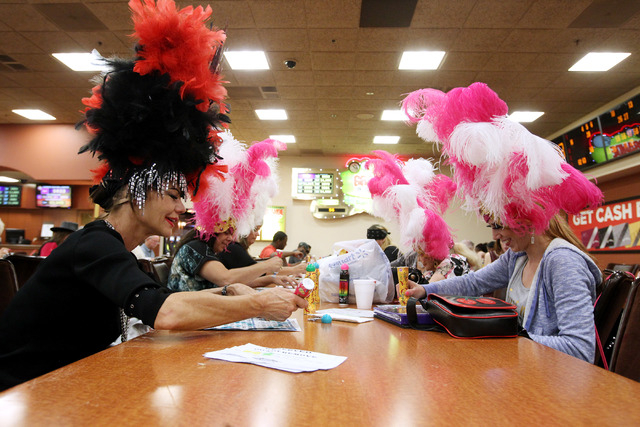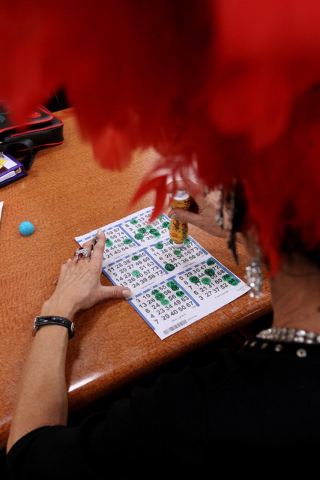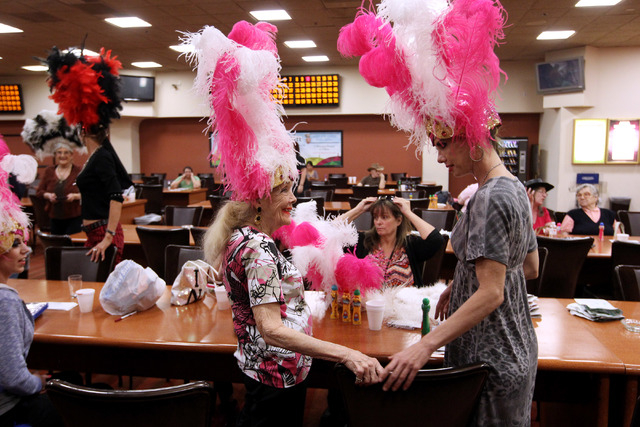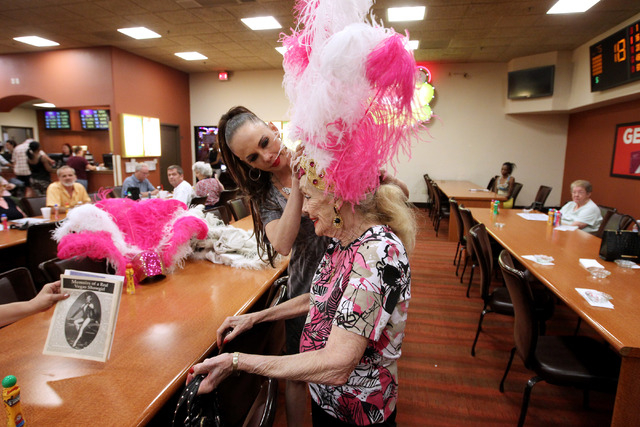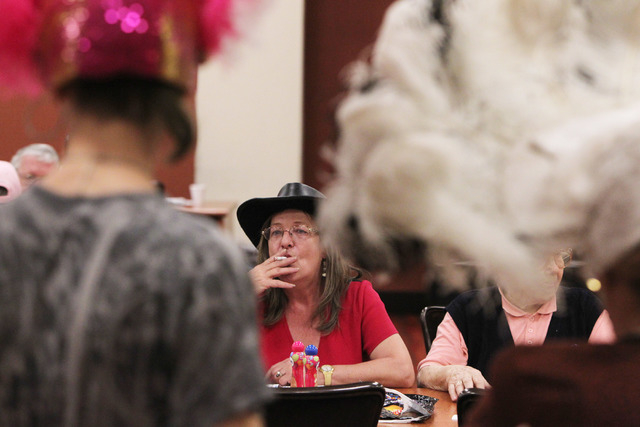 When the women sit down and put on their game gear, it's like a feathery pink-and-white breeze wafts through the Fiesta Rancho bingo room.
Sure, it helps that the women's game-day gear consists of impeccably applied makeup and towering showgirl headpieces. But, even without the Vegasy hightops, the women bring into the room an upbeat, cheerful, colorful vibe that makes even crinkling up losing bingo sheets somehow not so bad.
Every Wednesday, Julie Langille, Mallory Huck and Troy Stern, former Las Vegas showgirls all, take in the 5 p.m. bingo session at the Fiesta Rancho. Joining them each week is the keystone of their get-togethers, Gloria Mancilla, who, under the stage name Gloria White, performed as a showgirl in the original cast of "Folies Bergere."
The showgirls' mission: to play a bit of bingo, of course, but also to catch up on each others' lives, tell a few stories and, Langille says, honor the iconic Las Vegas showgirl in an era when acrobats and four-wallers have made the Las Vegas showgirl an endangered species.
Michelle Dembinski, bingo room supervisor at the Fiesta Rancho, says the group has been stopping by for weekly games for about two months. When they started the weekly tradition, bingo room regulars were, well, surprised.
"People would ask, are we giving hats away?' Dembinski recalls. "It was, like, 'No, we're not giving away hats.'
"We'd never seen this before, so it was really exciting. It was just, kind of, 'Hi.' They said, 'We're showgirls,' and we were like, 'Oh, all right. Showgirl bingo. Let's do it.' "
"It's been fun," Dembinski says, noting other players stop and talk to them. "Usually, people kind of keep to themselves, but they definitely make it more social. They're, like, 'Showgirls!' It's more of a happy session."
Before the session even begins, a man approaches the women to ask for a cellphone photo, and the women are happy to comply. But once the headgear is donned and the session begins, the showgirl players are as intent on their games as anybody else in the room.
Which, as any bingo player knows, is pretty intent. A bystander could reasonably assume that if the women's headpieces were to suddenly burst into flames midgame, nobody would look up from their cards.
Still, in a sea of hunched-over heads, the showgirls' feathers are pink-and-white buoys that gently drift as the women's heads move about subtly to follow the numbers and letters on their cards.
Langille is founder of Showgirls Across America, an organization intended to "represent the icon of the showgirl in Las Vegas and in the community, as well as onstage," she says.
The group's mission includes offering classes for children and participating in fundraisers and benefit activities around the city. It also has created a Showgirl Wall of Fame inside Blue Sky Yoga in Las Vegas' Arts District, and even, for a time, produced a show, "The Showgirl Show," at the Clarion.
And, among these bingo-playing showgirls, it's Mancilla who is first among equals.
Not long ago, "I met Miss Gloria," Langille says. "Her daughter has a wonderful entertainment company — it's called Everything Entertainment — and she's a showgirl in her own right. She goes, 'I can't wait for you to meet my mom because my mom was in 'Folies Bergere.' "
Langille and Huck, intrigued, met Mancilla for dinner at the Fiesta Rancho Denny's. There, the women decided that they would meet at the casino each week for bingo, "and we're going to do it in the headdress and we're going to have a good time," Langille says.
"We love Miss Gloria, and we wanted to be able to include her in all of our activities," Langille says. "And she is amazing.
"You don't lose your heart. Your heart doesn't grow older. So it was about finding an activity that we could all do that would represent Las Vegas, and this is a very Las Vegas thing to do."
Besides, Langille says, "showgirls should stick together."
Mancilla recalls that the notion of playing bingo in full showgirl headdress was kind of shocker. I said, "  'You plan to play bingo with your costume on?' "
Which, apparently, is something that not even Mancilla has done in her long and varied career.
Only "onstage," she explains. "Onstage, I wore it with Sinatra and all those."
Mancilla, 88, was born into a show biz family in New York. Her mother was an original Ziegfeld Follies girl, and her father was a professional vaudevillian, so Mancilla grew up backstage. She fell in love with dance at age 5 and, as a child, even did tap-dancing of another sort when she ran money for her uncle, who ran a numbers racket from the basement of a Manhattan delicatessen.
Later, while her parents were on the road, Mancilla was raised by an aunt and uncle. As an adult, she got her first paid dancing gig in Reno. After performing at Las Vegas' El Rancho Hotel, Mancilla performed in a roster of shows here that included "Folies Bergere" at the Tropicana and "Lido de Paris" at the Stardust.
A photo from Mancilla's "Folies" stint reveals her to be, as the lingo of the time might have put it, a looker.
"It was my livelihood. I was onstage all the time. It was the way I made my living," she says.
Mancilla smiles and looks again at the photo. "I don't look like that anymore," she says.
Maybe not, but there's still an inquisitive openness in her eyes, and her bearing still includes touches of the classic showgirl's strut.
If Mancilla didn't meet 'em all during her career, she sure met enough of 'em. She dated Howard Hughes, who, Mancilla recalls, caught a show she was in and then "invited me out."
"We had dinner, and we started going out," she says. "He was very friendly. Very nice."
Then, before anybody can figure out a polite way to ask the question everyone wants to ask, Mancilla adds, "and it didn't go any further than that."
And Frank Sinatra? "We were onstage together," Mancilla says, although "I wasn't crazy about him."
"(Sinatra) was egotistical," she says, and, on dates, "he always insisted only his records be played."
Listen to the women talk after the bingo session and snippets of Las Vegas' entertainment history are apt to fly in the air for the plucking. Huck says fellow bingo players, fascinated still by the aura of the Las Vegas showgirl, sometimes do "want to hear what's going on."
Bingo session regulars seem to be "more comfortable" with the group now, Langille says. On this particular evening, the women happily pose with two fellow players after the session. One of the players even poses with one of the ladies' headpieces balanced on her head.
The showgirls' Facebook pages (Showgirls Across America at www.facebook.com/showgirlsacrossamerica and Bingo Showgirls at www.facebook.com/bingoshowgirls) reflect the public's fascination with the iconic showgirl. "We had over 100 likes in three days," Langille says.
All well and good, but Mancilla has another goal in mind.
"I want some job offers," she says, smiling — and, maybe, not even joking — as her sisters-in-feathers laugh.
Contact reporter John Przybys at jprzybys@reviewjournal.com or 702-383-0280.