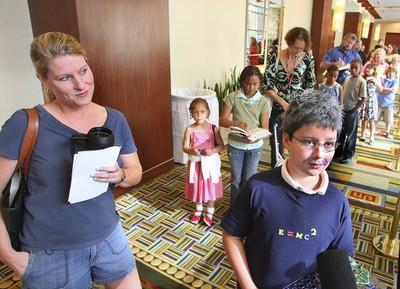 More than 1,000 incoming fifth-graders and their parents packed the Renaissance Hotel ballroom Friday to audition for the producers of "Are You Smarter Than a 5th Grader?"
The popular Fox game show, which is graduating its current class, has expanded to nationwide a search it previously conducted only in Hollywood.
"We wanted a cross-section of American kids, not professional child actors," said executive producer Barry Poznick, who guarantees that at least one child from the Las Vegas audition will be flown to Los Angeles for a second audition with the network.
The hopefuls — mostly from the valley, although about a third trekked from Arizona and Utah — were escorted, 20 at a time, into a room where they spoke about themselves or performed for a minute each.
"We're looking for the kids that have star quality," Poznick said.
The kids toted homemade signs, science projects and musical instruments. One 10-year-old from St. George, Utah, brought his pet snake.
"His name is Viper," said Kyle McCoy. "He comes from Africa. He eats about once a week and he's going to eat all the producers who don't choose me."
But the most important prop to bring was located between the ears. The children were all given IQ tests.
"I think I'm going to do very well," said Hayes Elementary School pupil Natasha Victoria Jordan, 11, who described her strongest area as math. (Her weakest, according to her mom, Zachelle, is "cleaning her room.")
"These kids have been much smarter than I think most of the press gives the Nevada system of education credit for," said Poznick, who also oversaw auditions this year in Chicago, Atlanta, Los Angeles and New York.
Poznick noted that he had read stories about education problems discussed by the governor and lawmakers during the recent legislative session, "so I was expecting the kids to not do so well on our quiz."
For what it's worth, the R-J conducted its own quiz, and six of 16 kids did not know red mixed with blue will turn out purple, 13 of 16 did not know a heptagon has seven sides, and 14 of 16 could not name Andrew Jackson as the president on the $20 bill.
These were all questions furnished by the show's producers as typical of first grade.
"I've never had a twenty-dollar bill," replied 10-year-old Sean Frick of Glendale, Ariz.
But it might not matter in the end.
"You have to be smart, but not genius," Poznick said. "We don't want kids who are so crazy smart that they're never going to get anything wrong, because part of the game is that you're gambling."
ON THE WEB:Video of the auditions