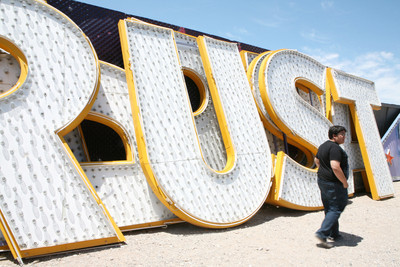 Well beyond the last notion of downtown's fiery bright lights, along a decrepit stretch of North Las Vegas Boulevard, stands what appears to be an abandoned construction project, a concrete structure fenced off from curious meddlers.
Its wavy, conch-shaped form is instantly recognizable to those who remember what the La Concha Motel lobby looked like. It's but a slate gray shell of its former pink self now, but it's still funky-cool, even sitting on a mound of dirt on a dead-end side road.
There, the La Concha lobby serves as both a relic of Las Vegas' past and a representation of its future, because it will front the soon-to-be-built Neon Museum, opening in late 2009 if funds can be raised.
The former Strip motel, built in 1961, was razed in 2003 to make way for the Doumani family to build a high-rise condo-hotel. The family donated the La Concha lobby to the Neon Museum, which couldn't turn down the opportunity to preserve a piece of Las Vegas history, says Dorothy Wright, museum board member.
But they faced a couple of challenges: How to move the lobby to the museum's boneyard on Las Vegas Boulevard North and how to pay for it. The tallest part of the La Concha structure is about 32 feet tall, says Suzanne Couture, museum project designer for the Friedmutter Group. The building had to be moved from Las Vegas Boulevard, near Sahara Avenue, to the boneyard, where dozens of defunct neon signs sit on the museum's site, north of the freeway. Clearance? About 17 feet.
So they cut it into eight pieces and moved it, which sounds much easier than it actually was, Wright says.
After securing grants from a variety of sources, including the city, the Las Vegas Convention and Visitors Authority and the Las Vegas Centennial Committee, the lobby was moved in December 2006. The structure was stripped to its rebar and rebuilt to its current state, which signaled the end of phase two of the museum.
"It was more expensive than we thought it would be, but you can't anticipate the cost of that kind of project," says Wright, adding that museum representatives expected phase one and two of the project to cost about $600,000. They've spent $1.4 million, so far.
The La Concha lobby, which will serve as the museum's lobby, has been sitting since March with the project on hold until funding can be secured for the final phase, Wright says. Board members are waiting to hear if government grants come through in the next few months.
The design work has been completed and approved by the city, Couture says, and they need about $1.5 million to finish. As long as the funding comes in within the year, they will be able to stay on schedule for a late 2009 opening, she adds.
Once complete, the museum will consist of a 1,000-square-foot building attached to the lobby, Couture says. The lobby will have a reception area and space for small gallery exhibits, while the building will house the museum archives, offices and the neon workshop, a small space where neon artists can come to get involved with the restoration of signs.
The museum has struggled with a way to display its more than 150 signs, Couture says. Some are on display along Fremont Street and on Third Street. But the majority of them lay in the boneyard's dirt and gravel, propped against each other, looking every bit like pieces of forgotten treasure fading in the desert sun. There's the Stardust sign; Treasure Island's old skull and bones sign; the Aladdin's lamp and many more obscure pieces that demonstrate some of the more creative flair of neon artists.
Once the museum is complete, the boneyard will keep its current feel and look, with cleaner paths and a staging area for the activities that museum representatives expect to hold.
"They came to the realization that what everyone likes about the boneyard is the signs' placement, they're a layered collection," Couture says. "People really tend to gravitate to that look and feel the boneyard has now. That's become kind of a Vegas legend in itself."
Over the years, the boneyard has become a popular site for photo and film shoots, and people ask to hold their weddings there, too. Although the museum is not officially open, the public can view the signs by appointment; about 100 people tour the boneyard every week.
"It's gotten our name and our face all over the world," Wright says. "It's been great. It's very hip and very cool, the young people really connect to it. There's something about the mystique of looking at those signs in a place they weren't supposed to be. It's like roaming through the dinosaurs."
Neon has fallen out of fashion in Las Vegas, which was once blanketed with neon signs and has long been associated with it. Those neon signs have been replaced by bigger, more energy-efficient LED screens, which makes the Neon Museum an important part of preserving Las Vegas history, Wright says.
"It is really a shame, because it's got that beauty to it. I've heard it called liquid fire, which you can't duplicate with today's electronics," Wright says. "Maybe it will come back. Who knows?"
Contact reporter Sonya Padgett at spadgett@reviewjournal.com or 702-380-4564.