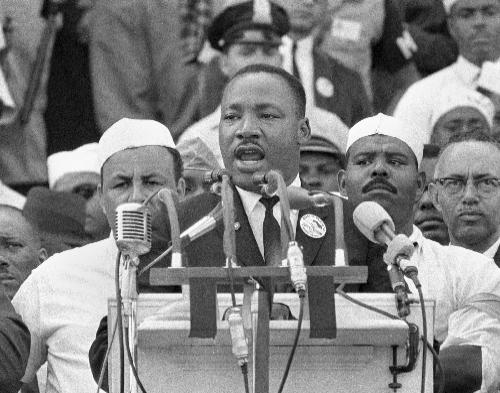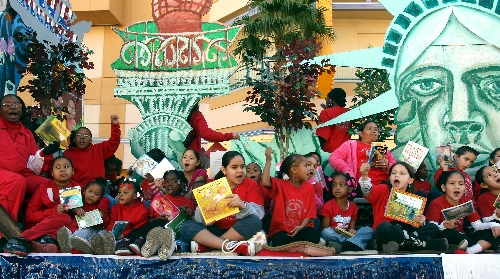 Consider it an odd sign of acceptance that, 25 years after its inception as a federal holiday amid much debate and controversy, Martin Luther King Jr. Day has, for many, become a welcome three-day weekend in the long workaday stretch between New Year's and Memorial Day.
However, for some, the holiday celebrated Monday and its observance remain as vital and as relevant as ever.
It's an important holiday for La'naijah Caldwell, 6, who smiles shyly as her mother, Jewel Dupree, talks about how much the 6-year-old already knows about King.
La'naijah attends the Martin Luther King Jr. Day parade in Las Vegas every year, Dupree says, and began learning about the civil rights leader last year, in kindergarten.
La'naijah also happens to live on Martin Luther King Boulevard. "She asked me, 'Is that Martin Luther King Jr. Jr.?' I'm, like, 'That's him,' " Dupree recalls.
It's a significant holiday for Nicole Griggs, 16, and Jessica Cabell, 14, who studied King's life and his legacy in school. King, Cabell says, merits a national holiday because "what he did was basically pull us together as a nation."
Cabell and Griggs even can offer up a few other names from America's past — Rosa Parks, certainly, and Sojourner Truth and Harriet Tubman — who, they say, would be worthy of national holidays someday, too.
And it's still a relevant holiday for Gloria Wilson, 64, who experienced firsthand the civil rights struggles of the 1960s.
King and others "did a lot to open doors that were shut in our faces," Wilson says, and "laid the foundation" for equal rights battles — for other ethnic groups, for women, for gays — that would follow.
While many Southern Nevadans will treat the holiday as a day off to sleep in, Mack Smith Jr. — who declines to give his age but does offer that "I was here in the '70s" — owner of Hair Unlimited, 1000 Martin Luther King Blvd., is confident that many others will use the day to think about King and his legacy.
Smith — who has been in business on Martin Luther King Boulevard for 30 years, since the days when the West Las Vegas street was called Highland Drive — has noticed, for instance, growing interest each year in the valley's King parade and the events that surround it.
King holiday-related events used to be one day, he says, "and now they are starting a couple of weeks prior to it, with different activities going on (and) leading up to Martin Luther King Day."
Nedra Armstrong, 57, chairwoman of the annual Civil Rights Film Fest sponsored by the Las Vegas chapter of Delta Sigma Theta Sorority Inc., has served on the King parade committee and notes that each year's event draws more entries than can be accommodated in it.
"I think, for the majority of us, there is still a sense of what (King) stood for," Armstrong says, and the annual holiday "keeps us aware of how far we have come."
Forty-three years after his assassination, the Nobel Peace Prize winner continues to serve as an inspiration to those who have followed.
"I have a lot of honor and respect for Martin Luther King Jr.," says Karla Washington, a 41-year-old University of Nevada, Las Vegas student who also works in the university's office of civic engagement and diversity.
"I would love to have had, maybe, a conversation with him," Washington says, "and ask him, 'What do you do when you're out of breath and when you're beat down and when you're frustrated because you try to do something and you've got all these arrows against you?' "
For M.E. Jani Jeppe, 48, performing arts center coordinator for the West Las Vegas Library, "the character and the work ethic of this man is, itself, inspirational."
There were many others who dedicated their lives to civil rights, Jeppe adds, and King serves as "the focal point of many other individuals who have sacrificed."
Growing up in Georgia, Armstrong recalls seeing "whites only" and "coloreds only" signs, and says that, as an "Air Force brat," she had an opportunity to experience racism "from state to state and coast to coast."
"For some, they'd like to say it's (just) a holiday," Armstrong says. "But for most people, it's a time to reflect on the lives that have gone before us and that were given so that we could even express what I'm expressing to you now. Somebody paid for that."
When young people hear about the sacrifices of King and others, "most of them are shocked," Armstrong adds. "They cannot believe that people gave up their lives so that folks could be color blind, if we could use that expression."
Las Vegas playwright, actor and director Michelle Thompson, 44, learned about King and the civil rights movement in school and from her parents. But when the federal holiday was created 25 years ago, she admits that "it took a little time for me to really understand and celebrate why it was set aside."
Even with all this, it's also possible, 25 years later, to oversimplify or overlook the context of King and his times.
"People know the Rosa Parks story or the Martin Luther King story, or parts of it, but it leaves out a lot of the complexity," notes Rainier Spencer, 54, a UNLV professor and director of the university's Afro-American Studies Program. "Anytime you talk about Martin Luther King or Malcolm X, in general you leave out all the complexity. All you get is the hero, which is unfortunate, because heroes are not as interesting to me as the complex individuals. What's interesting is the struggle."
For example, he says, "how many Americans know King lost government support when he came out against the Vietnam War" or recall the political struggles that took place within the civil rights movement that pitted King against other movement leaders?
Instead, Spencer says, Americans may settle too easily for simple stories that make them feel good about themselves, rather than grasping the actual complexity of our past.
But, Spencer says, "it's good to have (a holiday), to at least delve into it. It would be far worse not to have it. But it's one of these frustrating things. It ends up being a story of what-if."
Another potential problem: thinking that, particularly in light of President Barack Obama's election, the struggle is over.
Thanks to King and others, "we've stepped one step forward," Jeppe says, "but there are always battles to face."
Contact reporter John Przybys at jprzybys@ reviewjournal.com or 702-383-0280.
MARTIN LUTHER KING DAY PARADE
When: Monday, 10 a.m.
Where: Downtown Las Vegas, Fourth Street between Hoover and Ogden avenues