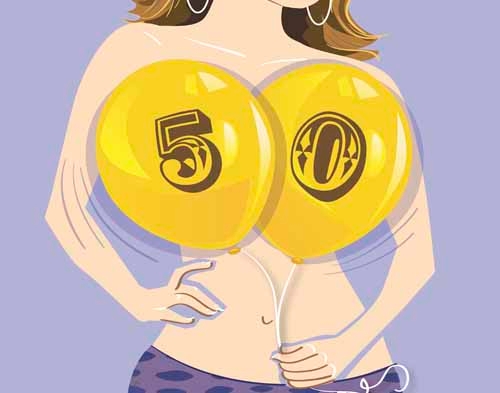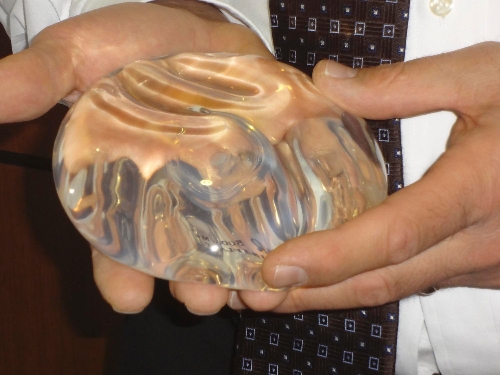 Although they don't look a day over 20, silicone breast implants celebrate the big five-o this year. They've had their ups and downs, even bouncing back from scandal, but the 50-year-old implants have always had a support system in Las Vegas.
According to local plastic surgeon Jeffrey Roth, Las Vegas consistently ranks in the top five cities as far as most breast enhancement surgeries performed per capita. New York, Los Angeles, Dallas and Miami also regularly make the list.
"It's part of the glitz and glamour that is Las Vegas, which is different than in other cities," the doctor says. "For a lot of people, it's part of their currency."
While many of his patients express a desire to have breasts like reality show personality Kendra Wilkinson, he also gets requests for former "PeepShow" star Holly Madison's and the much more modest-sized cups of Jennifer Aniston.
Before them, Pamela Anderson and her slow-mo swimsuit jog in the opening sequence of "Baywatch" was credited for a surge in breast implant surgeries in the mid-'90s.
But one of the original figures influencing women to go under the knife for what was then a new procedure was burlesque dancer Tempest Storm. The regular Las Vegas performer had 44DD cups, which were as much her trademark as her fiery red hair in the '60s.
Men responded to her. And women noticed.
Although burlesque performers were once a Vegas mainstay, silicone-pumped strippers have since replaced them.
That said, the dancer that's become symbolic of the city is the showgirl, although "Jubilee!" is the only show left to feature them. With their preferred body type being long and lean, implants were "absolutely a rarity" backstage, according to former showgirl Lou Anne Harrison Chessik.
Chessik danced from '79 to '91 in shows such as "Hallelujah Hollywood" and "Into the Night" and still remembers the first silicone implants she saw. They stood out, she says, because they were so defined and unlike the other girls' breasts.
One dancer in particular had the silicone injected (a method first used by Japanese prostitutes in the '40s to attract American soldiers).
"When she got older, her body started to fight against the silicone. She had to have it scraped out," recalls Chessik of her former peer. "So, we were all kind of horrified about that."
In time, silicone implants caused the same fears. Following lawsuits claiming their leakage was leading to certain autoimmune diseases, the Food and Drug Administration called for a moratorium on the distribution and surgery of silicone implants in 1992.
They didn't return until 2006, after studies found no connection between the implants and autoimmune diseases. So not to cause other health problems, however, the new silicone implants consisted of a cohesive gel that wouldn't stick to tissue if leakage occurred.
But in the 14 years they were away, saline implants took over the market. Silicone manufacturers felt the loss, financially, and patients' significant others felt the difference, literally.
"Saline feels like a water balloon. Silicone feels more like your own breast tissue," says Dr. George Alexander, local plastic surgeon and president of the Clark County Medical Society.
He's been working in the field close to 20 years and stopped counting the number of breast surgeries he performed after reaching 3,000 six years ago. Alexander estimates 75 percent of his breast augmentations are silicone, which run on the higher end of his $5,000 to $7,000 range for implants. Saline ones are on the lower end.
His typical patient is a mother whose breasts have changed after pregnancies and breast-feeding. "They want to feel better and look better in clothes," he says.
Alexander has also seen trends come and go, with the most recent one veering toward a more natural look.
Overdone double D's are out. Cases in point, actress Kate Hudson and fashion maven Nicole Richie. Both had breast enhancement surgeries in the past two years, but didn't go bigger than what appear to be small C's.
Still, other sizes are just as appreciated among the masses.
The large C's of swimsuit model Kate Upton had quite the year in 2012, appearing on magazine covers and in YouTube videos clad in bikinis built for pre-puberty breasts. Hers are natural but could have very well inspired some women to start a silicone savings account.
Locally, Coco of the reality show "Ice Loves Coco," has recently replaced Madison in "PeepShow." Her breasts are surely implants and represent yet another size preference, one that could cause imminent back problems.
Regardless of what future implant trends and inspirations may be, Alexander will continue his practice of consulting with patients to ensure they want the surgery to benefit themselves, not outside sources.
"From a cosmetic and reconstructive standpoint," he says, "it has empowered women, which is why we want to make sure they're doing it for the right reasons."
Contact Xazmin Garza at xgarza@reviewjournal.com or 702-383-0477. Follow her on Twitter @startswithanx.