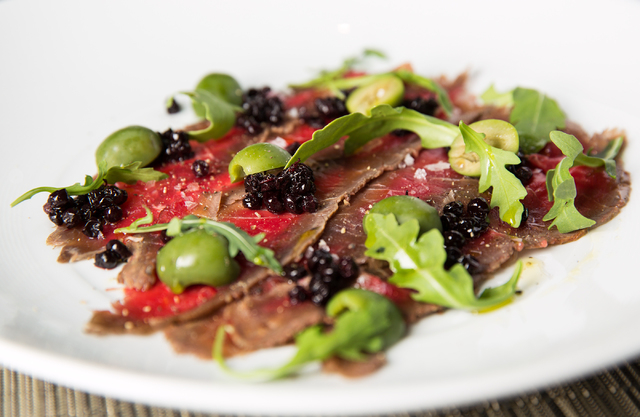 DINING OUT
HERITAGE STEAK, THE MIRAGE, 3400 LAS VEGAS BLVD. SOUTH
Heritage Steak, which opened in August, is from Tom Colicchio, a five-time James Beard Award-winner, head judge of Bravo's "Top Chef" and executive chef of Craftsteak at the MGM Grand. Located in the resort's atrium area, the 230-seat restaurant has a rustic feel, with an open hearth in the exhibition kitchen, a photo mural of burnt firewood, rows of firewood and a wood-beamed ceiling. All meats are cooked over an open flame, whether in the wood-burning oven, on a charcoal-burning grill or in a grill/broiler/smoker. Here's a sample from the menu:
First courses: grilled romaine, $16; wood-roasted onion soup, $16; buffalo carpaccio with huckleberries, $22; braised pork belly with fried oysters, $22; ash-roasted bone marrow with lobster, $23; chilled king crab, $28
Main courses: New York strip steak with pepper chutney, $46; duck breast with duck chorizo, $39; grilled rib-eye, $49; spice-roasted lobster, $54; braised short ribs, $42; grilled swordfish, $38; 10-ounce Prime filet, $56; 18-ounce bone-in rib-eye, $58; A5 Japanese Wagyu 8-ounce rib-eye, $160
Side dishes: Potato puree, $10; roasted mushrooms, $14; spicy onion rings, $14; squash puree, $10
Hours are from 5 to 10:30 p.m. daily. Call 702-791-7223 or visit www.mirage.com.
NEW BOOKS FOR COOKS
THE PIGSKIN
1 1/2 pounds sliced bacon
1 medium jalapeno, cored, seeded and finely chopped (if you want extra heat in your cheese ball, retain some of the seeds)
16 ounces cream cheese, softened
1 cup shredded sharp white cheddar cheese, plus 1 tablespoon for decorating
1 tablespoon chopped scallions
Preheat oven to 400 degrees. Lay the bacon slices in a single layer on two baking sheets. Bake until crispy, 15 to 20 minutes. Drain the bacon on paper towels and let cool. Reserve 2 tablespoons of the bacon grease from the pans and discard the rest. Once the bacon has cooked, coarsely chop and set aside.
Cook the jalapeno in the reserved bacon grease in a small skillet over medium heat until soft, about 5 minutes. Using a stand mixer or a bowl and a spatula, mix together 1 cup of the chopped bacon, the sauteed jalapeno, cream cheese, 1 cup of the cheddar and the scallions until combined. Form the mixture into a ball and cover with plastic wrap; refrigerate for at least two hours or overnight.
Before serving, form the ball into an oblong football shape and roll in the remaining chopped bacon to coat. Decorate the top of the football cheese ball with the remaining 1 tablespoon cheddar to resemble laces.
Serves 15 to 20.
— Recipe from "Great Balls of Cheese" by Michelle Buffardi (Houghton Mifflin Harcourt; $16.99)
— Heidi Knapp Rinella