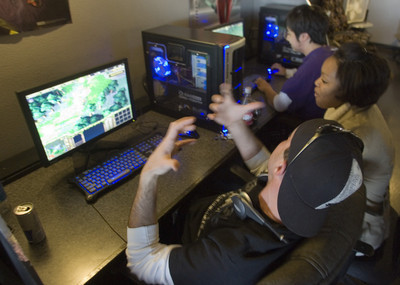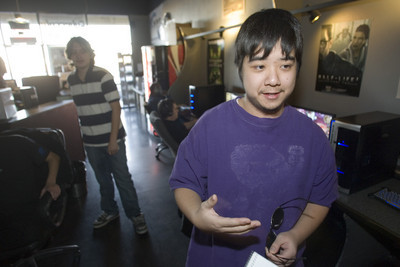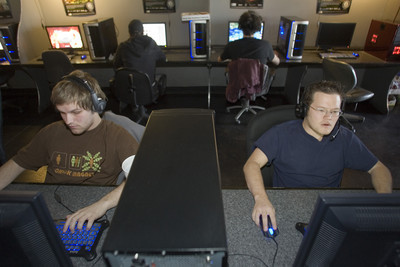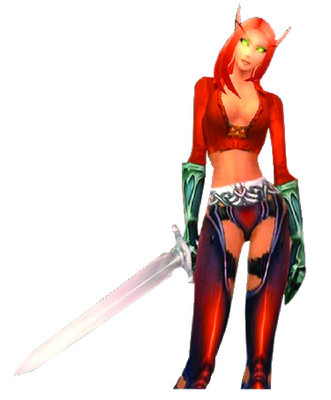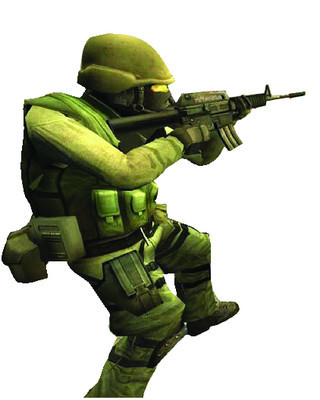 Joe Lomedico, aka Optimus Prime, took a substantial pay cut when he left his security job at a casino to pursue his favorite pastime: vanquishing foes.
He was doing a good job of that on a recent Wednesday, blasting his enemies into submission with the Finger of Death then celebrating with his friends, who are, ironically, one in the same.
Prime, as they call him, manned his station, a computer at Sin City PC, 5255 S. Decatur Blvd., challenging fellow gamers to a showdown in the role-playing game "Defenders of the Alliance." His character possesses the ability to turn enemies into squirrels before killing them by pointing his finger.
Four gamers, from ages 13 to 23, engaged him while others looked on. About 10 people focused on their own monitors, playing PC-based video games "Counter Strike," "Call of Duty 4" and "World of Warcraft." The sound of victory or groans of defeat rang out in the dimly lit store, a local area network, or LAN, where gamers from across town meet up to challenge each other at the newest video game releases.
Such businesses are popular in Asian countries, where LANs often boast hundreds of computers, says Nick Bauer, the 21-year-old who opened Sin City PC with his parents three years ago.
With 30 computers designed for graphics-intensive programs, Sin City PC is a successful venture in the ever-expanding video game market and one of only a handful of such businesses in Las Vegas. On any given night, every chair is taken and time on the computer is hard to come by. And it's only now catching on, Bauer says.
"LANs are just starting to get really big here," Bauer says, adding that customers hear about them by word of mouth, because they don't advertise.
LANs connect several computers together that are within the same room or building. It's different from the Internet, which connects computers around the world. Users can choose either option, Bauer says, playing games online or with the guy sitting across from them.
Stereotypically considered to be socially handicapped introverted nerds, gamers don't come to Sin City PC to play games; they can do that at home. They're here for the socializing.
"It's more or less to hang out with friends," says Wade Cheung, 19. "It's always more fun to see the person you beat."
He discovered Sin City PC a couple of years ago and has been hanging out about four days a week ever since. Recently, he managed to land a job as a networker for Bauer. During his downtime, he plays games.
Lomedico was familiar with Sin City PC because he and Bauer are friends. He came to the store to be supportive and, after a while, was hooked. Recently, Lomedico quit his job in security at a local hotel to come to work for Bauer, too.
"I've always been like a closet nerd," says Lomedico, 23, a tall, muscular man who looks as though he spends more time on the football field than in a computer chair. "I have a group of friends who don't frequent places like this. For a while, I just disappeared from my other life."
When they opened Sin City PC, they planned to build custom computers and do repairs, says Donna Bauer, Nick's mother. They started with four stations and they've been growing ever since. None of them expected the video game side of the business to take off like it has, but Donna Bauer says it makes sense.
People have little variety to choose from in the way of entertainment in Las Vegas, she says, and Sin City PC helps fill that need.
"Everything's in casinos," Donna Bauer says. "Kids walk around not knowing what to do. This gives them some place to go."
Gamers pay an hourly rate based upon how much time they buy; rates start at $4 an hour and can be as little as $2 an hour. The majority of customers are male and the median age of gamers is 35, Bauer says.
"I live here," says Martin Turner, 18.
He comes in to play games nearly every day, staying about seven hours a day and spending as much as $300 a month. Recently, Turner joined Sin City PC's competitive team so now he doesn't have to pay for time.
Competitions are once a month during which gamers vie to be the last one standing in the military-based "Counter Strike." When they're not competing, they often can be found at Sin City PC, working out the kinks in their game, strategizing with others or sharpening their video game combat skills.
But most people come to play on a daily basis and are more interested in competing against friends in the casual atmosphere. They share pizza when they get hungry — Pizza Hut is three doors down — brag about their latest feats and talk good-natured trash. But that doesn't make the games any less intense.
On this recent Wednesday, Lomedico teamed up with Brandon Smith, 13, aka Smitty, against Cheung and another friend, Aaron Griffiths, 19.
Griffiths was intent on getting revenge as his former teammate, Smitty, had contributed to his defeat at the hands of Lomedico and his Finger of Death. So intent was he that he didn't see Smitty or Lomedico as they sneaked up on him and proceeded to destroy his home base.
With pizza slice in one hand and the other on the keyboard, Smitty executed his magical moves in concert with Lomedico. The room erupted in shouts and Griffiths could only stare in disbelief as his and Cheung's base disintegrated.
"Smitty don't need no magic," he said, referring to himself in the third person.
A 13-year-old can get away with a certain amount of bravado, said Francheska Phelps, 23, one of only three girls in the room.
After the game, Cheung walked around, saying his goodbyes. A sophomore at the University of Nevada, Las Vegas, he needed to get home to finish his English homework. He would be back tomorrow, he promised.
It was 6:30 p.m. and the night was just getting warmed up. New players arrived and a new game started.
But grudges die hard and Griffiths was out for revenge.
"You're going down," he told Smitty. "You're my first blood."
Contact reporter Sonya Padgett at spadgett@reviewjournal.com or (702) 380-4564.