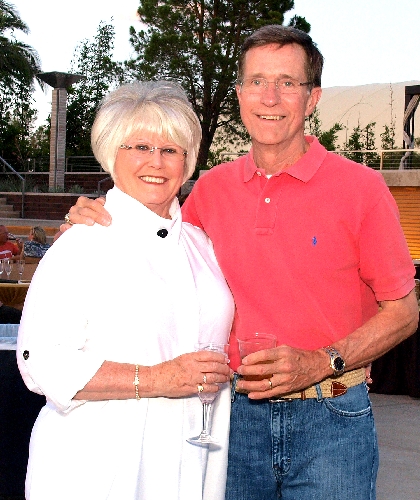 Bishop Gorman High School has a yearly fundraiser called the Passport Party that explores food and wine from all over the world. This year's event, held recently around the pools at the M Resort, was closer to home, celebrating the "Southern Hospitality of Louisiana."
Proceeds from the event directly benefit Gorman's tuition program.
As guests perused the silent auction's 59 packages they sipped two specialty drinks: Southern Hospitali-Tea, consisting of Jim Beam Red Stag with honey tea, fresh peach and lemonade topped with mint, or a Hello Satchmo in honor of the legendary Louis Armstrong, which was Southern Comfort, Alize Red Passion Fruit, fresh pineapple and lime.
The evening's mistress of ceremonies was Monique Hafen, who graduated from Gorman in 2006 and went on to Santa Clara University where she majored in theater. Throughout college and thereafter, Hafen made her mark on the stage appearing in "Thoroughly Modern Millie," "Avenue" and "The Wizard of Oz," to name a few of her singing and dancing roles. Hafen's family is from Louisiana and she spoke about Southern hospitality and Cajun cookin'.
The party's musical entertainment was provided by Gorman students Ralph Mendez, class of 2014, and Davey Martinez, class of 2013.
Among the guests sampling the many champagnes, wines and beers were Denise and Gustav Mauler, Monica Buckley and Steve Beecher, Jill and Scott Fielden, Mike Morrissey, Barbara and Jim Silvestri, Tamara and Tim O'Reilly, the Rev. Richard Rinn, and Bishop Gorman President John Kilduff and his wife, Jeanne.
Buffets offered Southern fried chicken sliders and hickory smoked pulled pork, followed by sweet potato salad, macaroni with corn, and charred onion and diced ham salad. Hot cooking stations offered shrimp and crawfish etouffee, blackened rockfish with pigeon pea salsa, bourbon glazed pork loin and dirty rice and orange glazed yams, white cheddar and tasso ham macaroni and cheese with crispy pork cracklings, jalapeño and cheddar corn bread with sweet honey butter. The dessert selection included bourbon pecan pie, apple pie with cinnamon cream, chocolate pecan pie, banana bread pudding with bourbon creme anglaise.
More guests enjoying the Southern fare were Buffie and Tom Keresteri, Debbie Mills, Tina Call, Stephanie and Steve Stallworth, Michele and Mike Conley, Sandra Marnell, Georgia and Frank Martin, Kris and Tim McGarry, Lisa Bigelow, Lorena and Rick Korbel, Jeanne and Don Hamrick, Keenan Raftery and Tiffany Tiberti.
The event was sponsored by Wirtz Beverage Nevada, M Resort, Chartwells, Kelley Technologies, Ellis Island Casino & Brewery, Crestron and the Las Vegas Review-Journal.