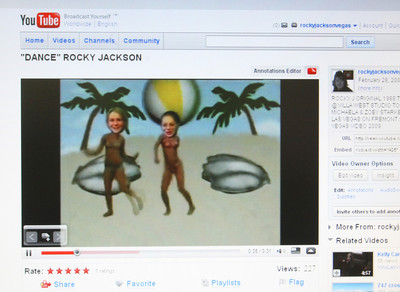 She wears a camouflage bush hat and displays an adventurous spirit, but Leigh Featherstone's educational videos stop just short of National Geographic quality.
They're more like "Nutto Geographic," she says.
Still, despite her shortcomings in film production and a lack of professional equipment and experience in front of a camera, Featherstone, 38, feels duty-bound to show the rest of the world that there's a lot more to Las Vegas than just casinos and the Strip.
And she's using YouTube to do it.
The local sales director is one of an unspecified number of Las Vegans creating short videos and posting them to the hosting site, where anyone in the world with Internet access can view them. Every day, hundreds of millions of videos are watched; every minute, 15 hours of video are uploaded to the site, according to YouTube.
The reasons people post videos are as varied as the people themselves. YouTube's demographic is broad, reaching primarily 18- to 54-year-olds. More than 300 million unique visitors have viewed YouTube videos in a single month, the company says.
Some video makers do it for a group of friends or to advertise specific events. Businesses, such as MGM Mirage, use YouTube to reach customers, while people like Featherstone want to use their hobbies to educate a broad audience.
Among the Las Vegas-related videos are: how to pick up a hooker in Las Vegas; moving to Las Vegas; leaving Las Vegas; a video spoof of the O.J. Simpson robbery; local bodybuilders working out; a UFO landing in a local neighborhood; and Featherstone's contributions. Since Feb. 22, she has posted 17 videos detailing hiking trails around the valley and, in the process, has become a one-woman promoter of tourism.
"What happened was our family wanted to get healthy so we started hiking," Featherstone explains. "I saw the beauty of Las Vegas during these hikes and said, 'People need to see this.' "
When companies started canceling their Las Vegas trips because of the recession and reports about wasteful corporate spending, Featherstone realized she could educate people about the nongambling aspects of a Vegas visit. Her weekends are now dedicated to hiking a new trail and filming it for YouTube.
"A lot of people need to see this because there is so much negative press about Las Vegas," Featherstone says. "I want people to know, hey, you can come on your business trip here and take your employees out on a hike."
Rocky Jackson, 51, of Las Vegas keeps the past alive through his YouTube videos.
A retired singer and guitar player, Jackson originally posted videos as tributes to friends that he left behind in Kansas. After a while, he posted video of his band's old performances.
It's an easy way for an old songwriter to get his music heard, he says.
"I know I'm an old guy but you never know, someone might say, 'I want to buy that song.' It's a great advertisement," Jackson says. "Oh, I wish I had this in the old days."
YouTube has made instant sensations out of kids, teens, adults and pets doing their thing on video. Some have even managed to make money from their hobby, through advertising partnerships with YouTube.
But, as Jackson points out, it only works if people watch it.
YouTube doesn't track the average number of viewers per video, but a search of Las Vegas-related videos showed that many have been watched one or two times, if at all. Videos depicting the Fountains of Bellagio or other tourist attractions fared better, with hundreds and even thousands of views.
Sometimes, videos go viral and receive millions of hits, but Jackson and Featherstone are both far from that. Featherstone has only five subscribers to the YouTube channel where her videos are posted. Her top viewed video has been watched just 34 times.
"The key to some of these videos is tagging. If you put the right tag on it, it might get you more views," Jackson says. Tagging is simply attaching keywords to videos so they show up in search results.
Some of Jackson's most popular videos have nothing to do with his music. His video with the highest number of views, nearly 2,000, is, not surprisingly, "Girls on the Las Vegas Strip!!!!!!!" a photo montage of girls on the Strip set to an original song.
"Jackpots Las Vegas!!!!!!!!!!!" is another popular one, with 1,300 views. It's a collection of video snippets taken in casinos after he won a jackpot. The video consists of Jackson sitting at various slot machines and saying: "We hit another one."
Then there's "Dooger Jackson Las Vegas," a 10-minute video of Jackson's miniature pinscher, Dooger. In it, Dooger sits looking cute, while Jackson lists — in a high-pitched voice — the things his dog likes to do: eat filet mignon, take walks and go to the bathroom, among others. Some of the video shows Jackson's wife holding the dog in the passenger seat of a car.
Watching, a few questions come to mind, among them: How is Jackson filming the car video if he's driving? And, does he regret putting himself out there for the world to see? A lot of people wouldn't want to be overheard speaking baby talk to their dog.
It doesn't phase Jackson. That's what YouTube is about, he says.
"I would say I'm an entertainer, even in retirement," Jackson says.
That's the beauty — and the danger — of YouTube; the videos often reveal something unintended by the moviemaker. In Jackson's case, it's his driving habits and devotion to his dog. Featherstone's videos give viewers a brief glimpse inside her relationship with her husband and cameraman.
During one video, Leigh describes ancient handprints found on a rock face during a hike. Her husband pans the camera away from his wife and suddenly the two start bickering over how to shoot a video while narrating. She ends up firing the cameraman.
"It's been fun. The videos have commentary, it's pretty hilarious," Featherstone says. "It's very down-to-earth. We're just regular people. We want to show what regular people can do."
Contact reporter Sonya Padgett at spadgett@reviewjournal.com or 702-380-4564.
WHAT YOU CAN SEE
YouTube doesn't keep up with statistics about viewers or the number of videos devoted to a single subject, but a search of the words "Las Vegas" turned up more than 190,000 results.
Among the most-viewed videos about Las Vegas is one depicting the Stratosphere's Insanity ride in action. It has been viewed more than 2.5 million times.
Almost 2 million people have watched boxer Mike Tyson bite off Evander Holyfield's ear.
Entertainers and athletic events in Las Vegas are well-represented and among the videos most often viewed, while a tourist's video of driving through Las Vegas is among the least viewed.
Leigh Featherstone's videos
Rocky Jackson's videos
>How to pick up a hooker in Las Vegas with Nacim