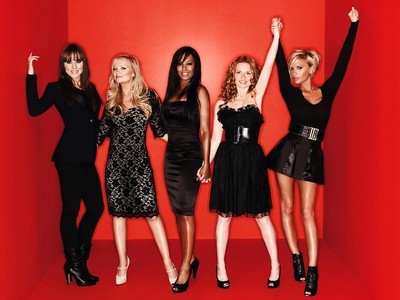 They're all grown up. And nobody seems to care.
Most fresh-faced, teen-friendly musical acts of the '90s have aged like out-of-date dairy products, with former stars such as Hanson, N'Sync and 98 Degrees seeing their careers quickly go sour and expire within a few years.
And then there's the Spice Girls.
Formed in 1994, the Spice Girls debuted big with their first single, "Wannabe," which eventually became the top selling single by any all-female group upon its release in 1996.
More than a decade later, the craze has reignited.
After selling more than 55 million records worldwide and filming a hit movie, "Spice World," the Girls became international superstars and icons of independence for young girls all over the world.
Last June, the Girls announced a reunion tour, with the first show selling out in 38 seconds.
"People are going for that nostalgia," says Marah Hinskey, a sophomore at Palo Verde High School. "Everyone grew up with the Spice Girls and people want to see if they've still got it."
For many teenagers, the Spice Girls — Victoria Beckham (Posh), Melanie Brown (Scary), Emma Bunton (Baby), Melanie Chisholm (Sporty) and Geri Halliwell (Ginger) — remain a remnant of their childhood.
They came of age singing their poppy tunes, watching "Spice World" and salvaging all of the merchandise they could find.
"I remember playing Spice Girls with my friends," says Leah Sussman, a junior at Las Vegas Academy. "I was always Baby Spice. I remember watching 'Spice World' and thinking it was the greatest movie ever."
Adds Liz Growe, a senior at Centennial High School, "I always remember singing their songs at recess with my friends. My favorite song was 'Spice up Your Life.'"
As part of their international tour, the Spice Girls performed three shows at the Mandalay Bay in December.
"They were amazing," Sussman gushes. "Even though they had been apart for so many years, they still showed so much love for each other and excitement about what they were doing."
The Girls are touring in conjunction with the recent release of their "Greatest Hits" album, which consists of 15 tracks, two of which are new.
"It has a much more mature theme and softer music," says Hinskey. "I think I like their older music better because it was more fun and that's what they were known for. But they're still really good."
As the Girls wrap up their tour, which ends in late January in Buenos Aires, fans are left wondering what's next for the group, if anything.
But whether they remain in full swing for another album or call it quits after the tour, one thing is certain: The Spice Girls have had no trouble reminding us that their belief in girl power is ageless.
"The music is very poppy and fun," Sussman says. "No one really has bad memories of the Spice Girls."
R-Jeneration