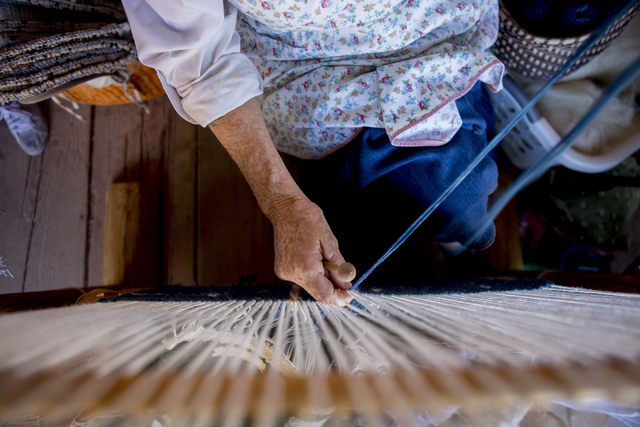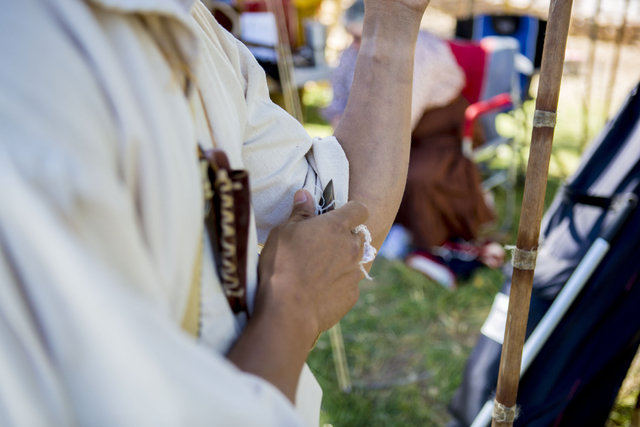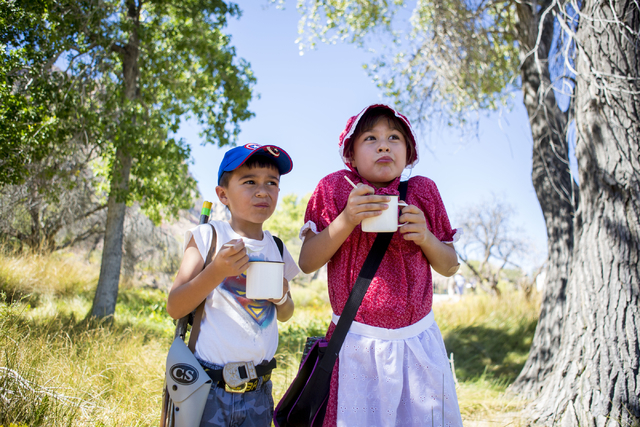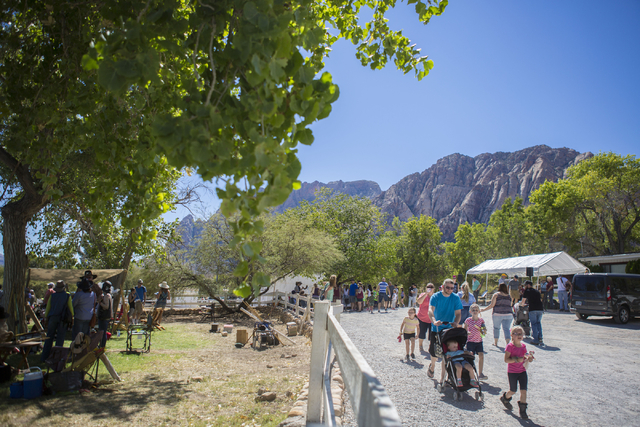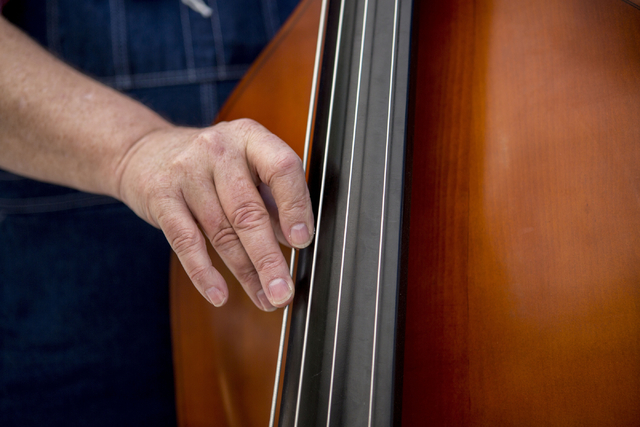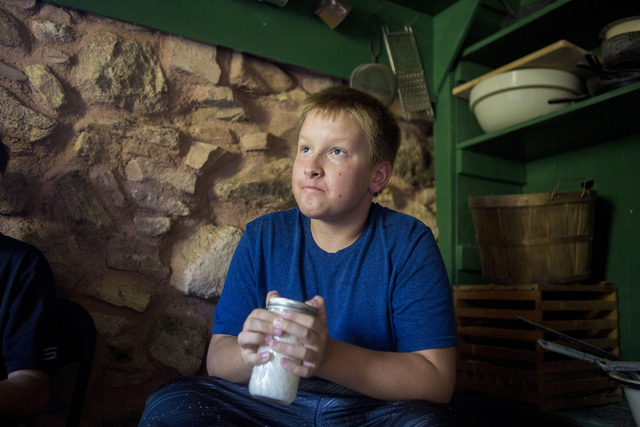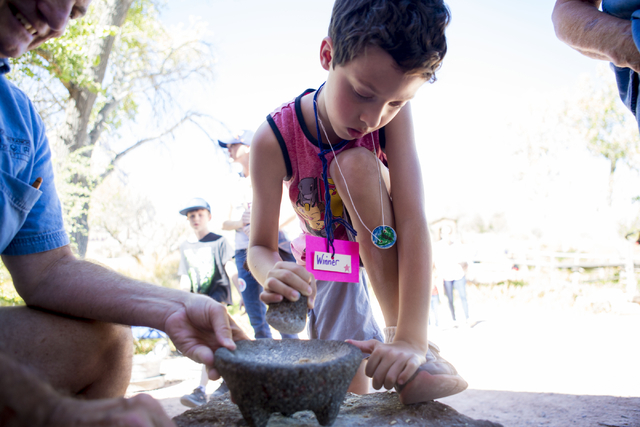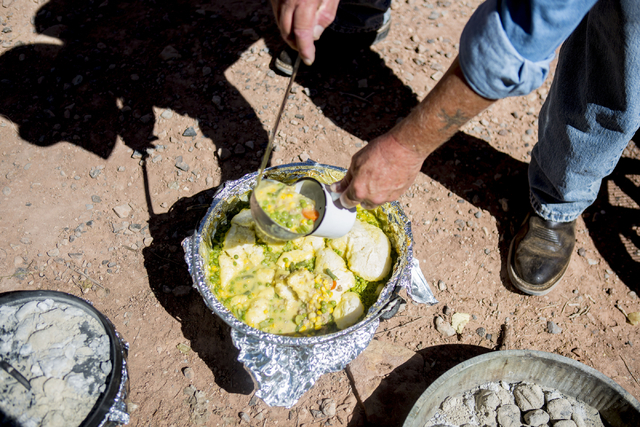 Those who made the 12-mile trip outside Las Vegas to Spring Mountain Ranch State Park on Saturday also took a step about 140 years into the past.
In celebration of Pioneer Day, the park honored the men and women who trekked from east to west and settled there in the late 19th century by teaching visitors about the pioneer way of life.
While children competed in three-legged relays and lassoed miniature bull decoys at one end of the park, more were learning to churn butter and make flour in century-old ranch houses at the other end.
A 5-year-old girl walked past a blacksmith stable on her way out of the park, asking her grandparents questions about the farm equipment and clutching a rag doll in her hand.
Zia Fisher, who just started kindergarten, fidgeted with the doll as she talked about churning heavy whipping cream into butter, learning about local animal prints, and using twine and fabric to make toys, all of which she'd done before 1 p.m. Saturday.
When asked if she'd like to live during the pioneer days, Fisher wasn't so sure.
"I don't like their crackers," said Zia Fisher, referring to the saltines used to sample her handmade butter.
Farther up the dirt road, the Spring Mountain Free Trappers, a club dedicated to the history and craft of mountain men, were hosting a demonstration on primitive weapons, such as knives, tomahawks and lances, and even teaching children how to throw tomahawks at fallen logs.
Mountain men arrived in Southern Nevada in the 1830s and '40s, about 50 years before the pioneers, according to Michael Kisner, whose mountain man name is Broken Bow. Kisner began making wooden bows about 12 years ago and received his mountain man name after eight of the first 10 bows he made broke, he said. He's successfully made about 400 since then.
"We're pretty much keeping the old skills alive and letting people know what it was like in this area back before there was all the settlers," Kisner said, describing the tools and weapons used by fur trappers beginning in 1823 in Midwestern states. "If you can't remember your history, you're doomed to repeat the bad stuff, so you remember and pass on the good stuff and it keeps it alive."
In two wooden buildings near the top of a hill, children practiced washing clothes using a washboard and wringer, watched a park volunteer brand pieces of wood with the ranch's old cattle brands and sampled food cooked in a Dutch oven.
The bare-walled structures, where women in long dresses and bonnets taught lessons about spinning yarn and making candles and toys, are the third and fourth oldest buildings in the state, according to Park Interpreter David Low.
"You ever been to a truck stop in the middle of nowhere?" Low asked. "That's what we were before we were a ranch. It was a stop on the old Spanish Trail."
Just after 2 p.m., Low began one of the more popular demonstrations of the day, casting shapes using reclaimed aluminum.
"Do you think the pioneers had Squirt? Do you think they had hair dryers?" Low asked a captivated group of about 15 children and parents, holding up a can of soda and pointing to his makeshift forge. "It's very unlikely."
Low showed the children ingots of aluminum made by putting about 35 cans into his handmade smelter, which would reach about 2,000 degrees. After metal objects went through the forge, the purified metals could be used to make other things, he said.
"If something was broken, they might find some new use for it," Low said. "They had to be creative."
And they had to be hardworking, according to 8-year-old Emmaline Stewart, who spent part of the cloudless afternoon mashing dried Mesquite bean pods using only a mortar, a pestle and some elbow grease.
"In the old days they would grind it up and make flour," said Emmaline, who donned a red cotton dress with a white apron and matching red bonnet for the event. "Electricity wasn't invented in those days. And they didn't have blenders either."
Emmaline had been listening to a "Little House on the Prairie" audiobook on the way to the park, her mother said.
"I like our country's history," the girl said, still crushing the beans. "Pioneers were very strong."
Contact Kimber Laux at klaux@reviewjournal.com or 702-383-0283. Follow @lauxkimber on Twitter.