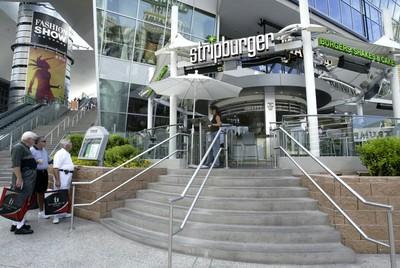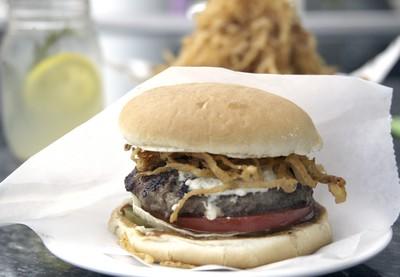 Dining on the Strip takes on new meaning with Stripburger, located adjacent to Cafe Ba Ba Reeba! at the Fashion Show mall, 3200 Las Vegas Blvd. South.
The restaurant offers total, open-air dining with canopies, misters and heaters for climate control.
"We wanted a purely outdoor cafe, which no one had done here," says Dan Evon, area director for Lettuce Entertain You Enterprises, the Chicago-based company that also owns Mon Ami Gabi, Café Ba Ba Reeba!, the Eiffel Tower Restaurant and Joe's Seafood, Prime Steak & Stone Crab.
"We went with quality in every ingredient," Evon says, including the nonfrozen 100 percent "all natural" beef that's ground up throughout the day, free-range chicken, trans-fat free oil and hand-cut french fries.
But no item on the menu costs more than $10. "With the natural beef, we wanted to make a statement but not make people pay for that statement," Evon says. "Our whole thing is to be quality but have fun with it."
Besides a variety of hamburgers, Stripburger also creates 16-ounce milkshakes (a shot of booze can be added), a choice of three cakes for dessert, a number of specialty cocktails, draft beer, bottled beer and six packs. Beer is available from the bar in 16- and 32-ounce sizes.
Hours are 11:30 a.m.-1 a.m. Sundays-Thursdays and 11:30 a.m.-2 a.m. Fridays-Saturdays.
Reservations are not accepted. The restaurant can be reached at 737-8747.
Starters: Fried onion strings ($3.50); pickle fries with ranch dip ($3.50); french fries ($2.95); atomic cheese fries ($3.95); and guacamole and chips with salsa ($7.95).
Salad: Chopped salad with greens and vegetables ($3.95).
Entrees: Hamburgers include the blue cheese burger with fried onions ($8.95), classic hamburger ($7.95), cheeseburger with cheddar cheese, American cheese, blue cheese, Swiss cheese and Monterey Jack or pepper Jack cheese ($8.95); hickory bacon burger with caramelized onions and hickory-smoked sauce ($8.95); Acapulco burger topped with guacamole ($8.95); and Bloody Mary burger with tomato, celery and horseradish ($8.95).
Chicken sandwiches include grilled chicken breast ($7.95); hickory chicken sandwich with bacon, hickory-smoked sauce and caramelized onions ($8.95); South of the Border chicken sandwich with guacamole and pico de gallo ($8.95) and California chicken sandwich with lettuce, tomato, avocado and Monterey Jack cheese ($8.95).
Specialty sandwiches include the wagyu beef hot dog with a choice of tomato, onion, relish, sport peppers and pickle ($4.95); hangover sandwich with egg, grilled tomato and pepper Jack cheese ($5.95); vegetarian sandwich with lettuce, tomato, avocado, pickles and red onions ($5.95); and ahi tuna sandwich with soy-ginger marinade, lettuce, tomato and avocado ($8.95).
Extras: Milkshakes in a choice of flavors: vanilla, chocolate hot fudge, strawberry and butterscotch ($3.95); and half-pound bucket of chilled shrimp served with cocktail sauce, lemon and crackers ($9.95).
Beverages include "shakin' lemonade," with Ketel One, lemonade and rosemary ($8.95); red or white wine sangria served with diced apples, lemons and oranges ($5.50); "orange whip" with Grey Goose l'orange, Cointreau, Navan and orange juice ($8.95); beer mojito with Cruzan rum, mint and pilsner beer ($8.95); and jumbo cocktails including "strip & go naked" with Grey Goose le citron, lemonade and pilsner beer (12 ounce, $7.95; 16 ounce, $16.95), "strip search" with Absolut vodka and Rockstar energy drink (12 ounce, $8.95; 16 ounce, $17.95) and "giant Jack & coke" ($12 ounce, $7.95; 16 ounce, $16.95).
Desserts: Chocolate fudge cake ($5.95); strawberry tall cake ($6.95); and coconut cake ($5.95).
Appetizers is a weekly informational column about new developments on the Las Vegas dining scene. Items should not be considered reviews or recommendations and none is a paid advertisement. Contact Ken White at 383-0256 or e-mail him at kwhite@ reviewjournal.com.
KEN WHITEMORE COLUMNS