'Stroll 'n' Roll,' 'Women Fully Clothed' among weekend events
April 10, 2014 - 10:27 pm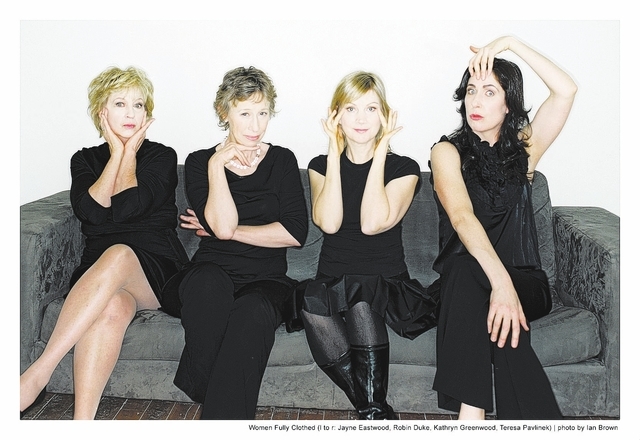 Family fun
HENDERSON HOSTS
STROLL 'N' ROLL
Go play in the street. It's perfectly safe — at least during Henderson's free Stroll 'n' Roll, which transforms the southbound lanes of Paseo Verde Parkway into a pedestrian-friendly zone from 10 a.m. to 2 p.m. Saturday.
Bicycles, skates and scooters also are welcome along a mile-long stretch of Paseo Verde, from Valle Verde Drive to the Henderson Multigenerational Center, 250 S. Green Valley Parkway.
The car-free street festival — modeled after the Ciclovia in Bogota, Colombia — also features entertainment zones at Paseo Verde Park (1851 Paseo Verde Parkway), Discovery Park (2011 Paseo Verde Parkway) and the multigenerational center, where a variety of interactive demonstrations, free exercise classes, food trucks and children's activities are planned.
For more information, visit BikeHenderson.org or call 702-267-2171.
Comedy
'WOMEN' INVADE
SMITH CENTER
Direct from the Great White North, it's "the funniest women in Canada." (According to no less an authority than Eugene Levy, star of memorable comedies as different as "American Pie" and "Best in Show.")
Yes, it's "Women Fully Clothed: Older and Hotter," who check into The Smith Center Friday for more sketches and songs inspired by everything from hot flashes and divorce to office gossip and dental appointments. Robin Duke (Levy's former "SCTV" castmate), "Hairspray's" Jayne Eastwood, Kathryn Greenwood ("Whose Line Is It Anyway?") and Teresa Pavlinek ("The Jane Show") play Girl Guide (Canada's Girl Scout equivalent) leaders who've lost their troops, cranky senior shoppers, school bullies and TV anchors with equal flair; one Toronto critic describes the show as "a single-sex Second City show … with a higher-than-average standard of material."
The distaff laughs begin at 7:30 p.m. Friday in Reynolds Hall at The Smith Center for the Performing Arts, 361 Symphony Park Ave. For tickets ($35-$55), call 702-749-2000 or visit www.thesmithcenter.com.
Family fun
COUNTY FAIR
WRAPS UP RUN
The forecast for Logandale: fair weather. Make that Fair weather, because the 49th annual Clark County Fair and Rodeo continues through Sunday, rounding up a range of high-energy fun.
There's a pro rodeo, of course, along with a carnival midway and exhibits including small animals, livestock, horticulture, fine arts and home science.
Lonestar will appear in concert at 9:30 p.m. Friday, with dozens of other performers — hypnotists, magicians, even the swashbuckling Captain Jack Spareribs — scheduled to appear on stages and throughout the fairgrounds.
The Clark County Fair will run from 10 a.m. to midnight Friday and Saturday and 10 a.m. to 9 p.m. Sunday at the fairgrounds, 1301 W. Whipple Ave., Logandale. For tickets ($9 for fair admission; tickets to the concert, carnival midway and rodeo range from $16 to $32), call 888-876-3247 or go to the fair website at www.ccfair.com.
Theater
AUDIENCES WANTED
FOR 'SONG POEMS'
The wacky — and sometimes touching — world of Song Poems inspires Off-Strip Productions' aptly titled "Song Poems Wanted! The Musical," which opens a three-weekend run Friday at the Onyx Theatre.
The show focuses on poets and musicians whose lives, and dreams, are connected through the fictional Star Records, which produces Song Poems. You may have seen the ads in magazines, headlined "Send in Your Poems — Songwriters Make Thousands of Dollars." Those who submit their poetry receive notices that their work is worthy of recording — for a fee. And if they send in their money, their poetry is set to music, but they're the only ones who receive the subsequent record.
The "Song Poems Wanted" score incorporates actual Song Poems with lyrics by everyday folks, along with exclusive material by composer Art Kaufman and lyricists Helen Bates and Larry Carpenter. Carpenter's book ties the score together through a variety of characters, including the songwriter who takes setting Song Poems to music seriously and his had-it girlfriend, who resorts to submitting poems — under a pseudonym — to attract his attention.
The Las Vegas production, which premieres a new version of the show, will be staged at 8 p.m. Friday and Saturday in the Onyx Theatre, 953 E. Sahara Ave. Additional performances are scheduled at 8 p.m. April 17-19 and 24-26, with 2 p.m. matinees April 20 and 27. A portion of the proceeds will benefit the Gateway Arts Foundation. For tickets ($20), call 702-732-7225 or visit www.onyxtheatre.com.
Benefit
IT'S TANGO TIME
AT WINCHESTER
The Winchester Cultural Center may be some distance from Argentina, home of the tango, but all that changes — at least on Friday, thanks to "Starlight and Strings: Tango!"
The performance features four Los Angeles-based dancers, accompanied by the Firenze Tango Band: accordionist Hubert Gall, violinist Laraine Kaizer-Viazovtsev, guitarist Pablo Gadda, pianist Damaris Morales and cellist Moonlight Tran.
Preceding the performance: wine and hors d'ouevres, along with a silent auction of show tickets and other items, presented by the Friends of Winchester, to benefit the center and its activities.
"Starlight and Strings: Tango!" begins at 6 p.m. Friday at the center, 3130 S. McLeod Drive; for tickets ($25 in advance, $30 on concert day), call 702-455-7340.
Music
JAZZ VETERANS
TEAM UP SUNDAY
They call themselves the Groove Brothers — and while they may not be related by blood, they're definitely part of the same jazz family, as they'll demonstrate Sunday afternoon at the Bootlegger Bistro.
Presented by the Las Vegas Jazz Society, the Groove Brothers concert features trombonist Neil Maxa, baritone saxophonist Garrett Hypes, bassist Chris Gordan, drummer Santo Savino and pianist Lady Adelaide Robbins.
They'll perform at 2 p.m. Sunday at the Bootlegger, 7700 Las Vegas Blvd. South. Tickets are $12 at the door, $10 for seniors or LVJS members with ID and $5 for students; seating is limited and reservations are recommended. For more information, call 702-313-6778.
Crafts show
CRAFT FESTIVAL
RETURNS TO LV
If it's spring, it must be time for the Craft Festival, which has been a seasonal fixture at Cashman Center since 1983.
About 150 artists and artisans from 10 Western states will display jewelry, pottery, leather, woodwork, fiber, glass, sculpture, toys, fine art and weaving in more than 50,000 square feet of exhibit space.
The 32nd annual Craft Festival will be open from 10 a.m. to 6 p.m. Friday and Saturday and 10 a.m. to 5 p.m. Sunday at Cashman Center, 850 Las Vegas Blvd. North; admission is $7 (adults 18-64), $7 for seniors (65 and over), $2 for ages 12-17 and free for children 11 and under. For more information, call 702-386-7100 or visit www.stevepowers.com.
— By CAROL CLING