Student gives time, hair to help raise funds for cancer research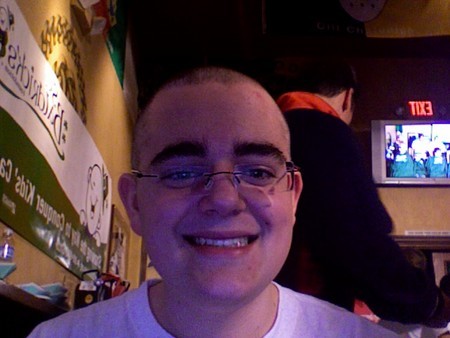 At the age of 15, most teenage boys are concerned with sports, parties and girls. For Justin Gutzwa, his main concern is helping people who have either been diagnosed with cancer or people who have loved ones that have cancer.
Gutzwa has volunteered for the past three years as a coordinator of student volunteers for the St. Baldrick's Foundation, which holds an annual fundraising event for childhood cancer research. Volunteers shave their heads in unity with children who are living with cancer.
Volunteers who plan to shave their heads at the St. Baldrick's event, which is held at McMullan's Irish Pub on Tropicana Avenue, ask people to sponsor them and donate money in support.
This year, 315 volunteers raised a total of $190,000 on March 7. The event was so successful that it expanded from McMullan's to Quinn's Pub inside Green Valley Ranch.
"I began volunteering at this event three years ago because my family is good friends with the McMullans," Gutzwa said. "Also, my cousin died of melanoma at the age of 46, which helped me make my decision to volunteer."
The McMullan family began having the event at their pub in honor of their daughter who died from cancer.
"Being a part of St. Baldrick's has really opened my eyes to a different side to cancer. I have seen oncologists who are completely devoted to their patients, regardless as to whether or not they can afford treatment," Gutzwa said.
Along with the many men who shave their heads at the event, Gutzwa said there are many women who shave their heads as well.
"It is so amazing how truly beautiful a woman looks after shaving her head," Gutzwa said. "You would think that your head would look weird, but honestly they look absolutely beautiful."
Gutzwa shaved his head this year for the first time.
He was sitting in an assembly at school and decided right then that this would be the year he would shave. He as well as the other volunteers that had their heads shaved received goody bags filled with hair care products, which Gutzwa found to be ironic.
As the coordinator of student volunteers, Gutzwa thinks this year had the best turnout as far as volunteers from The Meadows School goes.
"After school one day we had an assembly line of kids stuffing 300 goody bags," Gutzwa said.
Along with student volunteers, performers from the Strip got their heads shaved, too.
Each year after the night show, performers from Cirque du Soleil have come to have their heads shaved.
"One of the most amazing stories is Mandy Horan, a Cirque du Soleil performer, raised $8,000 just because she was shaving her head," Gutzwa said. Celebrities such as Bow Wow also were there this year to participate in the cause.
Gutzwa plans on continuing his work for the St. Baldrick's Foundation when he goes to college by either starting a program for St. Baldrick's at his school or, at the very least, by flying down for the weekend next year to participate in the Las Vegas event.
R-Jeneration