Summerlin-area Nacho Daddy puts Mexican spin on sports bar
February 28, 2016 - 8:31 pm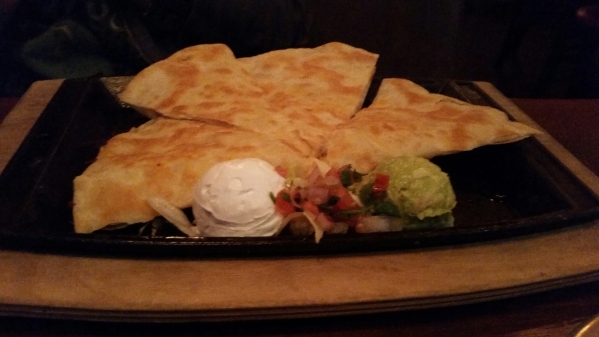 If you're looking to shake up your weekly sports bar routine, or you're just getting a little tired of burgers and chicken wings, Nacho Daddy's westside location could be your new favorite spot.
Located in the spacious building at 9560 W. Sahara Ave. — formerly occupied by Firefly, and before that, Z' Tejas Grill — the valley's third Nacho Daddy is also the only one that features a Craft Beer Station, showcasing a variety of craft beers served by the ounce.
The self-serve system directed diners to purchase a $10, $25 or $50 card from their server, place the card in front of their desired beer at the self-serve station, tilt the glass and fill. However, pouring a perfect brew isn't necessarily in everyone's skill set, but the self-serve station, with its kegs showcased behind glass, did look pretty cool. Four local brews were among the selections on the night I was there.
Not being a beer drinker, I opted to try a flavored margarita, blood orange. It was just the right amount of tart and a good complement to the BBQ Nachos ($12.50), which featured house made corn chips piled high on a bed of white queso sauce, topped with choice of pulled pork or chicken breast (we had chicken), barbecue sauce, black beans, fried onion strings and cilantro. It was enough for two people and easily could have been a meal in itself. Other unique nachos on the menu are Thai chicken, spicy shrimp, filet mignon and, for the truely brave, Ghost Pepper Chili. Nachos range from about $13 to $18.
Entree choices include standard Mexican fare such as enchiladas (a vegan option features Cajun spiced tofu and vegan cheese), burritos, fajitas and tacos, as well as less-conventional items such as fish and chips, chipotle honey-glazed barramundi and ranchero steak pasta. Entrees range from about $13 to $20. From the appetizer menu, I suggest the grilled Mexican corn on the cob, topped with cotija cheese, cilantro, garlic mayo and lime ($6.35).
Nacho Daddy offers happy hour from 3 to 6 p.m. Monday through Saturday at all three locations, including, in Henderson, 9925 S. Eastern Ave., and in downtown Las Vegas, 113 N. Fourth St. House margaritas, Mexican draft beers and house wines are $5 or less, and street tacos, loaded mashed potatoes, Southwest chimichangas, cheese crisp, sausage and egg sliders, chipotle sliders and the aforementioned corn are $4 to $6.
Adventurous diners can chase their Ghost Pepper Chili Nachos with a Scorpion Shot, featuring a real scorpion floating in your choice of liquor.
The West Sahara Avenue location hosts a weekly trivia night at 7 p.m. Wednesdays and features plenty of flat-screen televisions for your sports-viewing pleasure. When we were there, several were also playing a selection of music videos from the '90s.
Visit nachodaddy.com.
Nacho Daddy
Address: 9560 W. Sahara Ave. (702-462-2298); also in Henderson at 9925 S. Eastern Ave. (702-462-5000), and downtown Las Vegas at 113 N. Fourth St. (702-778-7800)
Hours: Westside and Henderson locations are open from 10:30 a.m. to 10 p.m. Sunday through Thursday and 10:30 a.m. to 11 p.m. Friday and Saturday; downtown location is open from 9 a.m. to 2 a.m. Sunday through Wednesday and 9 a.m. to 3 a.m. Thursday through Saturday.
Visit nachodaddy.com.