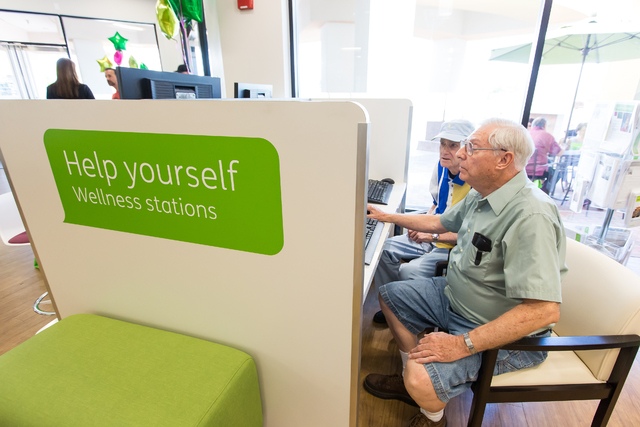 BLM PLANS OPEN HOUSES JUNE 30 AT RED ROCK CANYON
The Bureau of Land Management Red Rock/Sloan Field Office and Central Federal Lands Highway Division of the Federal Highway Administration plan to host open house meetings at 2 and 6 p.m. June 30 in the classroom at the Red Rock Canyon National Conservation Area Visitor Center, 1000 Scenic Loop Drive. The public is invited to comment on the Proposed Scenic Drive and Parking Lot Area Improvement Projects Environmental Assessment.
The meeting will include displays, and specialists will be on hand to answer questions. A short presentation is planned for 2:30 and 6:30 p.m. Written comment forms will be available. The comment period ends July 14.
Some of the proposed projects analyzed in the environmental assessment include installing a one-way return road from Sandstone Quarry to the exit near the visitor center, repaving the 13-mile Scenic Loop Drive and associated public safety design improvements, including new signage, improving vehicular access and circulation, as well as restoring and expanding most parking lots along the scenic drive. The environmental assessment examines the resources in the project area, provides alternatives and analyzes the impacts of the alternatives.
The environmental assessment is available at tinyurl.com/onj2eln. Comments can be emailed to cwise@blm.gov or sent to Carla Wise, Proposed Scenic Drive Improvements, BLM SNDO, 4701 Torrey Pines Drive, Las Vegas, NV 89130.
Those attending the June 30 open house should tell the attendant at the fee booth that they are there for the meeting, and fees will be waived.
For more information, call 702-515-5350.
RAINBOW LIBRARY TO HOST FREE MEALS FOR YOUTHS
The Rainbow Library, 3150 N. Buffalo Drive, is one of the sites for the Southern Nevada Food Service Program. The program ensures that children have access to nutritious meals during their summer break. Three Square food bank provides free meals Monday through Friday through the summer to youths 18 or younger.
For more information, call 702-507-3710.
SHRINERS HOSPITALS FOR CHILDREN SEEKING VOLUNTEERS
The Shriners Hospitals for Children Open is set to return for the 33rd consecutive year Oct. 19-25 at TPC Summerlin, 1700 Village Center Circle. For the full event listings, visit shrinershospitalsopen.com.
Volunteer registration is open through June 30 for $70, which helps defray the tournament's costs associated with each volunteer. This event is operated as a nonprofit charity, and every available dollar is dedicated to its mission of raising awareness and money for the Shriners Hospitals for Children. Volunteers can select the committees to serve based on areas of interest.
Returning or new volunteers will receive a package that includes a uniform (polo golf shirt, jacket, baseball cap or visor, or straw hats for an additional charge), meals during shifts, Volunteer Appreciation Party, tournament badge, commemorative gift, weeklong tournament pass and an invite to the Volunteer After-Party.
To register as a volunteer, visit www.shrinershospitalsopen.com/en/volunteer.
SUMMER FOOD SERVICE PROGRAM TO PROVIDE MEALS DURING SCHOOL BREAK
​The Culinary Academy of Las Vegas has announced locations for the 2015 Summer Food Service Program, a federally funded program administered by Nevada's Department of Agriculture to youths living in low-income areas. The site in the Summerlin area, which is open to any child with no registration required, is at Impact, 8991 W. Flamingo Road.
The academy is providing nutritious free meals to children 18 or younger Mondays through Fridays during the summer months.
​For more information, email gpearce@theculinaryacademy.org or call 702-924-2102.
WOMEN'S CLUB OF SUMMERLIN PARTNERS WITH MACY'S FOR SHOP FOR A CAUSE
Macy's is partnering with the Women's Club of Summerlin for the 10th annual national Shop For A Cause charity shopping event Aug. 29.
Customers can purchase shopping passes now for $5 each from the Women's Club of Summerlin for the event created to support local charities' fundraising efforts. The club will keep all of the proceeds from the sale of the shopping passes, which entitle the holder to special discounts on regular, sale and clearance merchandise during the event.
Macy's in Summerlin is at 1980 Festival Plaza Drive in Downtown Summerlin.
For more information about Shop For A Cause, visit macys.com/shopforacause. To purchase a pass from the Women's Club of Summerlin, email president@womensclubofsummerlin.org.
WORLD CUP CYCLOCROSS EVENT SET FOR SEPT. 16 AT DESERT BREEZE SOCCER COMPLEX
CLIF Bar CrossVegas has scheduled a World Cup cyclocross event for Sept. 16 at the Desert Breeze Soccer Complex, 8275 Spring Mountain Road. Racers from 15 countries are expected to participate.
The event requires competitors to travel on various terrains — pavement, grass, steep hills and barriers — and in some places, cyclists will dismount to navigate obstacles, then remount their bicycles to finish the race. Competitors comprise the world's top-ranked men and women in the sport, including multiple national and UCI world champions. CrossVegas athletes compete in one of four races: UCI Elite men; UCI Elite women; Wheelers & Dealers, the race's cycling industry event; and a USA Cycling race for amateur men and women. The event will be televised by Universal Sports Network.
This year's UCI World Cup race series starts with CrossVegas, with the top competitors advancing to the next race in Montreal. Following Montreal, World Cup races will take place in the Netherlands, Belgium and France through the fall and winter.
The cost to participate is $55. Registration is set to open Aug. 4 at crossvegas.com.