'Super Mario Galaxy 2' mostly for kids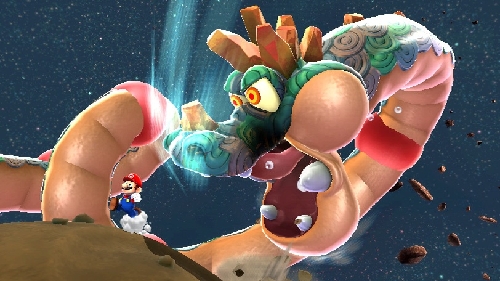 Super Mario Galaxy 2″ is a very cute Mario game that I would strongly suggest for my nephew, Kyle. It's quite good. On the other hand, I'm going to devote a lot of this review to criticizing the one super dumb thing in it that's annoying me to no end.
"Galaxy 2" feels a lot like the first "Super Mario Galaxy." You portray Mario. You travel from planet to quirky little planet, running or riding across each orb for a few minutes, bonking bad guys, finding hidden gems, collecting floating stars and coins, then flying to the next planet for more of the same.
OK, that's great. For kids. And for casual gamers. And for parents.
But what is it with all the adult reviewers in America giving this game their best ratings of the year?
With all due respect to other reviewers, this is kid stuff. Are you really enjoying this game so much? Really? Really?
It begins with Princess Peach getting kidnapped by Bowser for the 1 zillionth time in a Mario game.
After that, there's no serious plot, and that's OK. You don't need story line with Mario. You just need to run from point A to point B to C to D to infinity.
The big, good thing: There are more than 40 stages to travel through. The universe looks creative and colorful. The planets are lovely. It's fairly easy to maneuver Mario (but not smooth enough, I'd say).
The annoying thing: As usual with the Wii, you hold one hand controller in your left hand, and another hand controller in your right hand. That's fine.
But for this game, more than most games, you must point the right-handed wand at the screen for what seems like an eternity, to control a cursor that A) rolls over floating stars (to collect them), B) grabs onto things to eat, and C) grabs onto things to zipline up to.
Am I the only critic who thinks pointing at collectible stars all the time is off-putting and makes my right hand go numb after a few hours? I think I might be.
That's not nitpicking. If I wanted to nitpick, I'd tell you the background music sounds like the bad orchestral cheese they spread over the end-credits of Academy Awards programs.
I don't want to sound like a Mario hater. I'm not. Me and Mario go way back. But this never-ceasing wand-pointing business makes me want to play a different game in my spare time. I want to stress that complaint to game-makers for future "Galaxy" sequels. Thank you.
That said, let's get back to perspective: This is a very good, huge game, with months of replay value for your nephew, your casual gamer, your parents, your Nintendo fanboys.
Also, your adult critics, one of whom called this the best Wii game yet made.
Hmm. Regardless, I would like to say to Mario directly: Your therapist would call your emotional need to save the princess over and over a "rescue fantasy." You may want to look into that.
("Super Mario Galaxy 2" by Nintendo retails for $50 for Wii — Plays pretty fun. Looks very cute. Moderately challenging. Rated "E" for mild cartoon violence. Three and one-half stars out of four.)
Contact Doug Elfman at delfman@reviewjournal.com. He blogs at reviewjournal.com/elfman.
NEW IN STORES
"Alpha Protocol" (Sega) puts you in control of a modern spy who goes off the grid, moves through safehouses, learns combat-kill moves, works with a pretty spy woman and tries to save the world.
"Alpha Protocol's" action/role-playing seems inspired by "Mass Effect." That means you begin by choosing your character's look: the face, the clothes, etc. You choose to be a certain kind of spy: combat, stealth, gadget geek. That choice drastically changes the way the game will feel to you.
Then you dive deep into mission-based adventures where your choices — whether they're action options or dialogue-box options — define your personality, your mission movements and your outcomes.
You meet a lot of people and talk with them. You collect loot and spend it on modifying weapons and gadgets. You hack codes and locks.
And you have to be careful to make good moves. If you cozy too much to weapons dealers, you may squander your relationship with the spy system; and vice versa.
One dumb thing: You have amnesia. One obvious thing: Your goals are to get weapons and take out bad guys. Obviously.
The game retails for $60 for Xbox 360 and PS 3; $50 for PC. It's rated "M" for blood, drug reference, intense violence, sexual content and strong language.
— DOUG ELFMAN