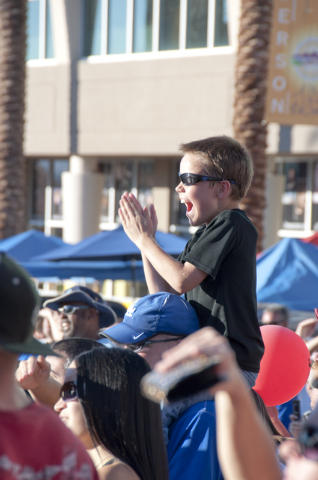 Sure, fans of hot rods, muscle cars and unique vehicles of all sorts will find plenty to love at the Super Run Classic Car Show, which kicks off a four-day run Thursday in Henderson.
But the celebration will have plenty to offer to less avid car fans, too, including musical performances, eats, vendors and, above all, a few fun hours spent amid serious metal and a decidedly retro vibe.
Early birds can catch a sneak peak of some of the cars that will be on display from noon to 8 p.m. Thursday in the parking lot of the Fiesta Henderson Hotel, 777 W. Lake Mead Parkway. Then, on Friday, Super Run shifts into high gear with a slate of events that will take place along and around Henderson's Water Street District.
Weekend hours are from noon to 10 p.m. Friday, from 10 a.m. to 10 p.m. Saturday and 10 a.m. to 3 p.m. Sunday. Admission is free. For a complete schedule and more information, visit www.HendersonLive.com or call the Henderson Cultural Arts and Tourism Department at 702-267-2171.
This weekend's Super Run marks the event's 15th year in Henderson. Bill Hollimon of the Las Vegas Cruisin' Association, which sponsors the event in partnership with Henderson, says the event dates from 1984 and pre-Henderson locales included downtown Las Vegas.
Those early years saw only a few hundred cars on display. Henderson spokeswoman Nicole Johnson estimates that about 1,000 cars will be on display along Water Street this weekend.
"It's all makes and models," she adds, from pre-1960s classics to muscle cars of the '60s and '70s to decked-out foreign models to collectible vehicles of all sorts.
"So it's like the most crazy variety of cars you can imagine," says Johnson, who once saw a Pinto competing in a burnout competition at Super Run.
One year, when Johnson was showing a photographer from London around the show, they happened upon a car that, she says, looked like something from a '60s James Bond film. "He was, 'Oh my God, I grew up with this!' He was telling me the whole story."
Participants, by the way, typically come from several states, including Texas and Hawaii, Johnson says.
Hawaii? "From what I understand, he has a storage unit here," Johnson says. "But definitely regional. Arizona, and we get a lot of cars from California and Utah."
This year's entertainment roster includes a performance by Sha Na Na at 8 p.m Friday. On Saturday, the live music turns country with a performance by Chasin' Crazy. Both groups will perform on the main stage of the Henderson Events Plaza, 200 Water St.
"It's fun for all ages," Johnson says. "And a lot of times, it's not just the cars. It's the music that comes along with this."
Also on tap for the weekend are food vendors, activities for children, merchandise vendors, contests that include "roaring engines" and a "slow drag/burn out" competitions, and a Las Vegas Beatles celebration at 1 p.m. Saturday. For a complete schedule and more information, visit www.HendersonLive.com.
Guests will be able to bid in a silent auction for hubcaps that have been turned into pieces of art by area artists and others. The finished pieces will be displayed in the Henderson Convention Center, and proceeds go to the City Lights Youth Scholarship Fund.
Super Run is Southern Nevada's largest car show, Johnson says, and more than 100,000 guests are expected to stop by this weekend. Johnson once met a couple from Sweden who were visiting Las Vegas and happened to hear about the show.
American muscle cars are "really popular over there," she says, "so they had to come and check it out."
Why do owners go to such pains to prepare and display their vehicles? "What better way to show your hard work and love for a vehicle than to display it for everybody else to admire?" Johnson says. "A lot of these guys take pride in it. They've customized it to what they like. They're just kind of showing off their cars to other people, and a lot of other people enjoy their cars."
Hollimon will be showing three of his cars in the show, and says that, given all the work he has invested in the vehicles, "I want people to see it."
That's the main reason for showing cars, he says. "For people to know what they're putting together, and people looking at it and enjoying it. It's a big ego trip, is what it is."
Contact reporter John Przybys at jprzybys@reviewjournal.com or 702-383-0280.
PREVIEW
What: 15th Annual Super Run Classic Car Show
When: Noon to 8 p.m. today, noon to 10 p.m. Friday, 10 a.m to 10 p.m. Saturday, 10 a.m. to 3 p.m. Sunday
Where: Water Street District and Henderson Events Plaza, 200 Water St.
Admission: Free (www.HendersonLive.com or 702-267-2171)