Tattoos spread as more people embrace bold designs
August 25, 2012 - 10:21 pm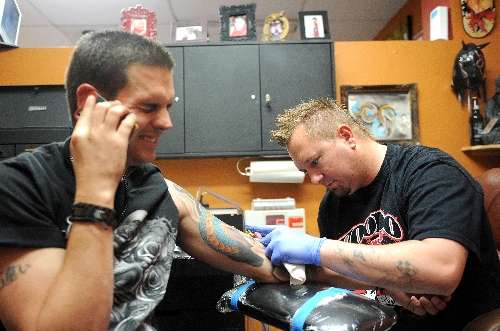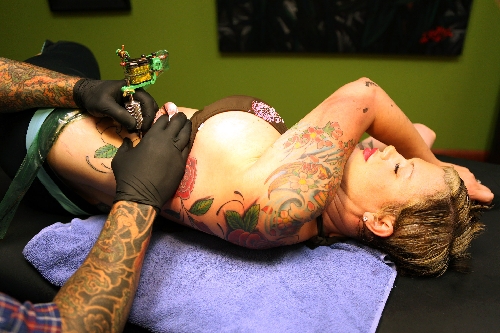 Joe Cool – yes, that's what his mother, Lisa Cool, named him – sat on a stool in Voodoo Tattoo, his whirring, hand-held machine needling more indelible ink into the dragon weaving in and out of smoke and flames on the arm of Jason Fliegman, a married Christian schoolteacher who has one daughter and another on the way.
At Stay True Tattoo, Kent Kelley machine gunned more color into the rose designs on the arm, back and side of Ninya Ranney, a former Miss Nevada who's now the 39-year-old married mother of two young boys and the general manager of a Las Vegas hotel.
Inside Showroom Tattoo, Gianni Russo, 30, engraved yet another skull into the nearly fully tattooed-covered arm of Alis McKeeby, a 24-year-old stylist at a Summerlin hair salon and mother of a 4-year-old girl.
If there is a trend among Southern Nevadans who choose to be tattooed – they do so for reasons that range from the cosmetic and sentimental to group identification and the magical – local tattoo artists say it is to request big and bold designs full of various shades of reds and greens and purples and yellows that are outlined in black.
"In your face" is the way Cool, a 36-year-old father of three who's been married for nine years, indelicately describes these tattoos – one particularly popular type is known as a "sleeve" because it covers an entire arm.
It's not uncommon for a sleeve to cost $2,500 and to require five, four-hour sittings before it's completed.
Far fewer of his clients, Cool said, are concerned about what long amounted to societal taboos against tattoos, where proper denizens of society saw those with body modifications only as bikers, former prisoners, loose women, gang members or as retired sailors and soldiers who got drunk on leave and ended up inked.
It is practically impossible today, Cool suggested, for people to shun or not hire those with tattoos.
"I've got people from all walks of life getting tattoos today, even doctors and lawyers," Cool said as he worked on the dragon worn by 37-year-old schoolteacher Fliegman, who, a couple of years ago, got much smaller, and basically always covered, tattoos bearing the names of his wife and daughter on his chest and the word "Mom" on his upper back.
Tattoo artist Kelley, whose heavily inked wife, Sabina Kelley, is a model and also a judge on the cable TV show "Best Ink," said what has surprised him is how police personnel, including special weapons and tactics team members, embrace big and bold tattoos.
Now 42, Kelley said it wasn't that many years ago when cops disdained tattoos, seeing them only as a sign of criminality.
"Much of my business now comes from them," he said. "It's become a way for them to recognize what they do together."
While there is no doubt that tattoos are far more common today – you'd have to be blind not to see them on customers in restaurants and grocery stores and on parents attending PTA meetings – that doesn't mean those who get them can display what they see as their body art everywhere.
Police officers, Kelley noted, must cover them up on the job. So must Ranney, whose name was Ninya Perna when she won the Miss Nevada contest.
She said the owners at the well-known chain hotel where she is a key administrator don't believe their clientele, which is often older, would appreciate tattooed lodging personnel.
On sight alone, there are still some Americans, especially those in their 50s and older, who might see those with tattoos as lawbreakers, she said.
"I think the acceptance of tattoos is largely generational," she said. "But I think it's going to be almost impossible in a few years for businesses not to allow them. The college kids I hire here have them, but to work here they must keep them covered."
Though Fliegman said the principal at the Christian school where he teaches allows him to wear a short-sleeve shirt that gives visibility to his huge tattoo, he didn't want the school named in the newspaper.
"Some people might get the wrong idea about the school," he said.
Hairstylist McKeeby said the hair salon where she works, True Aveda, welcomes her tattoo work. It is, she said, a sure conversation starter among clients, many of whom are younger.
Often people who acquire tattoos do so over the objections of their parents.
Former beauty queen Ranney said that even if she is pictured in the Las Vegas Review-Journal with tattoos, the photo won't become something her mother keeps.
"She just doesn't like them," Ranney said.
Ranney said she and her husband, who had both found tattoos beautiful for years, decided to get them a couple of years ago after her husband went through a medical emergency.
No longer, she said, would they allow societal norms on taste to completely dictate how they lived their lives.
Fliegman, who often grimaces as he is tattooed, feels much the same way.
. "I'm 37, a good father and husband, and I like body art," he said. "I admired it for years and finally got it. I like wearing it. The little bit of pain you go through for art is worth it. …The dragon on my arm is the symbol of the strength it took me to get through some tough times."
When his body art fades, Fliegman said he'll do what most lovers of tattoos do – cross that bridge when he comes to it.
McKeeby said her sleeve, which includes flowers, a pink ribbon, and baby feet, memorializes a year in her life that saw her grandmother diagnosed with breast cancer, the birth of her daughter and the start of her career as a hairstylist. The skulls on her arm signify the heads of women she works on.
"I hope to get my whole back done with art soon," she said.
At first blush, it does not appear what is now popular in Florida, small anal tattoos that carry a lover's name, will replace the big, bold tattoo trend fashionable in Las Vegas – at least some tattoo artists hope not.
"That's just not cool," Joe Cool said. "I couldn't do that. It's disgusting."
Contact reporter Paul Harasim at pharasim@ reviewjournal.com or 702-387-2908.