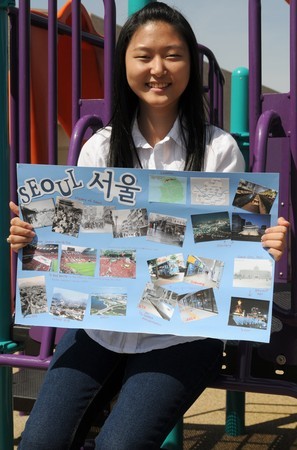 Seoul.
The capital of South Korea and one of the largest cities in the world.
In a metropolis where the population is more than 10 million, one girl stands out.
For 16 years, Saesaem Lim called Seoul her home, living in this eclectic world. Then she was pulled from her foundation and tossed into the melting pot of America, starting a completely new life surrounded by unfamiliar people talking in a language she could barely understand as a senior at Mountain View Christian School.
Nearly everything was a new experience, even something as trivial as the parking lots. She was used to parking lots big enough for only a few cars, while here they're as big as football fields.
Las Vegas is the first and only city Lim has lived in while in America, and it has offered her many new experiences.
Such as the food. Growing up eating mainly vegetables and rice — kimchi being one of her favorite meals — it was hard to grow accustomed to the different foods in America.
However, some things have kept her tied to her homeland, such as the Korean version of MySpace, Cyworld, which she uses to keep in touch with the friends she left behind. Korean TV is another, which she still gets here in America, so she is able to watch one of her favorite shows, "Kkot Boda Namja" — translated as "Boys before Flowers" — whenever she wants.
She also can still listen to and buy Korean music, which she says "sounds a lot like R&B."
Lim came to America in the first place because she "wanted to do the sports and activities, and wanted to learn computer."
In hopes of pursuing a career as a Web designer, however, she was forced to leave her aunt and uncle behind. She misses them greatly, as well as her friends and especially talking in Korean, but twice a year she goes back to her country, usually for extended periods, to soak in once again the atmosphere to which she is accustomed.
Schooling was a huge transition, because normal school hours in Korea are 6 in the morning to 6 at night. And some, she says, remain in school until 10 p.m.
One of her close friends, Alex Barroud, is happy to have gotten the opportunity to know Lim.
"She is a really great person and I am glad she is my friend," Barroud says. "She's not quite adjusted to life in America yet, but she's getting there."
Lim thinks that one day she will move back to Korea, and, laughing, she says: "It's too big here in America. I need a car, because without one I can't go anywhere."
With that last statement, Lim smiles and gets up from the table, exclaiming two last words:
"To boayo!" — "See you soon!"
R-Jeneration