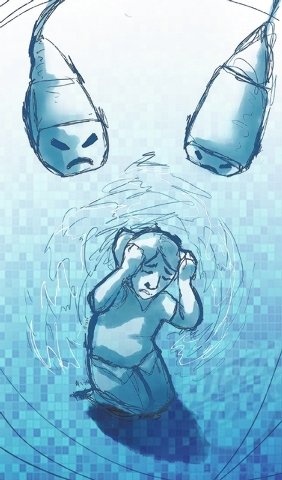 The arrival of social media websites such as Facebook, Twitter, Ask.fm and Instagram has brought a new form of intimidation known as cyberbullying.
The Centers for Disease Control and Prevention defines cyberbullying as "electronic aggression." Examples include mean text messages or emails, rumors sent by email or posted on social networking sites and humiliating pictures, videos, websites or fake profiles.
From 2007-10, a national study among 12- to 17-year-olds by the Pew Research Center found that 95 percent of teens surveyed use the Internet regularly and 80 percent of them use social networking sites. Of teens who use social media, 88 percent reported that they have witnessed someone being mean or cruel to another online, with 12 percent saying cyberbullying is a "frequent" occurrence.
EdgeWave, a computer security company, says cyberbullying can cause deep and lasting psychological damage, teen suicides and lawsuits against schools and school districts. With stories of cyberbullying-related teen suicides making headlines, it has become a national issue, with proposals of new legislation, documentaries, celebrity public service announcements and zero-tolerance policies adopted by many school boards.
Yet as of December 2013, the Cyberbullying Research Center reports that while 49 states have laws against bullying, only 18 states have laws against cyberbullying. Nevada has both.
Despite all of these efforts, cyberbullying still occurs.
A Las Vegas student who asked to remain anonymous shared how she was a victim. It began, she said, when she moved to Las Vegas during her sophomore year. When her mother stopped talking to someone on Facebook, the person behind an anonymous Facebook profile started to harass both mother and daughter.
"This guy told all of my friends and my mom's friends all of these lies," the student said. To deal with the situation, she and her mother deleted their Facebook accounts and told their family and friends.
The other alternative would have been to involve the police.
"Since the guy didn't threaten any bodily harm, the ends didn't seem to justify the means," the student said.
She said the cyberbullying during her sophomore year affected her most because she had just moved to Las Vegas.
"I felt lost," she said. "I was still attached to my old friends and had not made new friends yet," and had lost a teenager's major form of communication.
In her junior year, she reopened her Facebook account. During her senior year, the cyberbullying began to resurface, with her friends receiving harassing messages. She told her classmates about the situation and reported the fake profile to Facebook.
"My friend alerted me that it was happening again, and I told them just to ignore it," she said. "It is just old news now."
Support from her family and friends helped her deal with the situation.
"Now that I'm more integrated with friends, it does not affect me as much anymore," she said.
She still doesn't know who was harassing her and her mother the second time.
"The pictures of the person can be found anywhere on the Internet, and plus he claimed to be someone from my school, but since the school is so small, I would know the person," she said.
When a case of cyberbullying involving Ask.fm arose at The Meadows School, freshmen student council members Sophie Isaacs and Hanna Thistle took the initiative to prevent further problems by making a presentation in a school assembly. Their purpose was to bring attention to the problem and describe the consequences of cyberbullying and attempt to eliminate the misconception that what is said behind a computer screen does not matter.
Because of the Ask.fm case, they specifically addressed the potential harm, making it clear to the students that Ask.fm is a way to spread hate anonymously online and that many people have been victimized as a result.
Yet, "Ask is not the problem, you are," Thistle said. "Ask.fm is just a tool which helps people to communicate with each other, same as any other social network, same as phone, same as piece of paper and pen. Don't blame a tool, but try to make changes. Start with yourself; be more polite, more kind and more tolerant of others."
As the anonymous student reflects on her experience, her advice to others who are going through it is to tell their parents, friends or someone they trust and not internalize it.
"The best thing parents can do is to offer support," she said. "Let people know what's going on, and by doing this, you'll discredit the bully."