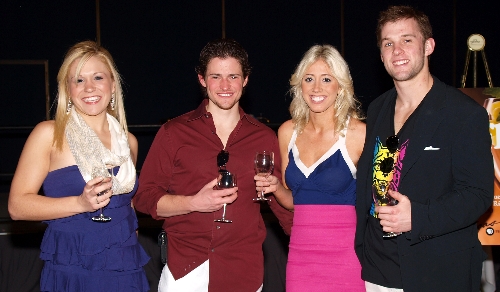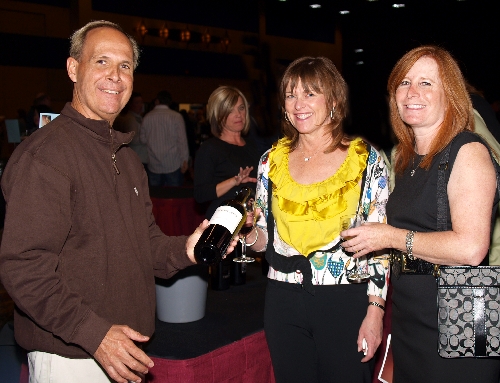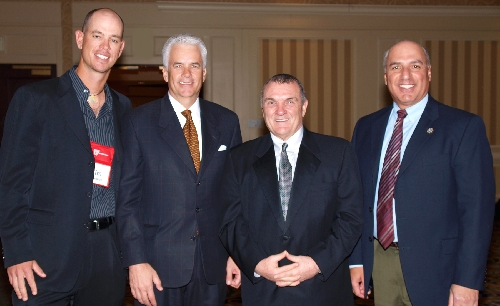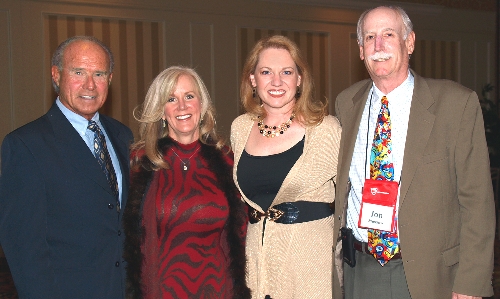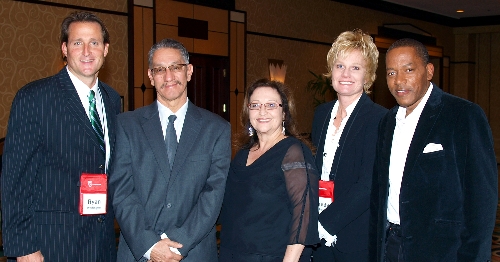 The United States Tennis Association Intermountain had their annual awards dinner and inaugural Hall of Fame induction at the Las Vegas Hilton's ballroom Feb. 11.
A capacity crowd was present to honor tennis players from Las Vegas, Utah, Colorado and Wyoming.
Seen socializing during the reception and dinner were invited guests Sen. John Ensign; City Councilwoman Lois Tarkanian and Jerry Tarkanian, Councilmen Ricki Barlow and Stavros Anthony; County Commissioners Larry Brown and Lawrence Weekly; Henderson City Councilwoman Gerri Schroder; Las Vegas Hilton CEO David Monohan; Meadows School Headmaster Henry Chanin, and Tim Blenkiron, USTA-Nevada president of the board, and Ryan Wolfington, USTA-Nevada executive director. KSNV-TV Channel 3's Kevin Janison emceed the event.
Award winners were: Media excellence — The Daily Sentinel of Grand Junction, Colo.; community service award — Ifa Motuliki of Salt Lake City; The Kempin Family of Sandy, Utah, were named family of the year; organization of the year was the Salt Lake City Swimming and Tennis Club; the Jan Dowse Award went to Julie Francis of Laramie, Wyo.; the Nikos Ridle Award went to Ryan Nelson of Sandy; Tim Blenkiron of Las Vegas received the developmental coach of the year award; and the David Freed Lifetime Service Award was given to Sue Burke of Boulder, Colo. A highlight of the evening was the induction of Andre Agassi into the USTA Intermountain Hall of Fame.
Among guests attending were Betty and Mike Agassi, Winnie and Bob Schulman, Marty Hennessy, Kelly Clinton and Clint Holmes, Barbara and Anthony Ruggiero, Frank Sidoris, and Kathy Ford.
Splendor In The Glass: Southern Nevada Public Television presented their 22nd annual wine and beer tasting on Feb. 12 at the Las Vegas Hilton's Hilton Center.
Tom Axtell, general manager of KLVX-TV, Channel 10, and Charlotte Hill, chair of Public Television Community Council, welcomed hundreds of guests, including Donna Cox, Carol Bernabe, Andy Taylor, Joyce Walters, Steve Romero, Josh Hill, Adrienne Cox and Kellie Rubin, who came to sample wines of 65 wineries and breweries and participate in an extensive silent auction.
Tony Goitia of Southern Wine & Spirits conducted a live auction for rare vintages.
Sponsors were Mary Kaye Cashman, Findlay Toyota, Greater Las Vegas Association of Realtors, NV Energy and Wells Fargo Bank. Well-known chef Hubert Keller, host of "Secrets of a Chef" that airs on PBS, was the wine tasting's special guest and presented a demonstration of "Serving Cheese the French Way."
Also attending were Carolyn Edwards, Irene Vogel, Ann Michael, Lori Lea, Jim and Terri Dionizio, Jean and Bill Curran, Denny Weddle, and Linda McCoy.
Music was by the Lynn Ross Jazz Quartet.