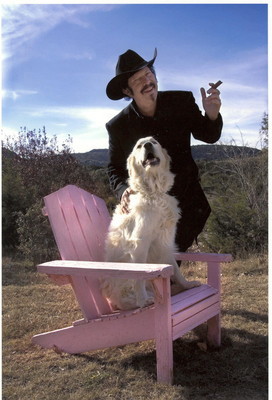 If there's any justice at all in the universe, it won't be long before people everywhere will be wearing plastic bands on their wrists bearing the letters "WWKD."
As in: "What would Kinky do?"
They'd be perfect for anybody searching for an off-kilter, but rock-solid, take on life, love, America, politics and anything else that happens to flit across our pop culture radar, courtesy of Friedman, the Texas-based singer and songwriter/novelist/essayist who's visiting Las Vegas this week.
On Monday evening, Friedman will appear at a reading and book signing at the Clark County Library to promote his latest collection of essays, "What Would Kinky Do? How to Unscrew a Screwed Up World" (St. Martin's Press, $23.95).
While in Las Vegas, Friedman also will celebrate the first anniversary of his own Kinky Friedman Cigars line at the International Premium Cigar and Pipe Retailers Trade Show at the Sands Expo Center.
"What Would Kinky Do?" is, Friedman noted during a recent phone interview, "the 28th book I've churned out — I mean, carefully crafted — and, yeah, I'm pretty happy with the ground this book covers, actually.
"What this is is good advice, which no one ever takes. So my theory is, if you couch it in story form or deliver it in some kind of devious delivery system, they might respond to it better.
"That's why we ask ourselves 'What would Jesus do?' or "What would Mark Twain do?' or 'What would Ernest Tubb do?' — because it's easier than taking advice."
When the discussion turns to politics, Friedman even can speak from a quasi-insider's perspective: He ran for Texas governor in 2006, and finished fourth in a five-candidate race.
"I can't believe I lost the governor's race," Friedman says. Even when he's visiting Las Vegas, "every two minutes, people come up to me who tell me they're from Texas and tell me they voted for me."
Actually, Friedman continues, "one point I tried to make in the governor's race was to legalize casino gambling in Texas, because we're hemorrhaging money. Everybody's going out of state to gamble. We invented Texas hold 'em and we can't even play it here."
Elsewhere in the collection, Friedman examines such issues as smoking in bars, the mullet haircut, immigration policy and Texas etiquette, and offers practical advice on such social niceties as dealing with nonstop talkers during an airplane flight and what to do when a redneck hollers "Hey, y'all, watch this!"
Friedman has covered a lot of ground in his career. In addition to writing essays and running for political office, he still tours occasionally — fans consider his '70s band, Kinky Friedman and the Texas Jewboys, a seminal band in an outlaw country/rock vein — founded the Utopia Animal Rescue Ranch, a nonprofit, no-kill shelter in Medina, Texas, and has written 19 mystery novels featuring a displaced Texas PI named, coincidentally enough, "Kinky Friedman."
Of the music: "We do a bit of that and, of course, the songs are now older than most of the audience."
Of the shelter: "We save stray and abused animals and never kill any. My goal is to make Texas a no-kill state: We don't kill dogs, cats, horses or people. And I tell Christians: I hate your having to hear this from a Jew, but that's who you heard it from first."
Of the novels, and the possibility of a new one that might resurrect the literary Kinkster, who seems to have been killed off in the last one: "Right now we'll see if a publisher's interested. … I always said there's a very fine line between fiction and nonfiction, and I believe I snorted it in 1976."
Because Friedman always has been an equal-opportunity commenter of the passing scene — he has shared smokes with both George W. Bush and Bill Clinton — a political question or two seemed in order.
Bush, Friedman offered, is "a good man trapped in a Republican's body. And I'm fond of him, I'm very fond of Laura."
But, he continues, Bush "has listened to the wrong angels. He had some good people around him. He had his daddy and he had Laura and he had Colin Powell. Instead, he listened to (Dick) Cheney and (Donald) Rumsfeld and (Karl) Rove."
By the way: Rove, often referred to as the architect of Bush's political success, "should never be called an 'architect,'" Friedman says, "because architects build things, and Rove destroys them."
What's needed in politics across-the-board "is common sense and common honesty," he says, "and I think that is what is sadly lacking."
Not that the rest of us are totally blameless. If Richard Pryor and George Carlin "were coming up today, they wouldn't make it," Friedman says. "And this is a shame, because the most precious gift we've given to the world is freedom of expression, freedom to be different, freedom to be who you are, and we've turned this country into a condominium association, with all our rules and regulations and this politically correct attitude."
By the way, Friedman adds: The death of Carlin is "a loss, and I certainly salute anybody who walked their own road and will tell you the truth."
On the other hand, during a recent music/book tour of 18 European cities, Friedman discovered that people there "see us more clearly than we see ourselves, I think. They're very interested in cowboys, and they're interested in Martin Luther King and Hank Williams and Pretty Boy Floyd, and American audiences are not that discerning. I hate to say they're smarter than we are, but maybe we live too close to the pyramids to appreciate how beautiful they are."
Is it getting harder to find humor in it all? "It's better for me," Friedman answers. "I think Mark Twain said the source of humor is not joy, it's sorrow. And in a climate like this. … I mean, when I'm miserable, I'm able to write better, I'm able to write funny."
"In fact, I think the happy American creates nothing great," Friedman adds, "just like a happy childhood is the worst possible preparation for life."
Contact reporter John Przybys at jprzybys@reviewjournal.com or 702-383-0280.
PREVIEW
What: AN EVENING WITH KINKY FRIEDMAN: WHAT WOULD KINKY DO?
When: 7 P.M. MONDAY
Where: CLARK COUNTY LIBRARY, 1401 E. FLAMINGO ROAD
Cost: FREE (507-6025)